(Please, scroll down to read a summary in English)
LIBER konferenssi on tieteellisten kirjastojen vuosittainen kansainvälinen konferenssi. Tänä vuonna LIBER konferenssi järjestettiin 26.-28.6.2019 Irlannissa Dublinissa. Itä-Suomen yliopiston kirjastosta osallistuimme kahden henkilön voimin.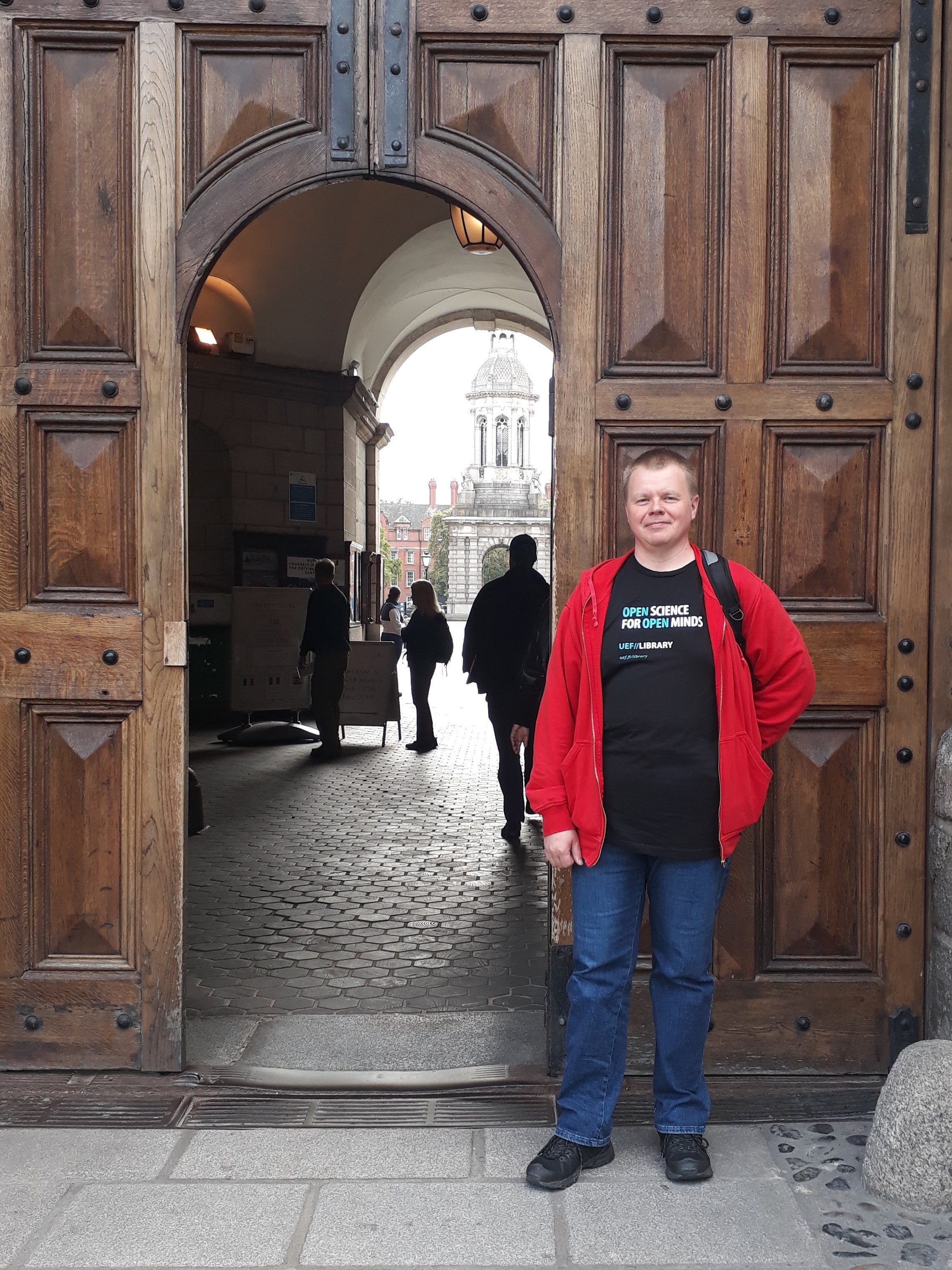 Konferenssin teemana oli Research Libraries for Society. Esityksissä tarkasteltiin tutkimuksen, tutkimusorganisaatioiden ja erityisesti tieteellisten kirjastojen suhdetta laajemmin yhteiskuntaan, miten tiedettä tehdään yhteiskuntaa varten, ja myös yhteiskunnan, kansalaisten kanssa. Tämän teeman lisäksi esityksiä oli tarjolla tieteellisten kirjastojen ajankohtaisiin aiheisiin, kuten avoimeen tieteeseen, avoimeen julkaisemiseen ja tutkimusdatan avaamiseen liittyen.
Tieteen avoimuutta on se, että tutkimustieto on kaikkien ulottuvilla, mutta myös kansalaisten osallistaminen tutkimuksen tekoon ja tutkimustiedolla vaikuttaminen yhteiskunnassa. Viime vuosina on kehitytty siinä, miten tutkimuksesta puhutaan ymmärrettävästi, kerrotaan erilaisia tarinoita yleisölle myös tutkimusyhteisön ulkopuolelle. Kansalaisia kannustetaan ja koulutetaan kysymään perusteita päätöksille, miten tutkimustuloksia hyödynnetään ja onko tieto luotettavaa ja vertaisarvioitua. Esimerkkinä konferenssissa mainittiin kansalaistieteen alusta Zooniverse. Toisena esimerkkinä esillä oli suomalainen Terveyden ja hyvinvoinnin laitoksen (THL) ylläpitämä wiki-pohjainen sivusto Opasnet, jonka tarkoituksena on tukea yhteiskunnallista päätöksentekoa.
Kansalaistieteelle löytyy useita määritelmiä, mutta yleisperiaatteena on saattaa tiedettä lähemmäs arkipäivän elämää sekä lisätä kansalaisten ymmärrystä tieteestä ja tieteentekemisestä. Luonnollisesti tärkeimpänä on kansalaisten osallistuminen tutkimusaineiston keruuseen ympäröivästä yhteiskunnasta. Osallistumista voidaan mahdollistaa koulutettujen vapaaehtoisten avulla tutkijavetoisissa hankkeissa. Kaikilla ei välttämättä ole tarvittavia välineitä, mutta niiden lainaaminen voitaisiin järjestää tutkimusorganisaatioissa esimerkiksi kirjaston kautta. Kirjastojen yksi merkittävä tehtävä kansalaistieteen edistämisessä on tutkimustiedon levittäminen aineistoja avaamalla. Kansalaistieteen tavoitteet ovat yhteisiä kirjastojen kanssa; pyritään tiedonsaannin demokratisointiin, tietämyksen lisäämiseen, osallistaviin oppimiskokemuksiin ja yhteisöjen rakentamiseen tai tukemiseen.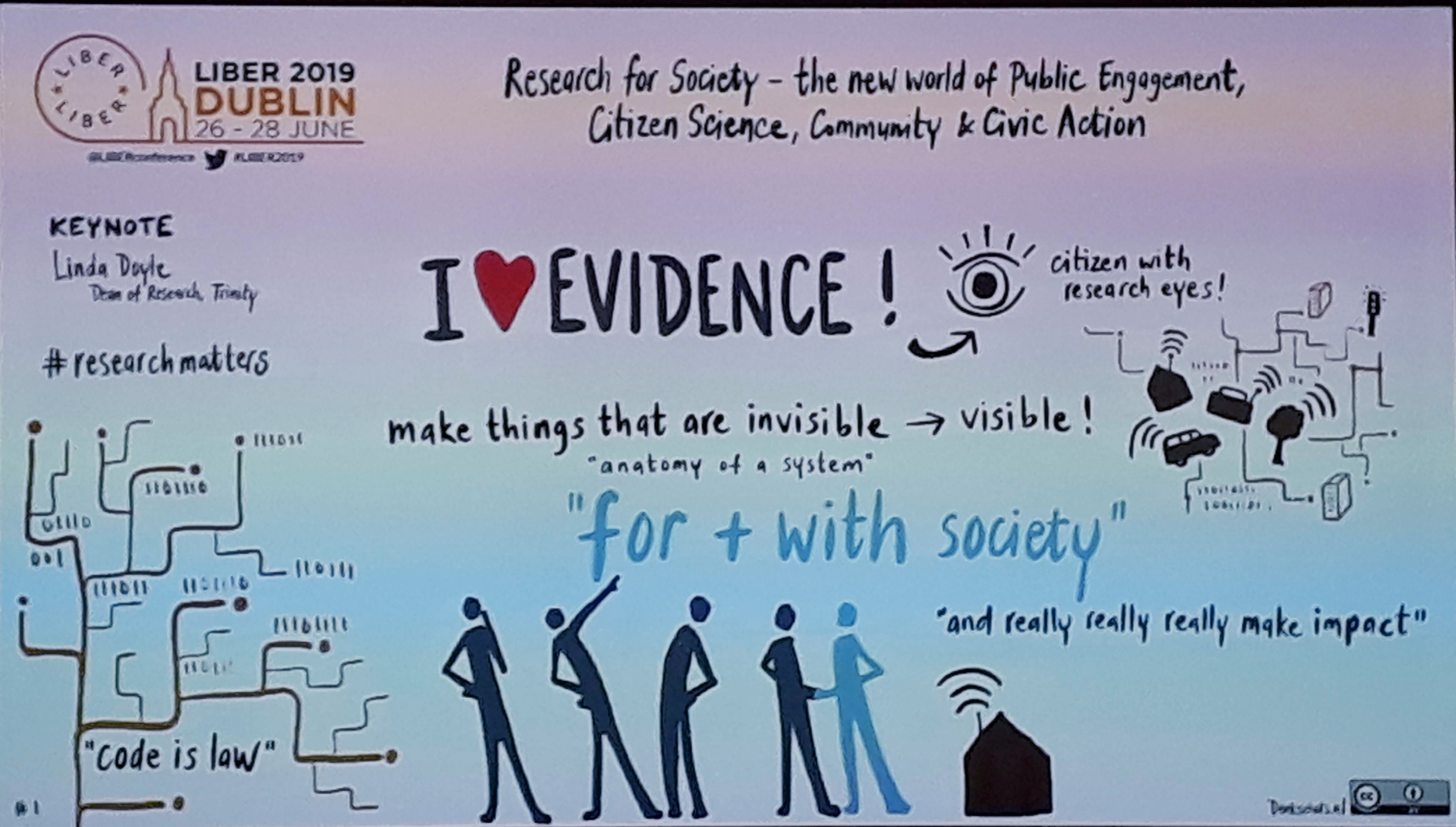 Dublin, kirjallisuuden ja kirjastojen kaupunki sekä kaunis Trinity Collegen kampus tarjosivat hienon ympäristön tapahtumalle. Osallistujille oli tietenkin tarjolla kierroksia paikallisiin kirjastoihin. Vierailimme kuuluisassa Trinity Collegen Old Libraryn Long Room -salissa, jota sanotaan maailman kauneimmaksi kirjastoksi, sekä historiallisessa 1700-luvulla perustetussa Marsh's Libraryssa.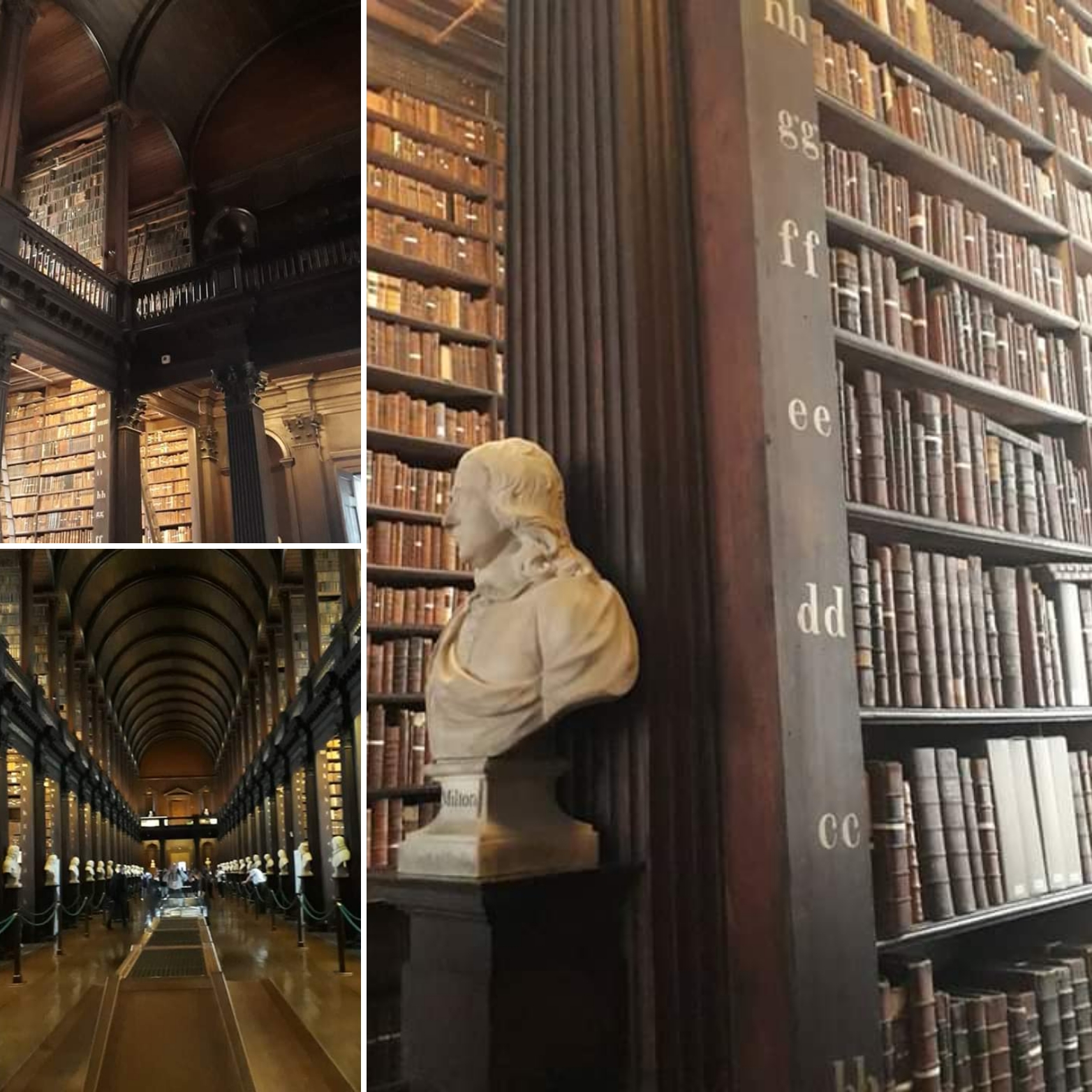 Briefly in English
The LIBER conference is an annual international conference for research libraries. This year LIBER conference was held 26 – 28 June in Ireland, Dublin. The Univeristy of Eastern Finland Library sent two participants to the conference.
This year's theme was Research Libraries for Society. Presentations viewed the relationship between research, research organisations, particularly research libraries and society, how science is done for society, and with society, with citizens. In addition there were presentations about topical issues in research libraries such as open science, open publishing and open research data.
Anne Karhapää, tietoasiantuntija | information specialist
Tomi Rosti, tietoasiantuntija | information specialist
Opetus- ja tietopalvelut | Training and information services