(Please, scroll down to read in English.)
Olen Marjut Perälä ja aloitin tietopalveluneuvojana Kuopion kampuskirjastossa tammikuun alussa. Perehtymisen ohella työni tietoaineistopalveluissa on lähtenyt käyntiin erityisesti kausijulkaisujen parissa, ja parina päivänä viikossa minut löytää kirjaston asiakaspalvelusta.
Olen kotoisin Etelä-Pohjanmaalta, mutta Kuopio on tullut jo aiempien töiden myötä tutuksi. Olen opiskellut Oulun yliopistossa informaatiotutkimusta ja sivuaineina muun muassa kirjallisuutta, filosofiaa ja humanistisia ympäristöopintoja. Opintojen ohella työskentelin Kuopion kaupunginkirjastossa erilaisissa sijaisuuksissa ja hankkeissa sekä kaksi viimeisintä kesää Suomen Pankin kirjastossa.
Vapaa-ajalla nautin lukemisesta ja luonnossa liikkumisesta kameran kanssa. Erityisesti näin kevään korvilla on upeaa seurata muuttolintujen paluuta.
Kuluneet kaksi kuukautta Itä-Suomen yliopiston kirjastossa ovat olleet antoisia. Työyhteisö on erittäin mukava, asiantunteva ja välitön. Tieteellisessä kirjastossa on ilo olla aallonharjalla kuulostelemassa, mitä uutta kirjastorintamalla tapahtuu. Mielenkiinnolla ja innolla odotan tulevia haasteita ja työtehtäviä, joihin tulee sisältymään muun muassa aineiston kuvailua ja hankintaa.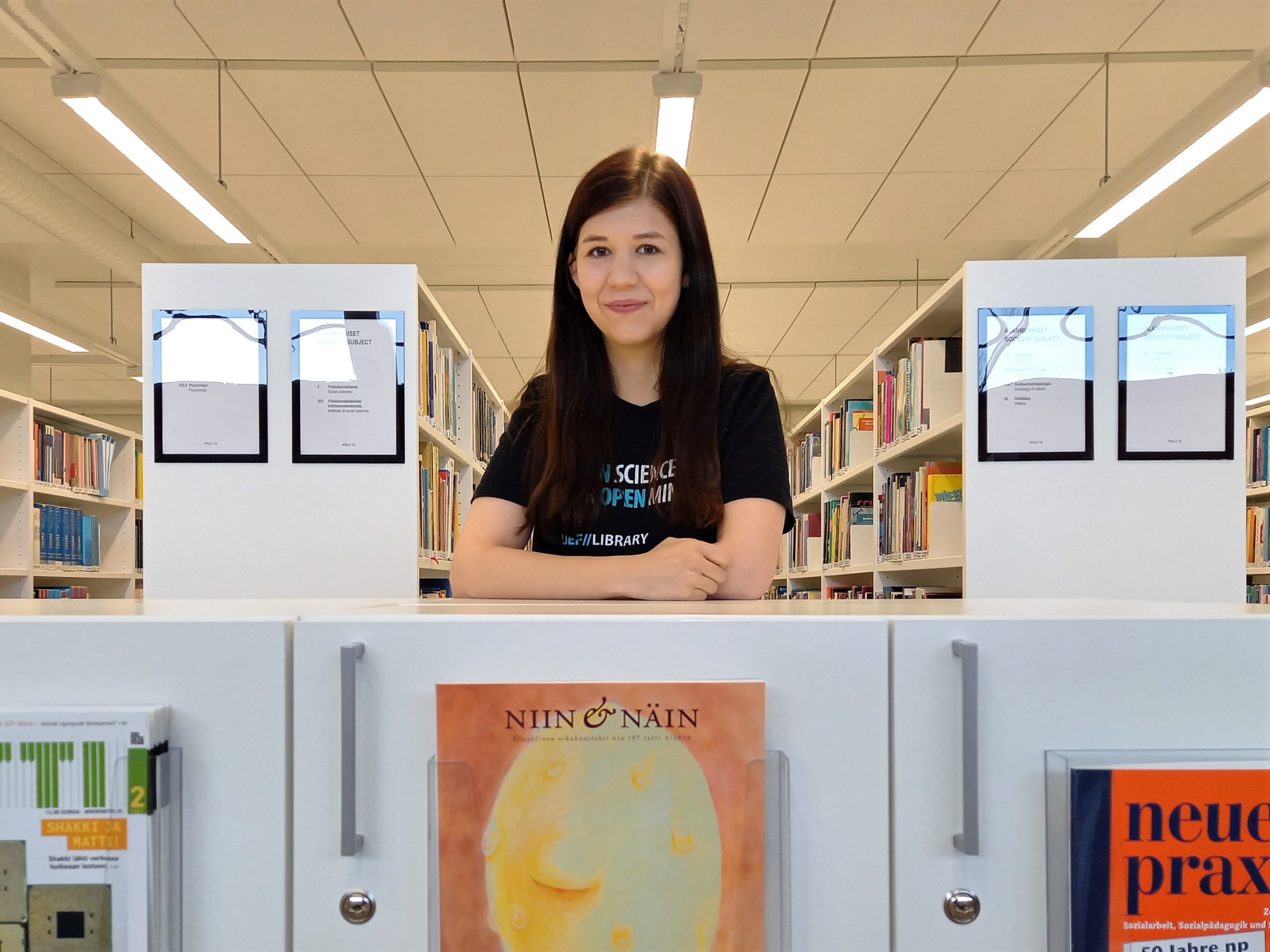 My name is Marjut Perälä and I started working at Kuopio Campus library as Information Services Advisor at the beginning of January. Along with familiarization to the University of Eastern Finland library, I have started working with periodicals at collection services, and a couple of days per week I can be found at the customer service.
I come from South Ostrobothnia, but Kuopio has become familiar to me as I have worked here. I have studied information studies as the main subject at the University of Oulu, and literature, philosophy and environmental humanities as secondary subjects. As I have studied, I have worked in Kuopio city library on different projects and temporary posts and for two previous summers in the Bank of Finland library.
In my free time, I enjoy reading and long walks in nature with my camera. Especially around springtime like this it is wonderful to observe the arrival of migratory birds.
These couple of months in the UEF library have been enchanting. The work community is really kind, professional and communicative. It is a great pleasure to work in the university library as it is easy to keep track of the new innovations in the library field. With great interest and enthusiasm, I await new challenges and work duties, which will contain descriptive cataloguing and acquisitions.
Marjut Perälä, tietopalveluneuvoja | Information Services Advisor
Tietoaineistopalvelut | Collection Services