(Please, scroll down to read in English.)
Oletko jo pannut merkille, että Kuopion kampuskirjastossa ja KYSin tieteellisessä kirjastossa päivystää uusi työntekijä? Nimeni on Piia Pietarinen ja työskentelen Itä-Suomen yliopiston kirjastossa tietopalveluneuvojana. Olen kotoisin Kangasniemeltä, Etelä-Savosta ja olen kolunnut yliopistojen kirjastoja useiden vuosien ajan jo ennen nykyisen pestini alkamista. Opiskelin kirjallisuutta Joensuun yliopistossa kandidaatin tutkintoon asti, valmistuin maisteriksi Jyväskylän yliopistosta ja myöhemmin täydensin osaamistani informaatiotutkimuksen ja interaktiivisen median opinnoilla Tampereen yliopistossa. Onkin aivan mahdollista, että joku tunnistaa minut vuoden 2017 kesältä, jonka vietin kirjastoalan opintoihin kuuluvassa työharjoittelussa Kuopion kampuksen kirjastoissa.
Hiljalleen hahmottuva työnkuvani koostuu pääasiassa asiakaspalvelusta ja kokoelmatöistä, joihin olen saanut kattavat eväät aiemmilta työpaikoiltani. Läpi nuoruuden tehtyjen myyjän töiden lisäksi olen työskennellyt asiakaspalvelun, opastamisen, viestinnän ja kokoelmien parissa museoalalla. Nykyisessä tehtävässäni suuntaan energiaani ainakin uusien opiskelijoiden orientaatioon, asiakaspalvelun arkeen ja kehittämiseen, viestintään ja vaihteleviin kokoelmatöihin. Minua kiinnostaa uuden oppiminen, ohjaaminen, avoin keskustelu, kokoelmien hallinta, luovuus, hyvin kirjoitetut tekstit, hyvällä säällä ulkoilu, makeat herkut ja hikiset ryhmäliikuntatunnit.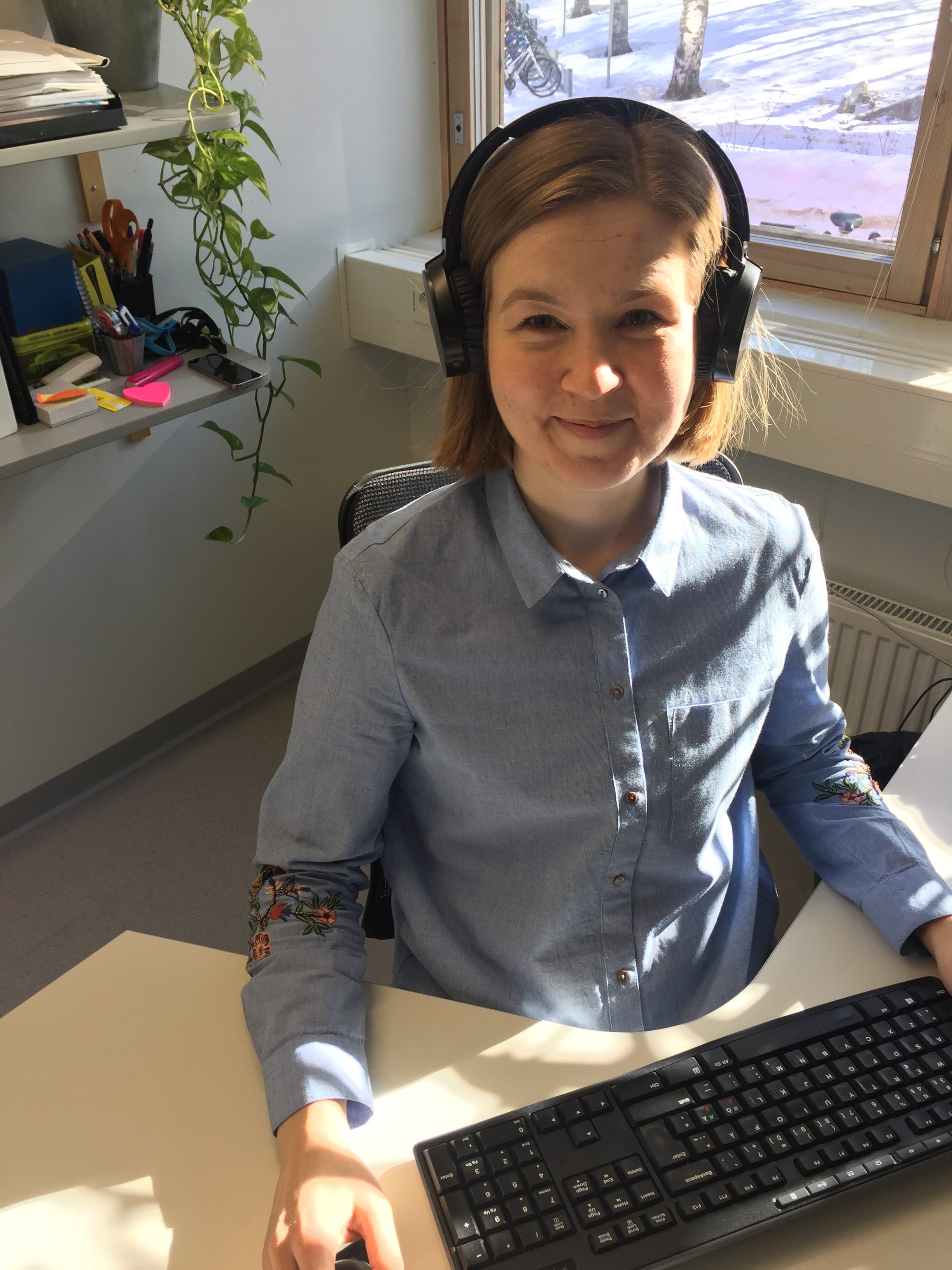 Have you noticed there is a new employee at the Kuopio Campus Library and KUH Medical Library? (You know, the one that looks lost.) My name is Piia Pietarinen. I am UEF Library's new Information Services Advisor. I was born in Kangasniemi, Southern Savonia and have been using university library services widely during the past years. I started my studies in Literature at the University of Joensuu, gratuated from the University of Jyväskylä and later completed my skills with studies in Information Studies and Interactive Media at the University of Tampere. Some of you may recognise me from summer 2017 when I worked as an Information Studies trainee at the Kuopio Campus libraries.
From now on I will be working at the customer services and with the collections. I am already well equipped for both sides of my job description, since I have worked as a sales person throughout my youth and later on with customer services, guiding, communication and collections at several museums. In my current job I will be channeling my energy towards library orientation for new students, everyday customer services, communication and versatile tasks with the collections. I am interested in learning, teaching and guiding, collections management, creativity, well-written texts, outdoor activities (on good weather), sweets and sweaty sports classes.
Piia Pietarinen, tietopalveluneuvoja | Information Services Advisor
Asiakaspalvelut | Customer Services
Kuopion kampuskirjasto | Kuopio Campus Library