Moni Kuopion kampuskirjaston käyttäjä lienee huomannut henkilökuntaan ilmestyneen kesän aikana pari uutta kasvoa. Mutta keitäs he ovatkaan?
Kesäkuun 2016 alusta alkaen Kuopion kampuskirjaston riveihin liittyi Urho Heinonen. Tämä tietopalveluneuvojaksi päätynyt informaatioasiantuntija on Kanta-Hämeessä syntynyt, Savon Pariisissa kasvanut ja Joensuun kautta Kuopion kampuskirjastoon päätynyt Itä-Suomen yliopiston kouluttama englannin kielen kääntäjä, HuK. Vuosimallia -88, horoskoopiltaan kaksonen. Hän on myös viihdetaiteilija, joka harrastaa näyttelemistä, cosplayta, käsitöitä, liikuntaa, kirjallisuutta, musiikkia ja videopelejä. Lempiruokiin kuuluvat kana, lasagne, shabu-shabu sekä pinaattiletut. Viimeksi mainitun kanssa runsaasti puolukoita.
Häneen törmää useimmiten Snellmanialla kirjaston tiloissa. Asiakaspalvelun lisäksi kokoelmien hoito ja ylläpito kuuluvat hänen toimenkuvaansa, mutta hänen kädenjälkensä näkyy esimerkiksi kirjaston nettisivuilla etenkin englanninkielisissä osioissa – sekä kirjoitetussa että puhutussa muodossa.
Urho toimii asiakkaiden kaikenlaisena käytännön tukena. Häntä voikin tulla nykimään hihasta käytännössä missä tahansa asiassa; olipa sitten kyseessä jokapäiväinen kirjastoasiointi, kirjan löytäminen hyllystä, niskoitteleva tietokone, kielimuurin murtaminen tai vaikkapa vain juttukaverin puute, Urhon motto tiskin takana on: "Teitä vartenhan me täällä olemme."
Elokuun 2016 alussa mukaan remmiin lyöttäytyi myös Kaisa Hartikainen. Tietoasiantuntijaksi Kaisa, vuosikertaa -82 oleva siilinjärveläistynyt ex-kuopiolainen, päätyi tutkijan ja opettajan taustakokemuksineen. Kaisa väitteli Itä-Suomen yliopistosta ympäristötieteen alalta kesällä 2014 ja biologian ja maantieteen aineenopettajana hän on toiminut lukiossa ja perusopetuksessa.
Tietoasiantuntijan työnkuva tulee koostumaan etupäässä tutkimuksen tukipalveluiden tuottamisesta, tiedonhaun opetuksesta ja ohjauksesta sekä asiakaspalvelusta. Kiinnostuksen kohteita työn saralla ovat mm. avoimen tieteen sekä tämän päivän tarpeita vastaavien, aktivoivien opetusmenetelmien edistäminen. Vapaa-ajalla Kaisaan törmää todennäköisimmin lenkkipoluilla mukanaan 30-90 kg koiraa ja bodypump- ja spinning-tunneilla (= rytmitajuttomien ryhmät).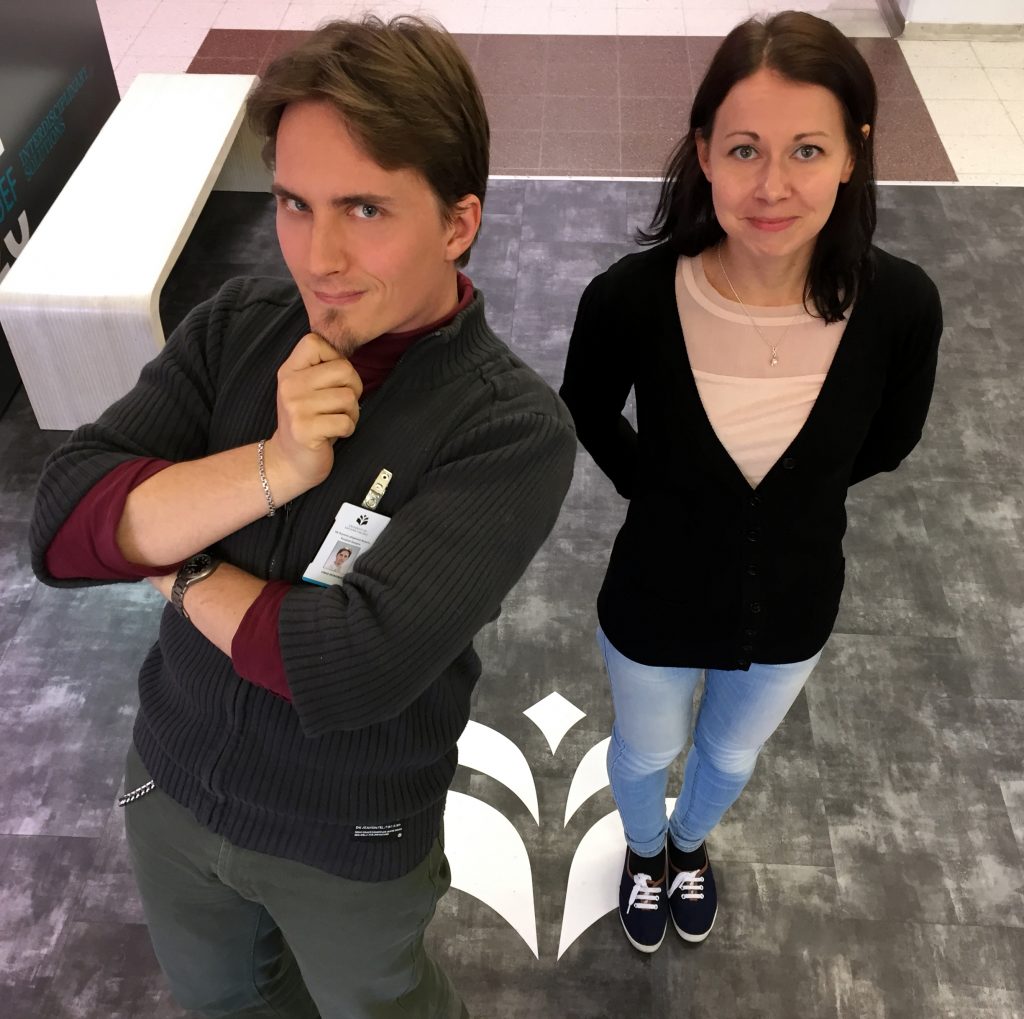 Kaisa Hartikainen, tietoasiantuntija
Opetus- ja tietopalvelut, Kuopion kampuskirjasto
Urho Heinonen, tietopalveluneuvoja
Asiakaspalvelut, Kuopion kampuskirjasto
New faces at the Kuopio Campus Library
Many customers of the Kuopio Campus Library might have noticed a couple of new faces among the staff. But who actually are they?
In the beginning of June 2016 Urho Heinonen appeared in Kuopio. This fresh Information Services Advisor was born in the west, grew up in the middle and ended up in the UEF Kuopio Campus Library via east by training to be a Bachelor of Arts in translation – brought to you by the University of Eastern Finland. An -88 model, Gemini. Also an entertainer and artist, mainly an actor and cosplayer who does crafts, all-round physical exercise, literature, music and video games. Favourite foods include chicken, lasagne, shabu-shabu and spinach pancakes. The latter goes with lots of lingonberries.
This fellow is mostly found in the library in Snellmania. In addition to customer services, Urho's job description includes collection service, but also the English contents UEF Library's websites are quite often his handiwork – in both written and spoken form.
Urho works as an all-round customer support at the library. You can easily approach him with any issue or topic at all; would it be everyday library matters, a lost book, a badly behaviouring computer, language barriers or the lack of someone to talk to, the motto of the brave Urho goes, "That's why we're here – to help you."
In early August 2016 along came also Kaisa Hartikainen. To be an Information Specialist, Kaisa, a 1982 vintage, Siilinjärvified ex-Kuopio resident, ended up in UEF with her background of being a researcher and teacher. Kaisa qualified as an Ph.D. in environmental sciences in the summer of 2014, and she has worked as a geography teacher in upper secondary and comprehensive schools.
Her work as an Information Specialist will primarily be research support, information retrieval training and customer services. When it comes to work topics, her interests include, amongst other things, to promote open science and activating teaching methods regarding to meet modern requirements. In her free time Kaisa is most likely met on jogging tracks accompanied by 65–200 lbs. of dog and also in body pump and spinning classes (the groups for those without a sense of rhythm).
Kaisa Hartikainen, Information Specialist
Teaching and Information Service, Kuopio Campus Library
Urho Heinonen, Information Services Advisor
Customer Services, Kuopio Campus Library