Finnish library databases and articles
National Finna.fi: Finnish libraries, archives, museums and more
Finna.fi (link opens in a new tab) is a search service that collects material from hundreds of Finnish organisations under one roof. Finna.fi includes material that is available online in a variety of formats. It is also possible to search for information from library and archive material that has not been digitised or with limited access. The primary search language is Finnish. English and Swedish may also be used alongside Finnish. Through Finna you may search for:
Finnish master's and doctoral theses
Finnish articles (both scientific and popular). For Finnish articles about health sciences, see the Medic database (link opens in a new tab).
Books from Finnish universities and public libraries
Images, art, and objects from Finnish museums and archives
Open educational resources

Video tutorials (in Finnish):
Tiedonhaku Finna.fi-palvelussa (8:08, link opens in a new tab in Youtube) – Advanced search, search tecniques, limiters, refining results.
Näin kirjaudut Finna.fi -hakupalveluun (1:44, link opens in a new tab in Youtube) – Signing in to Finna.fi
Näin tallennat suosikkiaineistosi Finna.fi -hakupalvelussa (2:37, link opens in a new tab in Youtube) – Saving search results
Search example: Recycling of clothes and textiles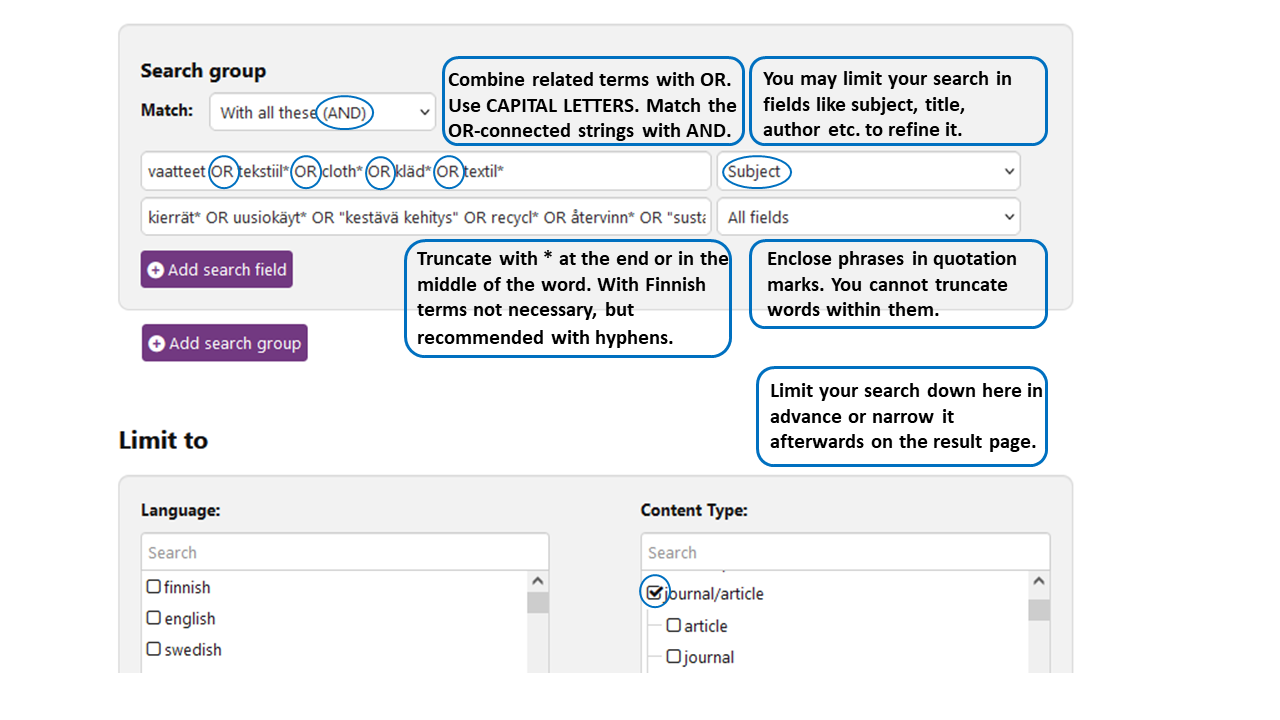 Accessing full text articles and electronic books in Finna
Not all articles open in full-text remotely. If the link below the article doesn't work, write down the journal's reference information, especially name, volume and number. Open UEF Primo and enter the name of the journal in the Journal Search (link opens in a new tab). Follow full-text links. Older volumes may only be found in printed form. In this case, enter the name of the journal in the UEF Primo Journal Search and check if the journal is printed in the library's collections.
The e-books at the University of Eastern Finland Library are not catalogued in the Finna search service and therefore need to be searched in UEF Primo. If you find an e-book that interests you in Finna, search UEF Primo (link opens in a new tab) for the book by the name of the book.
Finna.fi does not contain all Finnish scientific publications
Remember that majority of Finnish science is published in international scholarly journals and can be found from international article databases.