Databases: general overview
There are many different databases available for searching for literature and references for scientific research. Some of the databases are multidisciplinary and suitable for all. These databases are Scopus and Web of Science. The library databases, like UEF-Primo, are also multidisciplinary.
Many other databases are specialized in certain fields of science, like Pubmed, which specializes in health-related sciences in general, and MathSciNet, which only deals with mathematics. The links to these discipline-specific databases are shown at the end of this page and on the subpages of this module.
Despite the varying interfaces of the databases, they all share some basic elements:
the search is based on the Boolean operators AND, OR, NOT

AND and NOT are executed before OR regardless of the order in which you type the operations

proximity operators for connecting terms in close distance

number (n) of words between given terms can be defined

phrase searching with quotation marks "  "
truncation of terms with *

truncation is possible at least at the end of a word, quite often also in the middle and/or in the beginning of the word

wildcards replacing one or one/zero character in a term
punctuation: commas, hyphens, etc., are ignored
stemming, spelling variations and automatic equivalent terms

singular and plural forms, as well as adjectives, will be found if you type any of the variants
spelling variations of terms (color – colour) and symbols (ω – omega) will be found automatically

terms can be addressed to certain search fields

combination of Title, Abstract and Keywords/Subjects is a good starting point
'Title' alone might be too restrictive, but it may be used to focus on the most relevant results
'All text': the results may lose some relevancy, but it may be used if the number of results is too few otherwise

the use of limiters/refining helps to improve the result for existing needs
the queries and results can be saved, printed and exported to other programs
The module 1 describes these basic search technique issues in more detail. Read more about Search techniques in Module 1(link opens in a new tab).
In addition, every database's interface has some individual specialties and exceptions to these general rules. These are shown in the sub-chapters.
A subject term is a standardized word or phrase that describes a main idea in the article or in the book. Standardization means that the term is included in a controlled vocabulary called thesaurus. Thesaurus is list of terms used for a certain concept.
A standardized subject term is important in searching for two reasons:
a subject term represents issues that are of primary importance to the content of the publication in its entirety
a single term covers several alternative expressions and forms for one concept
This picture is an example of a subject term within a thesaurus: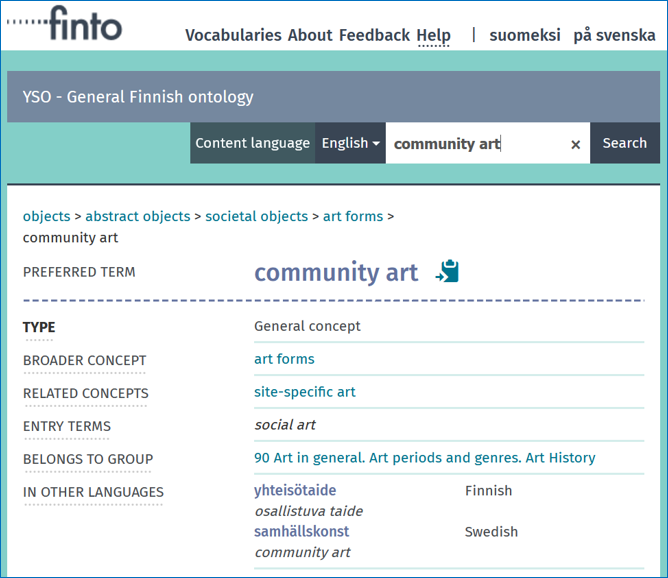 The actual subject term, community art (preferred term) also covers the idea or expression of social art (entry term).
The thesaurus also expresses a broader (or a narrower) context to a concept.
Related concepts don't hold the exact same idea as the original terms, but they serve as hints to other possible themes around the subject.
Not every discipline/database has a controlled vocabulary or thesaurus. Some databases only use the author's own keywords (the words that author used to describe the article). Uncontrolled keywords and their forms vary from author to another, and therefore all the possible expressions must be included in the query. Nevertheless, a keyword tells something essential about the content.
The information about the thesaurus used within each database is attached to the details of the databases on the sub-chapters of this module.
Once you get hold of an interesting article, the databases offer assistance in tracing other relevant publications related to that document.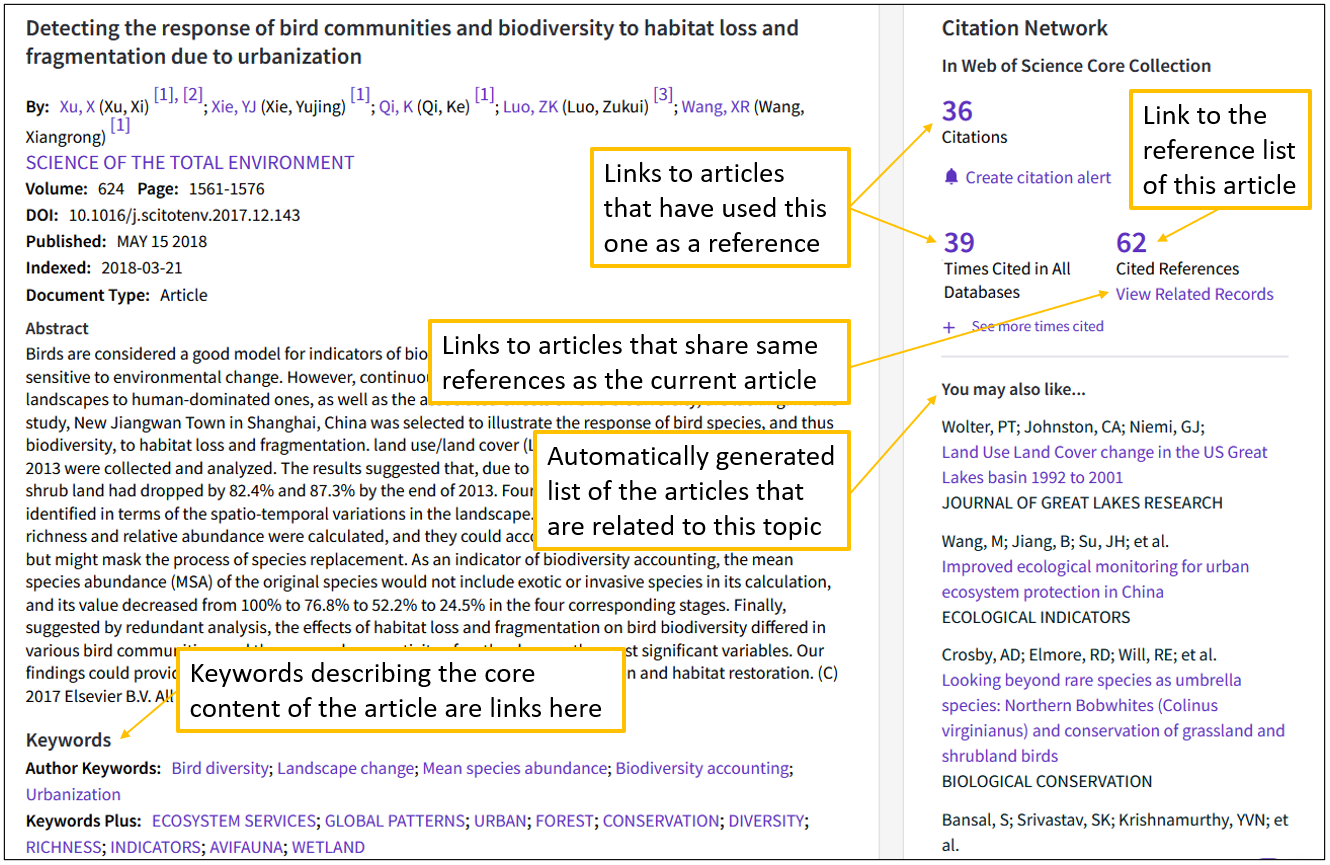 Reference list
Usually, you can see a list of the references used in the article. These might be interesting for you, too.
Related articles
Many databases automatically generate related results based on the information of the article on hand. These might be expressed as: "related documents", "related items", "you may also like", "find similar results", "similar articles" etc.
Citations
Some databases offer the possibility of tracking the articles that have used the current article as a reference. Expressions like "cited by" or "citations" refer to this functionality.
Keywords
Indexed keywords and subject terms can give you an idea of additional effective search terms. Sometimes these terms are ready-made links, so you can easily perform a new search.
Databases offer some predefined filters that help limiting the result according to certain characteristics, like time or document type. However, some of the filters available are not useful or are even harmful while performing a comprehensive search.
Read more about limiting from Module 1: Modifying and saving searches: Limiting search (link opens in a new window)
Once you find and select useful references from the database, you can save them or, for instance, send them to a reference management program.
Since many of the databases only contain metadata of the publications, you need to locate the actual full-text. This can be done by:
direct link in a database
Google search with article name
'Find it' -icon in a record
browser add-ons like Unpaywall
searching the book or journal title from UEF Primo
Read more about these functionalities in Module 1: Modifying and saving searching: Saving and locating results (link opens in a new window).