(Please, scroll down to read in English.)
Uusi vuosikymmen käynnistyi Itä-Suomen yliopiston kirjastossa uuden kirjastojärjestelmä Alman käyttöönotolla. Alma on nykyaikainen kirjastojärjestelmä, jota käytetään yli tuhannessa kirjastossa maailmanlaajuisesti. Järjestelmän muutos vaikutti kirjastossa tehtävään hankinta-, kuvailu- ja luettelointityöhön eli prosessiin, jonka jokainen kirja käy läpi ennen kuin se on asiakkaiden käytettävissä sähköisenä tai painettuna versiona. Henkilökunta sai käyttöönsä uuden järjestelmän, jolla korvattiin entinen, yli 20 vuotta vanha. Kirjaston asiakkaille muutos näkyi UEF-Finnan vaihtumisella UEF-Primoon.
Ensimmäinen painettu kirja luetteloitiin Almaan heti vuodenvaihteen jälkeen. Kyseessä oli Tomi Voutilaisen Oikeus tietoon: informaatio-oikeuden perusteet vuodelta 2019. Kyseistä kirjaa luetteloitiin asiakkaiden käyttöön 29 kappaletta niin kurssi- kuin lukusalikappaleiksikin. E-kirjana Oikeus tietoon -teos saatiin asiakkaiden käyttöön jo aiemmin, heti sen ilmestyttyä joulukuun puolivälissä 2019.  Tammikuun puoliväliin mennessä kyseistä kirjaa oli lainattu painettuna 27 kertaa.
Kaiken kaikkiaan Itä-Suomen yliopiston kirjaston kokoelmaan luetteloitiin alustavien tietojen mukaan painettuja kirjoja noin 6 200 nidettä vuonna 2019. E-kirjojen kokoelma taas kasvoi vuoden aikana noin 35 000 nimekkeen verran. Kaikki UEF:n kirjaston painetut ja sähköiset kirjat löytyvät UEF-Primosta. Tervetuloa etsimään ja löytämään tietoa niin UEF-Primosta kuin kampuskirjastoistakin!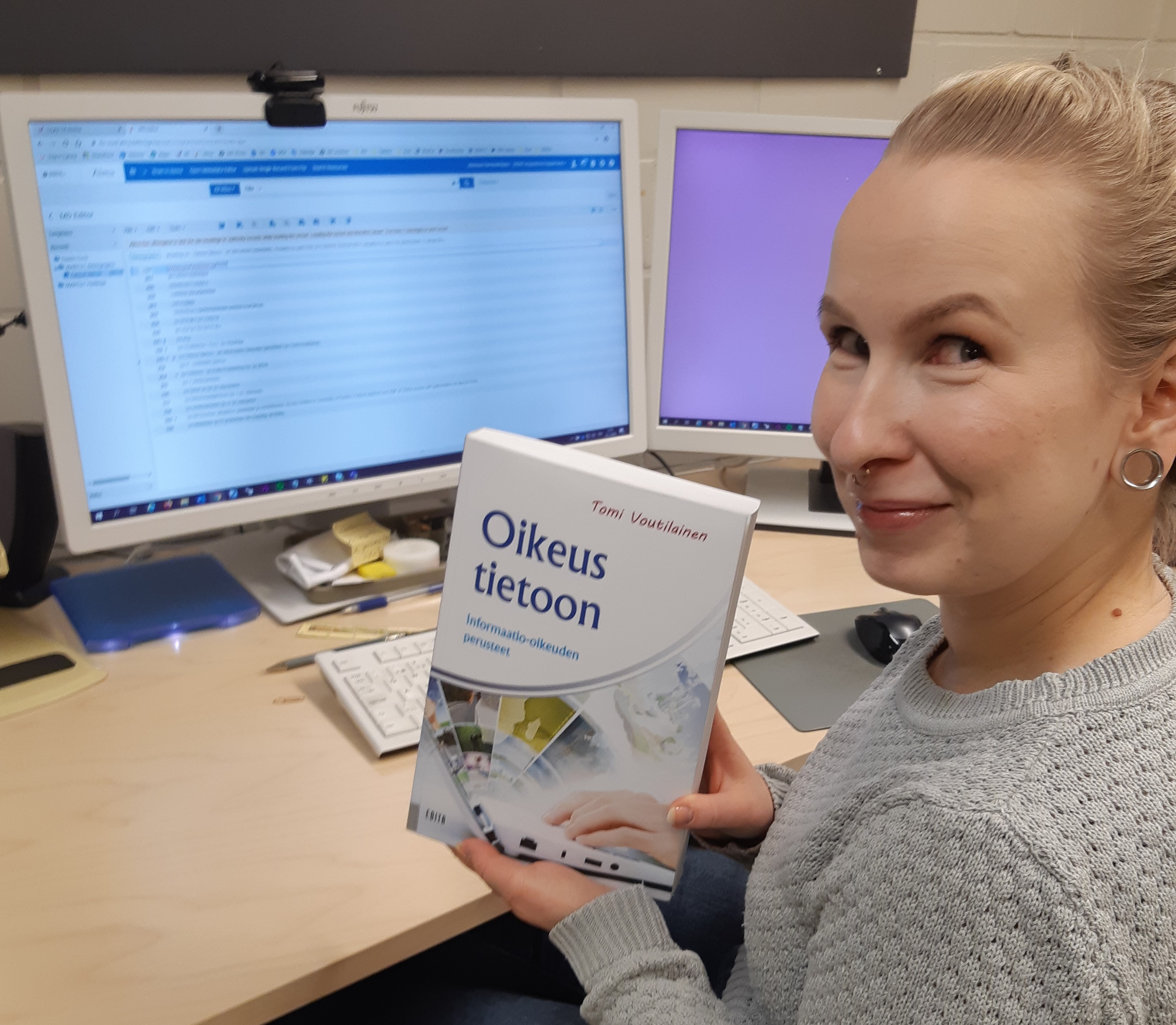 The new decade started in the University of Eastern Finland Library with a new library system called Alma. Alma is a modern system that is used in over a thousand libraries around the world. The system change affected all the processes in the library from acquisitions to subject indexing, classification and cataloguing, i.e. the process cycle which every book, printed or electrical, goes through before it can be used by the library customers. The library staff received a modern library system that replaced the old one which had been in use over 20 years. To the customers, the system change meant a change from the UEF Finna to the UEF Primo.
The first printed book was catalogued to Alma soon after the turn of the year. The book was Oikeus tietoon – informaatio-oikeuden perusteet (the principles of information law) from 2019. Altogether 29 copies of the book were catalogued and brought to the customers' use. E-version of the book was made available to the customers already in mid-December 2019. By mid-January the printed book had been borrowed 27 times.
According to the preliminary information, altogether 6,200 items of printed books were catalogued to the UEF Library's collection in 2019. The number of electronic titles available grew approximately by 35,000 titles.  In addition to the printed books, you can also find all the electronic books in the library's collections from the UEF Primo. You are warmly welcome to search and find information from the UEF Primo and from our campus libraries!
Terhi Rautiainen
tietopalveluneuvoja | Information services advisor
Tietoaineistopalvelut | Collection services