(Please, scroll down to read in English.)
Itä-Suomen yliopiston tutkijoiden julkaisujen määrä on vakiintunut noin 3500 vuosittaiseen julkaisuun. Tämä luku kuvaa hyvin sitä tieteellisen julkaisemisen perussääntöä, että yksi tutkija tuottaa keskimäärin pari julkaisua vuodessa. Tosin jos tarkastellaan yksittäisiä tutkijoita, hajonta on yliopistossammekin suurta: ahkerimmat julkaisevat kymmeniä julkaisuja vuodessa.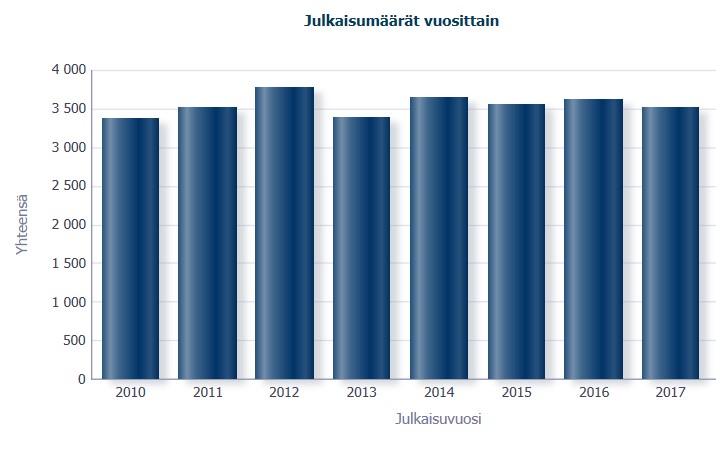 Julkaisufoorumiluokituksia tarkasteltaessa voidaan havaita selkeä siirtymä kohti korkeamman julkaisufoorumiluokituksen julkaisuja monografioissa. Sen sijaan lehtien ja sarjojen julkaiseminen on säilynyt samankaltaisena viime vuosina. Näyttäisi myös siltä, että konferenssijulkaiseminen on alkanut hiipua viime vuosina.
Avoin julkaiseminen on myös edennyt hyvin yliopistossamme. Olemme jo saavuttaneet 40 %:n avoimuuden asteen ja tavoitteena oleva 50 % parin seuraavan vuoden aikana näyttää siten olevan mahdollista saavuttaa.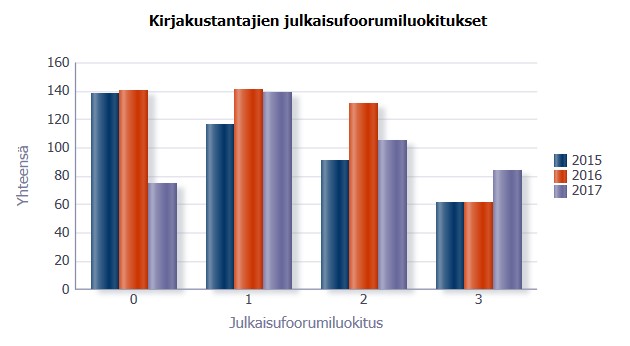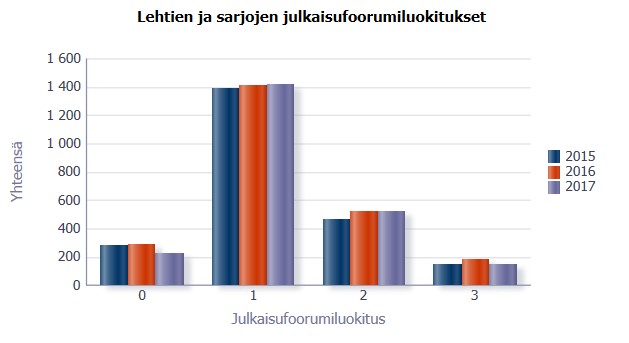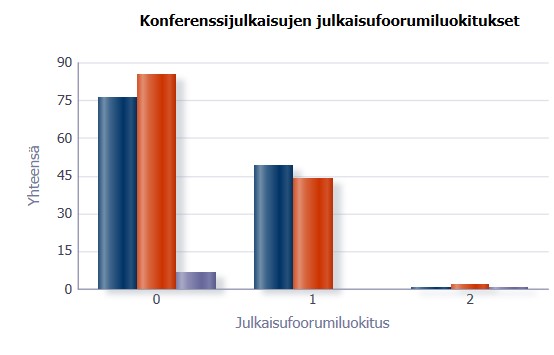 The number of publications by researchers from the University of Eastern Finland has stabilized around to 3500 annual publications. This is according to the basic rule of scientific publishing that one researcher produces on average a couple of publications per year. However, if we look at individual scientists, scattering is great: the most active publish dozens of publications a year.
When reviewing the Publication forum ratings, there is a clear transition towards higher publication forums in monographs. Instead, publication in journals and series has remained similar in recent years. It seems also that conference publishing has begun to decline.
The open access publishing has also developed well in our university. We are about to approach the degree of openness of 40% and the target of 50% in the next couple of years seems to be achievable.
Jarmo Saarti, kirjaston johtaja | Library director
Jukka Kananen, palvelupäällikkö | Head of services
Verkko- ja julkaisupalvelut | Library IT and Publishing services