(Please, scroll down to read in English.)
Kirjaston hakupalvelu UEF-Primo otettiin käyttöön joulukuussa 2019. Ensimmäisenä kokonaisena käyttövuotena 2020 UEF-Primossa tehtiin noin kaksi miljoonaa hakua, joten kokemuksia palvelusta on jo kertynyt ja kuultu. UEF-Primon toiminnasta on alusta saakka kerätty palautetta sekä kirjaston asiakkailta että henkilökunnalta. Ensimmäisen vuoden aikana UEF-Primoa koskevia palautteita kirjattiin noin tuhat. Palautteita käsitellään säännöllisesti kokoontuvassa Primo-työryhmässä, johon kuuluu edustajia kirjaston kaikista palveluista. Työryhmä pyrkii löytämään ratkaisun esille tulleisiin ongelmiin ja epäkohtiin sekä vastaamaan jokaiselle palautteenantajalle henkilökohtaisesti, mikäli tämä oli jättänyt yhteystietonsa.
Palautteiden ja kysymysten perusteella toimitetaan UEF-Primo – Usein kysyttyä -blogisivua, jotta asiakkailla olisi mahdollisuus löytää vastaus tyypillisiin kysymyksiin mahdollisimman nopeasti ja helposti. Kirjoitukseen päätyy kysymyksiä ja vastauksia esimerkiksi teknisiin ongelmiin, sisäänkirjautumiseen sekä aineistojen saatavuuteen ja lainaamiseen liittyvistä asioista.
Saadun palautteen perusteella UEF-Primoa muokataan toimivampaan suuntaan harkinnan ja mahdollisuuksien mukaisesti. Jotkin parannusehdotukset päätyvät toivelistalle. Myös järjestelmän toimittaja ExLibris kehittää Primo VE:tä sekä taustalla toimivaa Alma-kirjastojärjestelmää jatkuvasti. Kummastakin järjestelmästä tulee kuukausittain uusi päivitysversio, mikä toisinaan aiheuttaa yllätyksiä UEF-Primon räätälöinteihin. Joskus päivitys tuottaa hakupalveluun sellaisia uusia ominaisuuksia, jotka ennakkotestauksesta huolimatta eivät toimi oletetusti. Tällöin kyseinen ominaisuus pyritään jättämään kokonaan pois käytöstä tai siirtämään sen käyttöönottoa siihen asti, kunnes se toimii halutulla tavalla. Useimmiten päivitykset kuitenkin tuovat maailmanlaajuisen Alma/Primo-kirjastoyhteisön toivomia parannuksia, jotka lisäävät myös UEF-Primon käytettävyyttä ja asiakasystävällisyyttä.
Kansallisella tasolla Alma-kirjastot ovat tehneet yhteistyötä hankintaprojektin alusta alkaen ja tämä yhteistyö jatkuu edelleen. Erityisesti kansallinen Primo-ryhmä pyrkii jakamaan hakupalveluun liittyviä tietojaan, taitojaan ja käyttökokemuksiaan. UEF-Primon kehittäminen on siis edelleen jatkuva, aktiivinen prosessi. Asiakkaanamme voit halutessasi osallistua UEF-Primon kehittämiseen esimerkiksi lähettämällä meille palautetta palautelomakkeella.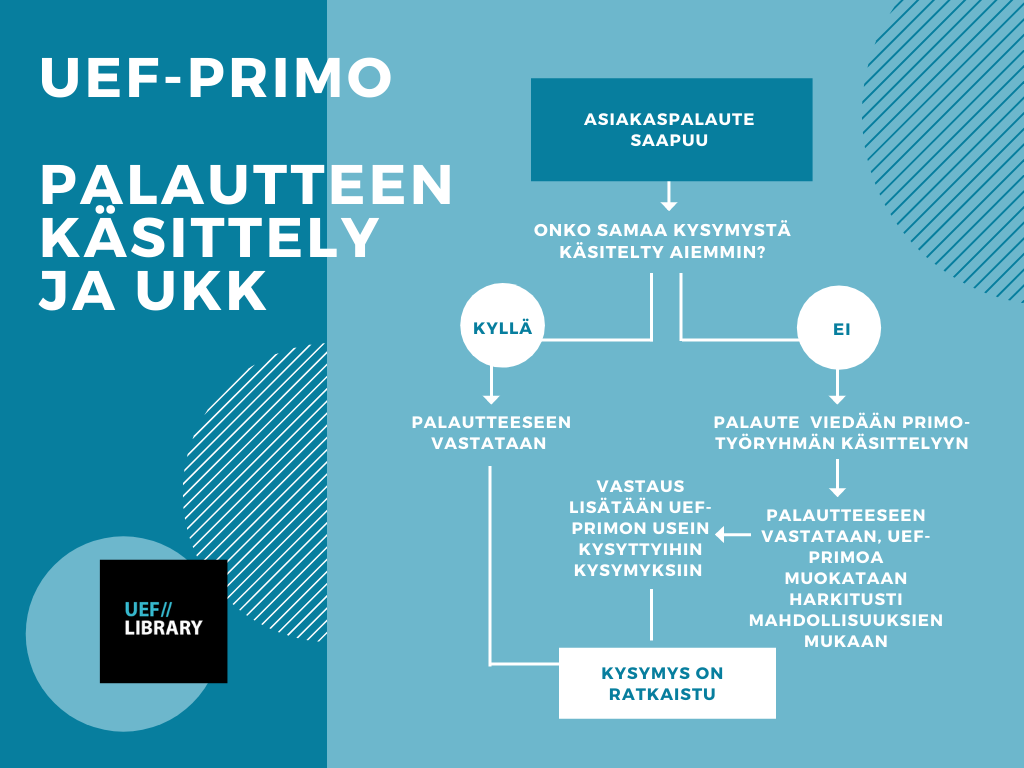 The library's search service, UEF Primo, was introduced in December 2019. During the first full year of use in 2020, around two million searches were made through UEF Primo, so we have gathered plenty of experience of the service. Since the beginning of introducing UEF Primo, feedback on the service has been collected both from the library customers and the personnel. Over the first year, we recorded about a thousand pieces of feedback related to UEF Primo. The feedback is processed in regular meetings of the Primo team, which comprises representatives from all library services. The work group aims to find a solution for any emerging issues and complaints and to answer all feedback givers personally, provided that they have left their contact information.
Based on feedback and questions, we update a UEF Primo – Frequently asked questions blog article, which allows our customers to find answers to the most common questions as quickly and easily as possible. This article features questions and answers related to issues such as technical problems, signing in and the availability and borrowing of materials.
Based on the feedback received, UEF Primo will be further developed as considered necessary and possible. Some improvement suggestions will be added to the list of requests. The system supplier ExLibris is also constantly developing Primo VE and its background library system, Alma. A new updated version is released for both systems every month, which sometimes causes surprises in the UEF Primo customizations. Sometimes, the update may add new functionalities to the search service which do not work as expected, despite advance testing. In such cases, the functionality is either removed from use or its introduction is postponed until it works as desired. Most of the time, however, the updates deliver improvements requested by the global Alma/Primo library community, while also improving the usability and customer-orientation of UEF Primo.
On a national level, Alma libraries have worked together since the beginning of the acquisition project, and this cooperation is still going strong. The national Primo group, in particular, strives to share its information, know-how and user experiences of the search service. The development of UEF Primo is still a continuous, active process. As our customer, you can also participate in developing UEF Primo by sending us feedback using the feedback form, for example.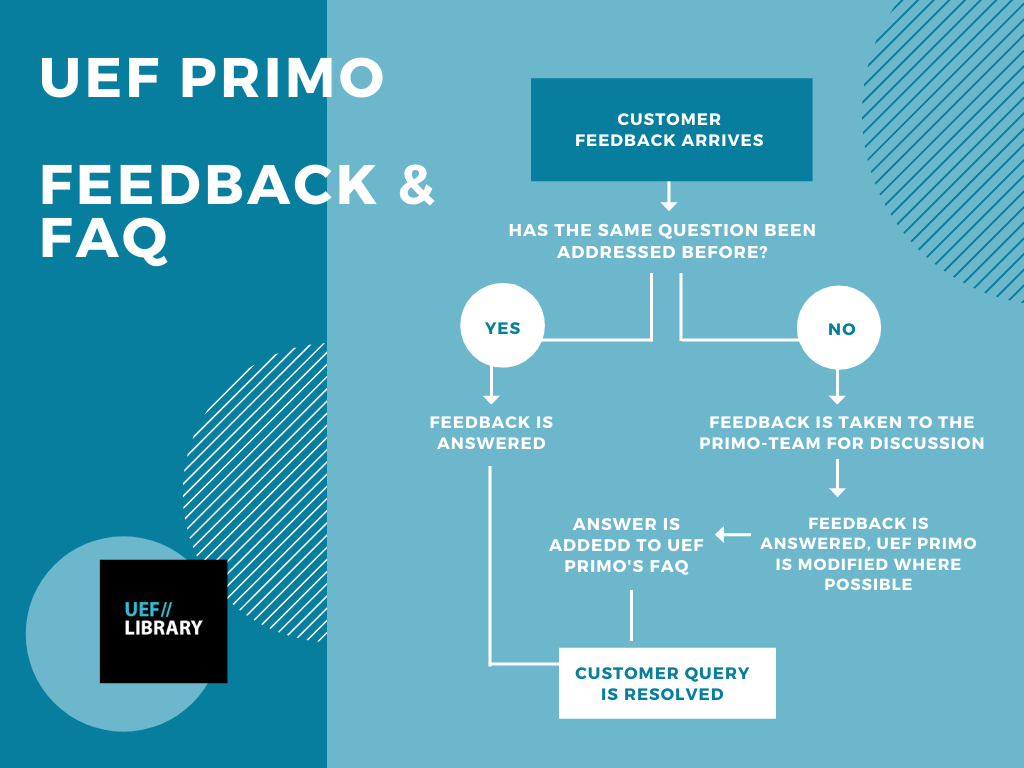 Piia Pietarinen, tietopalveluneuvoja | Infomation Services Advisor
Asiakaspalvelut | Customer Services
Jukka Kananen, palvelupäällikkö | Head of Services
Verkko- ja julkaisupalvelut | Library IT and publishing services
Lähde: Holopainen, Riitta; Kuittinen, Marja: UEF-Primo, uuden vuosikymmenen hakupalvelu. Teoksessa: Ensimmäinen vuosikymmenemme. Kirjaston vuosikertomus 2020.