(Please, scroll down to read in English.)
Opiskelijamme ja henkilökuntamme käyttävät Ellibs-palvelua ahkerasti: vuoden 2022 aikana kertyi yhteensä 47 456 lainaa. Lainatuimmat e-kirjat olivat Ihmisen psykologinen kehitys (1 336 lainaa), Laadullinen tutkimus ja sisällönanalyysi (1 292 lainaa), Laadullinen tutkimus 2.0 (1 168 lainaa). Palvelun kautta hankittuja e-kirjoja oli viime vuoden päättyessä 870 kappaletta.
Ellibs-kirjoja on mahdollista lukea eri laitteilla Adobe Digital Editions -lukuohjelman avulla tai selaimessa (vain epub-formaatin kirjoja) ja älypuhelimella tai tabletilla myös Ellibs-sovelluksen kautta. Ellibs-sovellus on ladattavissa iOS-laitteelle App Store -sovelluskaupasta ja Android-laitteelle Google Play -sovelluskaupasta. Maanlaajuisesti Ellibs-sovelluksen käyttö on suosittua: Ellibsin mukaan 42 prosenttia kaikista lainoista tehtiin sovelluksen kautta vuonna 2022.
Ellibs-sovelluksen käyttäminen on näppärää. Kokoelma-näkymässä voi selailla, hakea ja rajata e-kirjakokoelmaa. E-kirjojen tiedoissa näkyy, milloin kirja on saatavilla. Jos kaikki kappaleet ovat lainassa, voi kirjaan jättää varauksen. Kirjahylly-näkymästä löytyy omat sen hetkiset ja aiemmat lainat sekä suosikit, joita voi lisätä klikkaamalla e-kirjan tiedoissa oikeassa yläkulmassa olevaa tähteä.
Sovelluksessa on mahdollista suodattaa hakua esimerkiksi tiedostomuodon, kokoelman, kielen ja aikavälin perusteella. Hakutuloksista voi myös rajata pois aiemmat lainat tai valita vain saatavilla olevat kirjat. E-kirjaa lukiessa voi haluamilleen sivuille jättää kirjanmerkin, jolloin niihin palaaminen on nopeaa. Kirjanmerkit voi nimetä itse, jolloin ne erottuvat helposti toisistaan.
Ellibs päivittää sovellusta aktiivisesti. Sovelluksen tuore ominaisuus mahdollistaa käyttäjän kirjautumisen useaan Ellibs-kokoelmaan samanaikaisesti. Käytännössä tämä tarkoittaa, että sovelluksessa voi käyttää esimerkiksi korkeakoulunsa ja yleisen kirjastonsa Ellibs-kokoelmaa samanaikaisesti vaihtamalla valikossa kirjastoa. Uusimmassa päivityksessä Ellibs on tuonut sovellukseen tuen tummalle käyttöliittymälle: tumma tila muuttaa sovelluksen käyttöliittymän teeman vaaleasta tummaksi, mikä muun muassa saattaa vähentää silmien rasitusta hämärässä. Jos uudet ominaisuudet eivät näy, kannattaa sovellus päivittää sovelluskaupassa.
Kuten Ellibs-palveluun yleensä, myös Ellibs-sovellukseen kirjaudutaan Itä-Suomen yliopiston Haka-tunnuksilla. Sovelluksessa valitaan ensin omaksi kirjastoksi Itä-Suomen yliopiston kirjasto. Sovellus säilyttää yleensä sisäänkirjautumisen, mutta jos esimerkiksi e-kirjojen lainaamisessa tai hakutoiminnoissa havaitsee ongelmia, kannattaa sovellukseen kirjautua uudelleen.
Antoisia e-lukuhetkiä!
Lisää ohjeita ja vinkkejä Ellibs-palvelun käyttämiseen:
Ellibsin sivuilla
Kirjaston sivuilla
Ellibs-sovelluksen Ohjeet-kohta.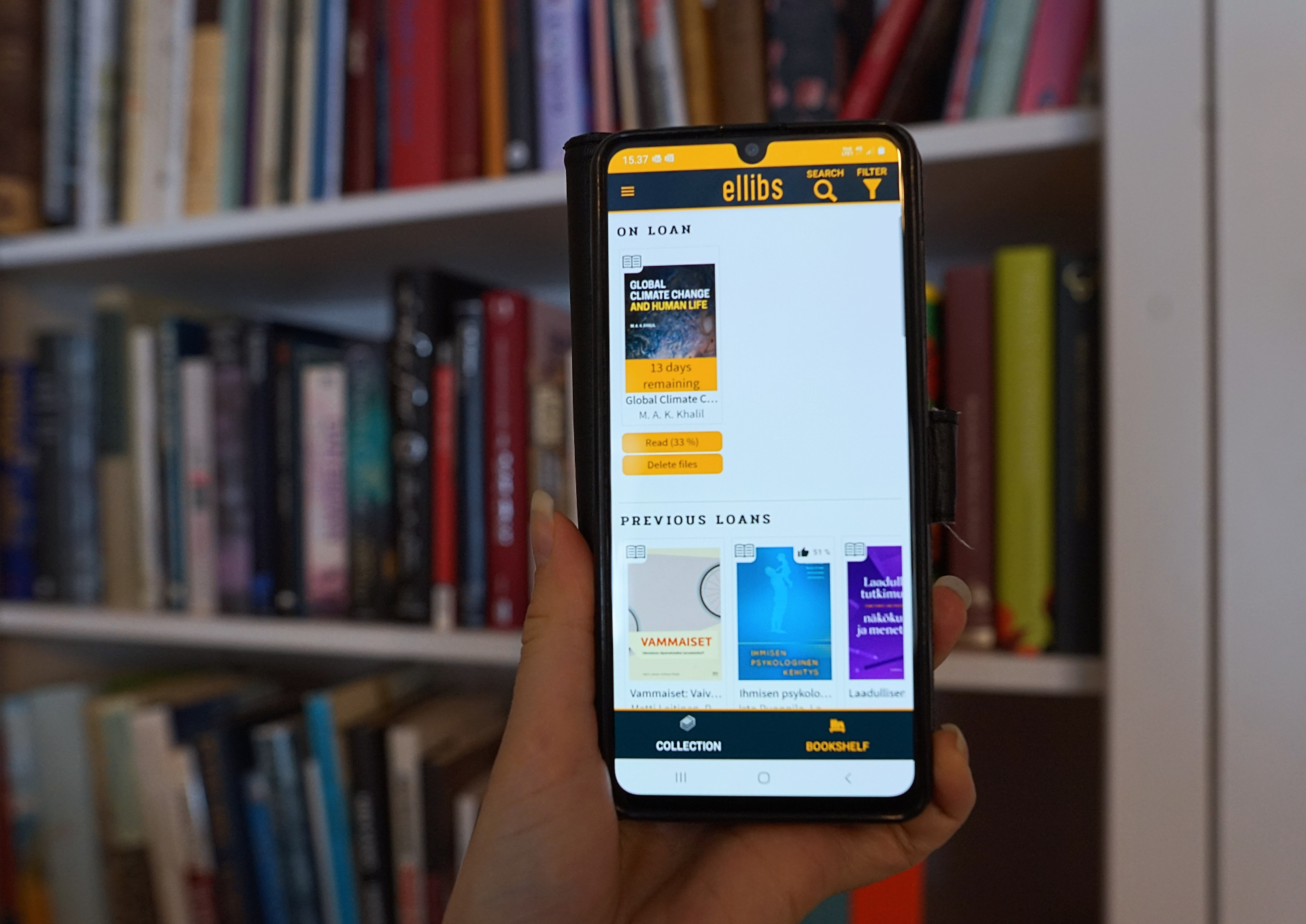 Our students and staff are eagerly using the Ellibs service: during the year 2022, a total of 47,456 loans were borrowed. The most borrowed e-books were Ihmisen psykologinen kehitys (1,336 loans), Laadullinen tutkimus ja sisällönanalyysi (1,292 loans), Laadullinen tutkimus 2.0 (1,168 loans). There were 870 e-books acquired through the service by the end of last year.
You can read Ellibs e-books with Adobe Digital Editions or a web browser (only for books in EPUB format), or via the Ellibs app, if you are using a smartphone or a tablet. The app is available for download in the App Store for iOS devices and in Google Play for Android devices. Ellibs app is quite popular nationwide: according to Ellibs 42 percent of all loans were made through the app in 2022.
Ellibs app is very user-friendly. The library collection lets you browse, search, and filter the e-book collection. The information page for each e-book shows when the e-book is available. If all the copies are on loan, you can leave a reservation for a copy. Bookshelf lets you view all the e-books you currently have on loan as well as your previous loans and favourites. You can add an e-book to your favourites by clicking the star icon on the upper right corner of the e-book's information page.
The app allows you to filter the search by various categories, including file format, collection, language, and time period. The results may also be limited to show only available books and to leave out previously loaned e-books. While reading an e-book you can leave bookmarks on the pages you want, making it simple to return to them. You can name your own bookmarks, making it easy to separate them.
Ellibs is active in updating the app. The latest new feature allows the user to sign into multiple Ellibs collections simultaneously. For example, you can use the Ellibs collections of both your university and public library at the same time by switching the collection on the menu. The latest update also introduces dark mode. It changes the app's theme from light to dark, making it easier on the eyes in dim light. If you cannot find the new features, it is recommended to update the app through your device app store.
Logging in to Ellibs app is made the same way as to the Ellibs service in general, by using the University of Eastern Finland Haka authentication. First choose University of Eastern Finland library as your own library. The app usually remembers your login, but if you find problems in borrowing e-books or using the search function, logging out and logging in again may help.
Have a great time e-reading!
Additional instructions and tips for using Ellibs:
Ellibs website
UEF Library website
Ellibs app Instructions tab.
Marjut Perälä, tietopalveluneuvoja | information services advisor
Tietoaineistopalvelut | Collection services