(Please, scroll down to read in English.)
Love data -viikko on OA -viikon kaltainen, kansainvälisesti pääosin verkossa vietettävä tapahtuma, jonka tarkoitus on lisätä tietoisuutta tutkimusdatanhallinnasta, jakamisesta, säilyttämisestä, uudelleenkäytöstä ja kirjaston tarjoamista tutkimusdatapalveluista. Tapahtuma jakaa käytännön vinkkejä, tietolähteitä ja tarinoita edistämään hyvää datanhallintaa. UEF kirjasto osallistuu 2018 Love data viikkoon sosiaalisessa mediassa; blogissa,  Twitterissä,  sekä Facebookissa,  seuraa siis kirjastoa sosiaalisessa mediassa.
Hyvä aineistonhallintasuunnitelma on olennainen osa tutkimusprosessia, ja sitä edellyttää myös UEFin julkaisu- ja datapolitiikka. UEF kirjaston tutkimuksen tuen palvelut tarjoavat tukea tutkimusdatanhallinnassa.   Kirjaston tietoasiantuntijat auttavat jo tutkimuksen alkuvaiheessa aineistonhallintasuunnitelmien laatimisessa. DMPTuuli on työväline datanhallinnan suunnitteluun.  Se auttaa käymään läpi kaikki hyvän tutkimusdatanhallinnan kannalta oleelliset kysymykset.
Kirjaston asiantuntijat auttavat myös tutkimusdatan avaamiseen, säilyttämiseen ja uudelleenkäyttöön liittyvissä kysymyksissä. Koulutusta tutkimusdatan avaamiseen on tarjolla, esimerkiksi 22.3.2018 Skype-koulutus  Tutkimusdatan avaaminen, miten ja missä avata tutkimusdataa. Ilmoittautuminen ja lisätietoja HRM-kalenterin kautta. Tutustu muihin kirjaston koulutuksiin.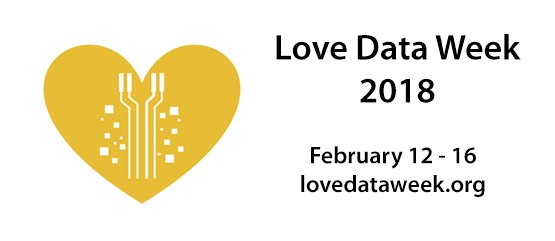 Love data week is international event similar to OA week. The purpose of this online event is to raise awareness on topics related to research data management, sharing, preservation, reuse, and library's research data services. The event shares practical tips, resources, and stories to increase good data management. UEF library participates Love Data week in social media; in blog, Twitter and Facebook, so follow UEF Library in social media.
Good data management plan is important part of the research process, and required in The Publishing and Data Policy of the University of Eastern Finland and increasing number of research funders. UEF Library research support offers services for research data management.  Information specialists help from the begging of the research with data management planning. DMP Tuuli is a tool for planning data management.  This tool helps to consider all important questions related to good data management.
Library's specialists help also in questions related to opening, preserving and reusing research data. Upcoming training, for instance: 22nd March, 2018 Skype training about opening research data, how and where to open your data. Enrolling and more information in the HRM training calendar. Check out also library's training menu.
Anne Karhapää, tietoasiantuntija | Information specialist
Opetus- ja tietopalvelut | Training and information services