(Please, scroll down to read a summary in English.)
Itä-Suomen yliopiston kirjaston vuosikertomus 2019 Tietoaineistojen tiheikössä on julkaistu. Toimintakertomuksen teemana ovat muuttuvat tietoaineistot muuttuvissa toimintaympäristöissä.
Jarmo Saarti luo katsauksen tieteellisen julkaisemisen muutokseen, jossa on menossa digitalisaation kolmas vaihe. Riitta Porkka, Kaarina Meriläinen ja Mikko Meriläinen kirjoittavat hankinta- ja kokoelmatyön muutoksista. Juho Jussilan aiheena ovat kirjoittajamaksut osana avoimen julkaisemisen kulurakennetta. Anne Karhapää ja Laura Parikka tarkastelevat  avoimia oppimateriaaleja ja tutkimusdataa tietoaineistoina. Jukka Kananen, Marja Kuittinen, Harri Kalinen ja Aino Taskinen kirjoittavat uuden kirjastojärjestelmän käyttöönotosta. Katja Hyvärinen, Juho Jussila ja Tarja Turunen keskittyvät uuteen kirjastojärjestelmään ja sen käyttöönottoprojektiin aineistojen kuvailijan näkökulmasta.
Vuosikertomuksen liitteissä on tilastotietoja kirjaston toiminnasta sekä listaukset henkilökunnan julkaisuista ja asiantuntijatehtävistä vuonna 2019.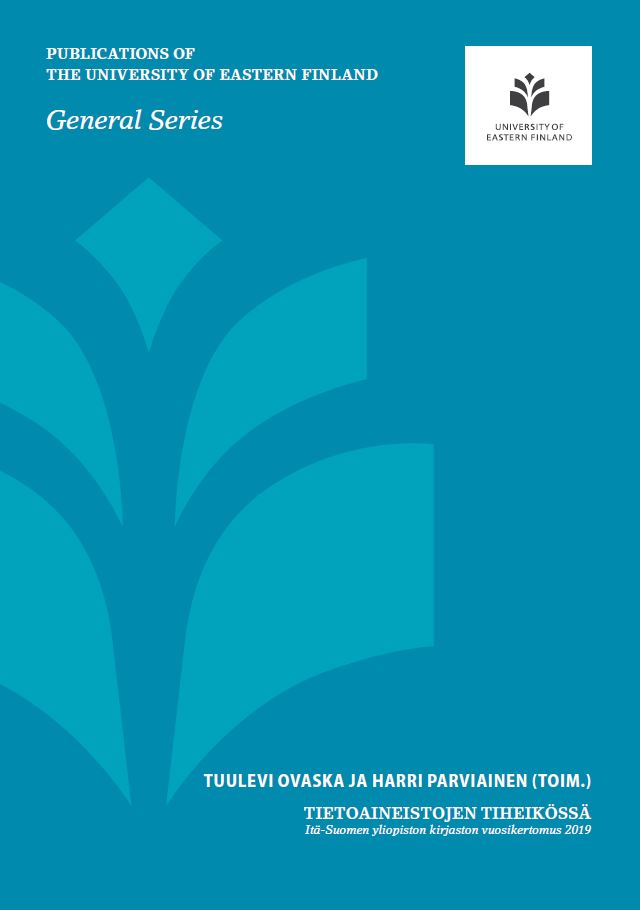 The Annual Report of the University of Eastern Finland Library 2019, called  Multitude of Materials has been published. It is in Finnish but includes an abstract in English. The theme is changing materials in changing operating environments. The appendix of the annual report contains statistical information regarding the library's activities, along with a listing of staff member publications and specialist assignments in 2019.
Tuulevi Ovaska, erityistietoasiantuntija | information specialist & communications coordinator
Opetus- ja tietopalvelut | Training and information services
Harri Parviainen, tietoasiantuntija | information specialist
Tietoaineistopalvelut | Collection services
Mikko Meriläinen, tietoasiantuntija | information specialist
Tietoaineistopalvelut | Collection services