(Please, scroll down to read in English.)
Olen Sanna Alajuuma, ja aloitin työt tietopalveluneuvojana Joensuun kampuskirjastossa helmikuussa. Tehtäviini kuuluu pääasiassa kirjaston sisäisten palveluiden tehtäviä ja lisäksi kaikenlaista muutakin, kuten viestinnällisiä töitä.
Kirjastoalan työn aloittaminen Joensuussa on merkinnyt minulle paluuta Pohjois-Karjalaan ja oikeastaan myös kirjastoalalle. Olen syntyperäinen kiteeläinen, mutta Pohjois-Suomessa suurimman osan elämästäni asunut. Paluu Pohjois-Karjalaan oli kytenyt mielessäni jo jonkin aikaa, ja lopullisen sysäyksen muutolle antoi uusi innostava työ.
Opiskelin Oulun ammattikorkeakoulussa kirjasto- ja tietopalvelun koulutusohjelmassa, ja kun en heti valmistuttuani työllistynyt kirjastoalalle, päätin täydentää osaamistani ja opiskella lisää. Niinpä suoritin digitaalisen markkinoinnin ja myynnin täydennyskoulutuksen, jonka myötä sain  digimarkkinoinnin töitä. Sille tielle jäin neljäksi vuodeksi.
Digimarkkinointityö sisälsi ajoittain syvällistäkin pureutumista tietotekniikan ja digitaalisten palvelujen maailmaan, joten reppuun tarttui osaamista niin markkinointikanavien sisällöntuotannosta kuin koodaamisestakin. Näitä tietoja ja taitoja pääsen hyödyntämään myös nykyisessä työssäni. Olen innoissani, että voin yhdistää hieman kaikkea mitä olen oppinut!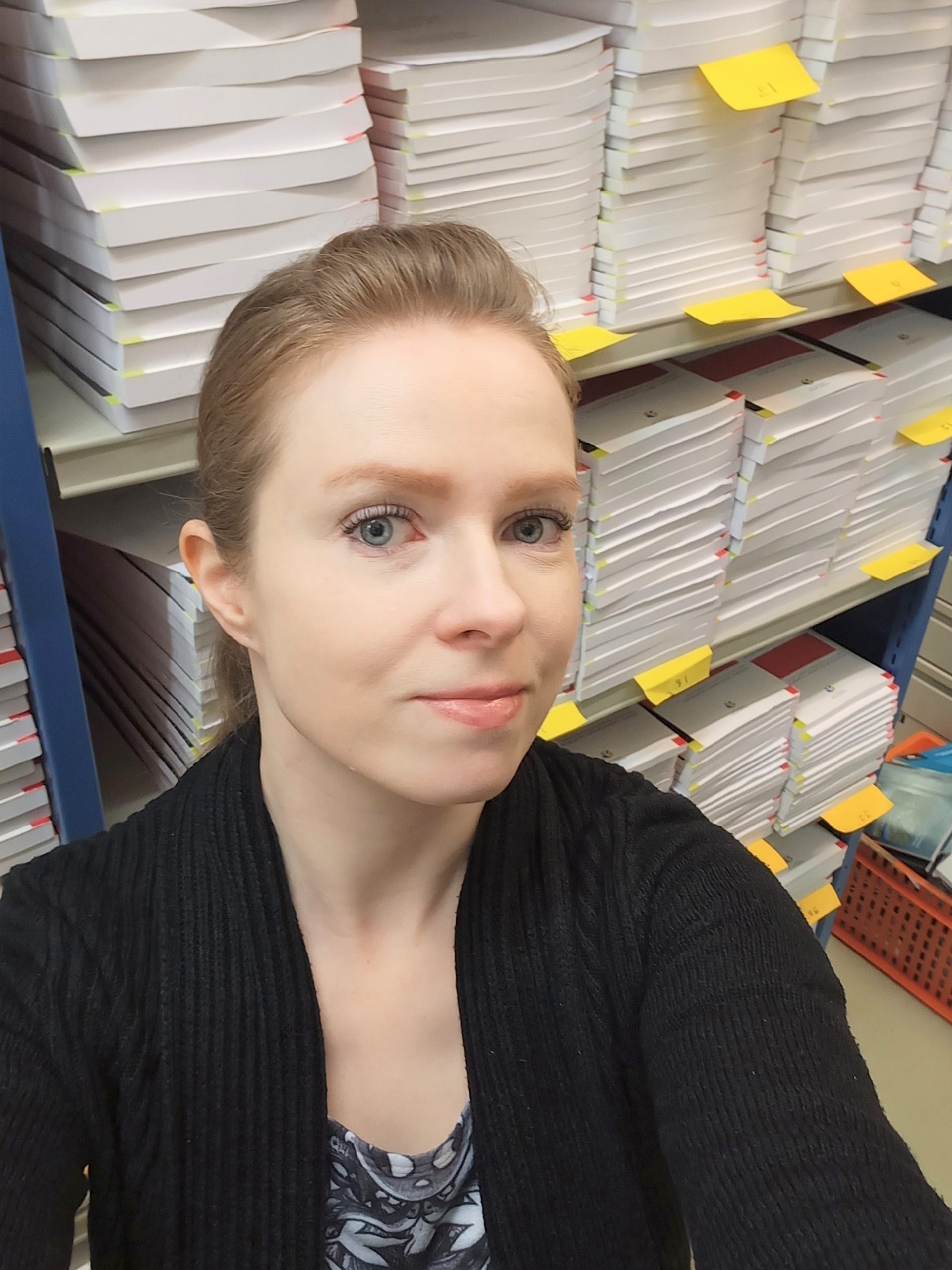 I am Sanna Alajuuma and work as an Information Services Advisor at the Joensuu Campus Library. I started here in February. My assignment mainly includes tasks of the library's internal services and, among other things, communication tasks.
Starting library work in Joensuu meant a return to North Karelia and in fact also to the library sector. I was born in Kitee, but I've lived in northern Finland most of my life. The return to North Karelia had been simmering in my mind for a long time and the final impetus for change was given by an exhilarating new job.
I studied in the Oulu University of Applied Sciences in the programme of Library and Information Service, but after graduation I did not immediately get employed in the library sector. I decided to study more and completed further education in digital marketing and sales. I then got employed in digital marketing, and stayed on that road for four years.
From time to time, the digital marketing work involved a profound bite in the world of information technology and digital services, and my skill set accumulated with expertise in content production of marketing channels and coding. This is the knowledge and skills I get to use in my current job as well, and I am excited to be able to combine parts of everything I have learned!
Sanna Alajuuma, tietopalveluneuvoja | Information Services Advisor
Sisäiset palvelut | Internal Services