My name is Michael Tekeste Gebremedhin, and I'm delighted to share my exciting journey as an intern at the University of Eastern Finland (UEF) Library in Joensuu. It's been an incredible three weeks, and I can't wait to tell you all about it.
My journey to UEF was not without its challenges. In my first year of studying IT, I arrived in Finland later than expected due to some visa issues. This setback meant that I had to take on a heavy workload to catch up on the courses I missed. As a result, I spend most of my time working at home, but when I do come to the library, it's primarily as a student racing to complete assignments and projects, rather than reading books.
Despite the initial difficulties, I saw this late start as an opportunity for a fresh beginning. It pushed me to develop a strong sense of discipline and time management. I learned to navigate the complexities of coursework and exams efficiently. My late arrival, which seemed like a setback at first, turned into a valuable lesson in resilience and adaptability.
Over time, I began to appreciate the library not just as a place to study under pressure, but as a hub of knowledge and resources. It became a space where I could refine my IT skills and seek assistance when needed. While my focus remained on catching up academically, I couldn't help but notice the wealth of information and inspiration that surrounded me in those hushed library halls.
Fast forward to today, and I find myself in a completely different role – an intern at the UEF library. Over the past three weeks, I've come to realize just how much this place has to offer, beyond being a study hub. The library is a treasure trove of knowledge, with an extensive collection of both electronic and hardcopy books that pique my interest as an IT student.
One of the first things that struck me about the UEF library is the warmth and friendliness of its staff members. They went out of their way to ensure I didn't feel like an outsider. Instead, they welcomed me with open arms and made me feel like an integral part of the team.
As an intern in the library world, I've been on a big learning journey. Initially, the library's system platform felt like uncharted territory, but my supervisor Marja Kuittinen has shown remarkable patience and support in helping me navigate it. I've gained knowledge in various facets of library operations, such as UEF-Primo, which is the library's digital resource and search platform, as well as Library Services and Communication Functions. I've also been involved in training and information services, and even had the opportunity to learn about collection services, including the interesting task of shelving books based on the codes assigned to them. This learning experience encompassed both theoretical understanding and hands-on application. And, by the way, I can't help but why do the letters 'V' and 'W' get treated the same when it comes to sorting author names on books? It is a little funny!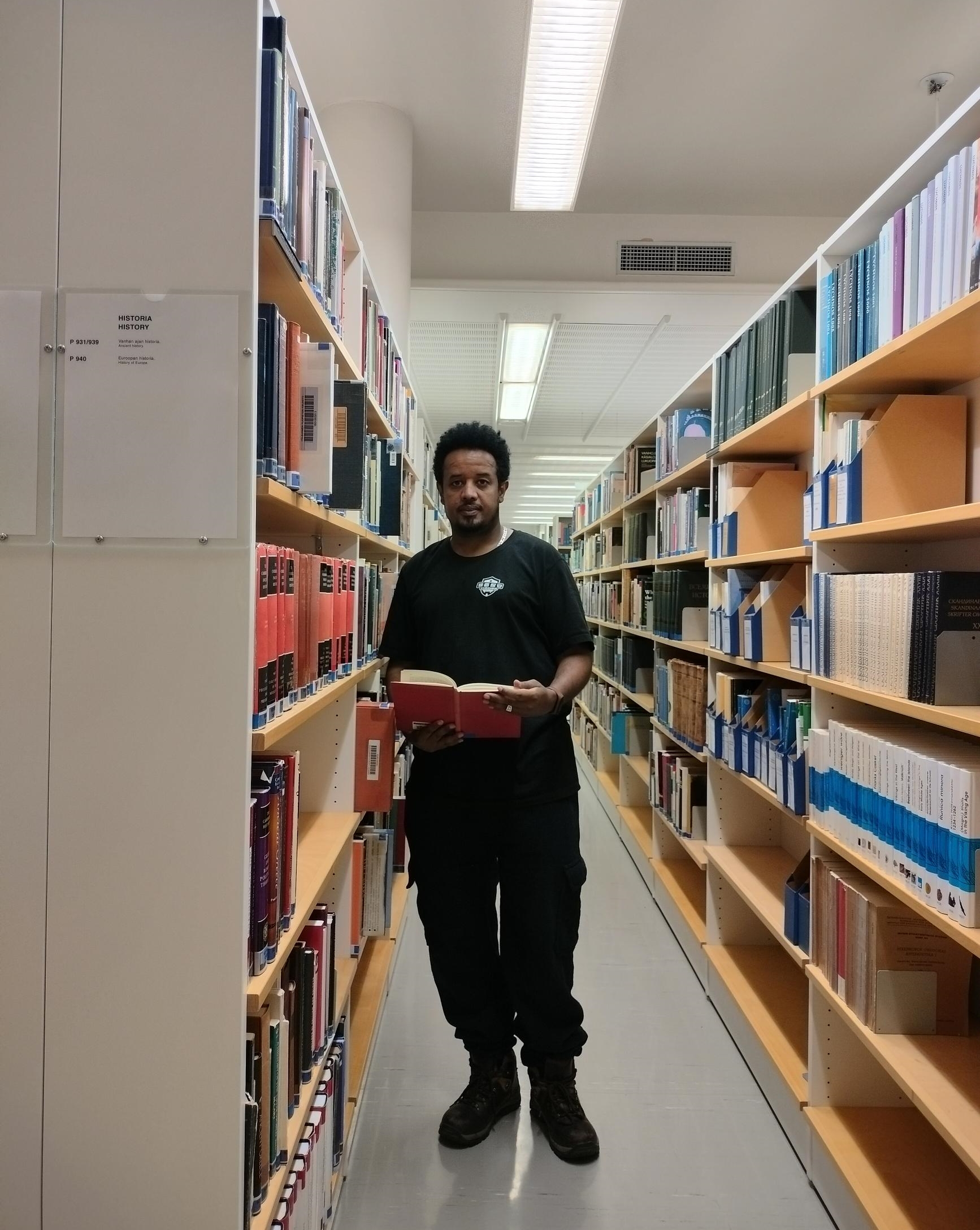 Fortunately, I had the chance to attend the presentation on Friday, September 8th, 2023, when my supervisor introduced bibliometrics to Rafaella Lenoir Improta, who holds a PhD and came from the Autonomous University of Madrid, Spain, during her visit to Finland. It was truly an amazing experience!
My time as a library intern at UEF has been a remarkable journey of learning and growth. I've gone from a student who primarily used the library as a quiet place to study to someone who now appreciates the immense value it offers in terms of knowledge and community. I am grateful for the warm welcome and the guidance I've received from the library staff, and I look forward to continuing this adventure as I dive deeper into the world of books and information.
Oh, I forgot to mention the exciting part – I've also had the incredible opportunity to immerse myself in learning Finnish! It's truly amazing to discover and embrace new words and phrases every single day. Learning a new language is like unlocking a treasure trove of knowledge, I'm enthusiastically expanding my language skills with every passing moment.
These initial weeks were nothing short of enjoyable. I'm excited to share my full experience with you at the end of these two months when I'll have had the chance to delve even deeper into the world of libraries. So, stay tuned for my upcoming blog post where I'll recount my adventures, discoveries, and the lessons learned along the way. The journey has just begun, and I can't wait to take you along with me.
"The only thing you absolutely have to know is the location of the library." – Albert Einstein
Michael Gebremedhin, Intern