Kuopion kampuskirjastossa on avautunut suomen kielen murteita käsittelevien kirjojen näyttely. Näyttelyssä on murteilla kirjoitettuja kirjoja sekä murteita käsitteleviä kirjoja. Kirjanäyttelyn nimi "Tavvoo savvoo" on peräisin Unto Eskelisen kirjoittamasta samannimisestä sanakirjasta, johon on koottu Savon murteen sanoja, esimerkkejä sekä neuvoja murteen merkitsemiseen ja ääntämiseen. Suurin osa näyttelyn kirjoista on lainattavissa kirjaston asiakaspalvelun kautta.
Vinkki: Suomen murteiden esimerkkejä voi kuunnella Kotimaisten kielten tutkimuskeskuksen kotisivulla.
Tarja Turunen, tietoasiantuntija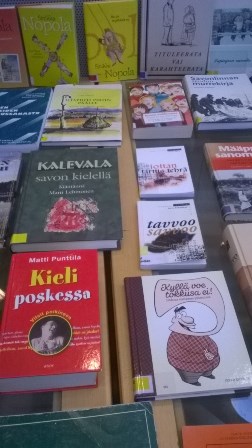 The book exhibition consists of books written in dialects and books on dialects. The name of the exhibition is the same as the book written by Mr. Unto Eskelinen. The book "Tavvoo savvoo" is a dictionary of the Savo dialect and it contains also examples and guidance how to write and pronounce Savo dialect. Most of the books in the exhibition can be borrowed at the Library's Customer Service Desk.
Tip: Examples of Finnish dialects can be listened at the home page of the Institute for the Languages of Finland.
Tarja Turunen, Information Specialist