(Please, scroll down to read in English.)
Olen Anni Tarkiainen, UEF-kirjaston projektityöntekijä. Aloitin työt elokuun puolessavälissä kirjaston koulutuksen kehittämiseen keskittyvässä hankkeessa, jossa tehtäviini kuului pääsääntöisesti kirjaston uuden, kaikille avoimen oppimateriaalin kanssa työskentely. Materiaali kulkee nimellä Tiedonhakijan opas, ja se julkaistaan hetken päästä. Kannattaa siis seurata kirjaston tiedotusta!
Kirjaston koulutuksen kehittäminen -hanke on ehtinyt olla käynnissä tämän vuoden alusta saakka. Elokuussa alkaneen projektityöni sisällöksi oli määritelty materiaalin teknisen osuuden toteutus. Iso osa työajastani kuluikin kirjaston asiantuntijoiden valmiiden materiaalien koostamisessa ja muotoilussa verkkosivuille sopiviksi. Toinen yhtä laaja osio oli kuvamateriaalien suunnittelu ja rakentaminen kaikille saavutettavaan muotoon. Saavutettavuudesta innostuneena tartuin myös oppaan sisältöön, jonka selkeyteen ja ymmärrettävyyteen teimme syksyn mittaan parannuksia.
Työkaverini Marika Mahlavuori toivoi, että kertoisin millaista on työskennellä Itä-Suomen yliopiston kirjastolla projektissa. Aino Salosen koostamaa ja kirjoittamaa Duunitorin artikkelia ja sen sisältämiä sananlaskuja siteeraten, lainaten, soveltaen ja täydentäen valitsin yhdeksän työhön liittyvää sananlaskua, jotka mielestäni sopivat kuin nenä kirjastolaisen päähän:
Ei kysyvä tieltä eksy.
Kirjastolla oli todella lämmin vastaanotto ja kannustava ilmapiiri tehdä töitä. Kysyminen oli helppoa, ja projektityöntekijänäkin koin olevani yhdenvertainen työntekijä muiden, pidempään talossa olleiden kanssa. Työpaikasta riippumatta kannattaa tietysti olla itsekin aktiivinen ja normaalin mukava työntekijä, kuunnella ja keskustella muidenkin kuin oman työhuoneen pulinaporukan kanssa. Toimistopäivinä oli siis oikein mukava kerrata kuulumisia kaikkien kanssa kahvihuoneessa ja lounaalla. Samalla opin myös, että kirjaston tehtäväkenttä on valtavan laaja ja kirjastolaisia on mukana todella monissa yliopiston toiminnoissa.
Aloittamista vaille valmis.
Olen huomannut, että projekteilla on hyvin usein jokin suunnitelma, jota tulisi noudattaa. Joskus suunnitelma on löyhempi, ja joskus taas tiukempi. Itse tykkään, että projektin virallinen suunnitelma määrittää isot suuntaviivat ja yksityiskohtaisemmasta tekemisestä sovitaan pienemmässä porukassa. Tässä projektissa suunnitelmat olivat tarpeeksi joustavia myös pienten mutkien ilmaantuessa.
Hullu paljon työtä tekee, viisas pääsee vähemmällä.
Kirjaston nykyisistä opetusmateriaaleista löytyi paljon sisältöä, joita hyödynsimme onnistuneesti osana avointa oppimateriaalia. Kaikkea sisältöä emme siis tehneet alusta saakka, vaikka toki muokkailimme materiaaleja selkeämpään suuntaan esimerkiksi yhtenevän kieliasun ja kuvitusten osalta. Oppaan toteutuksessa otimme mahdollisimman hyvin huomioon koko paketin ylläpidettävyyden ja käytimme Itä-Suomen yliopiston käytössä olevia työkaluja (mm. WordPress-pohjat ja ThingLink).
Mittaa kahdesti ja sahaa yhdesti.
Mielestäni suunnitelmallisuutta tarvitaan, jotta lyhyessäkin projektissa työaikaa käytetään järkevästi ja mielekkäästi. Tiedonhakijan oppaan materiaalien viimeistelyssä suunnittelimme työn vaiheistusta niin, että myös odotusaikoina oli mielekästä tekemistä.
Yksi peruna kerrallaan.
Kun palastelimme oppaan rakentamisen pienempiin osiin, ei urakka tuntunut mahdottomalle, vaikka tekemistä oli välillä paljonkin. Neljän kuukauden työskentelyssä saavutimme tavoitteet yksi kerrallaan oikein hyvin. Toisaalta työn edetessä huomasimme monta uutta kehittämiskohdetta, joita työstimme jo syksyllä ja viemme eteenpäin myös jatkossa.
Ei siinä kauaa mene, kun töitä tekee.
Olen huomannut, että lyhyissä projektitöissä voi olla paikallaan suhtautua töihin niin, että ainakin tietyt tavoitetasot täyttyvät. Valmista jälkeä on hyvä olla tehtynä johonkin ennalta määrättyyn hetkeen mennessä, koska projektin parissa työskentely muuttuu tai joskus jopa päättyy tietyn ajanjakson jälkeen. Projekteihin kuuluva aikapaine on mietityttänyt etenkin, jos projektissa ilmaantuu jotain ennalta-arvaamatonta. Minun syksyyni mahtui toki sellaisiakin kokemuksia ja onneksi työkaverit muistuttivat, että maailma ei kaadu, vaikka oppaaseen jää täydennettäviä osioita.
Rohkea rokan syö.
Omien kokemusteni mukaan projektityössä voi olla tarpeen heittäytyä ja omaksua nopeasti uusia taitoja. Vaatii rohkeutta oppia uuden työpaikan tavoille, antautua työn opetuksille ja ymmärtää sekä muiden, että omat asiantuntijuuden vahvuudet ja heikkoudet suhteessa projektityön sisältöön. Lyhyemmissä projekteissa nämä seikat korostuvat entisestään, koska aikaa on rajallisesti.
Alku aina hankalaa, lopussa kiitos seisoo.
Alku ei tässä kirjaston projektissa ollut minulle hankalaa, vaikka projektityössä voikin olla alussa epätarkka mielikuva tulevien tehtävien sisällöstä ja laajuudesta. Työn edetessä vastaan tulee usein myös asioita, joihin ei ole projektin aikana mahdollista panostaa niiden edellyttämällä voimakkuudella. Niitä voidaan joutua karsimaan pois tehtävälistalta toistaiseksi tai kokonaan, jotta työn lopputulos palkitsee. Nyt minusta tuntuu, että saimme oikein kattavan, kaikille avoimen tiedonhaun oppaan muovailtua ja voimme kehittää opasta edelleen palautteiden perusteella.
Ei niin pientä ojaa, ettei sinne oma lehmä mahtuisi.
Mielestäni projektityöläisenkin on hyvä muistaa omasta itsestä huolehtiminen: ihan koko ajan ei kannata osallistua kaikkiin työn ympärillä tapahtuviin tilanteisiin, jos ne eivät tue projektin tavoitteiden saavuttamista tai vastaa omia kiinnostuksenkohteita. Itselleni oli tärkeää, että pääsen tässä työssä vahvistamaan verkko-oppimateriaalien toteuttamiseen ja saavutettavuusvaatimusten täyttämiseen liittyvää osaamista, ja tämä toive toteutui todella hyvin. Sain siis pitää oman lehmäni ojassa! Ehkä tässä kohtaa on myös paikallaan mainita, että Biotieteiden LuK- ja FM-tutkintoni opinnäytetyöt tein lehmiin liittyvistä aiheista, kun taas tällä hetkellä olen kirjastotyön ohella tietojenkäsittelytieteen FM-opiskelija.
Kiitos siis Itä-Suomen yliopiston kirjastolaisille siitä, että sain asiantuntijoiden tuella työstää tärkeää materiaalipakettia samalla, kun nautin osaavan, opiskelijoita arvostavan ja toisistaan innostuvan työporukan yhteisöllisestä kulttuurista! Mehän näemme vielä, eikös?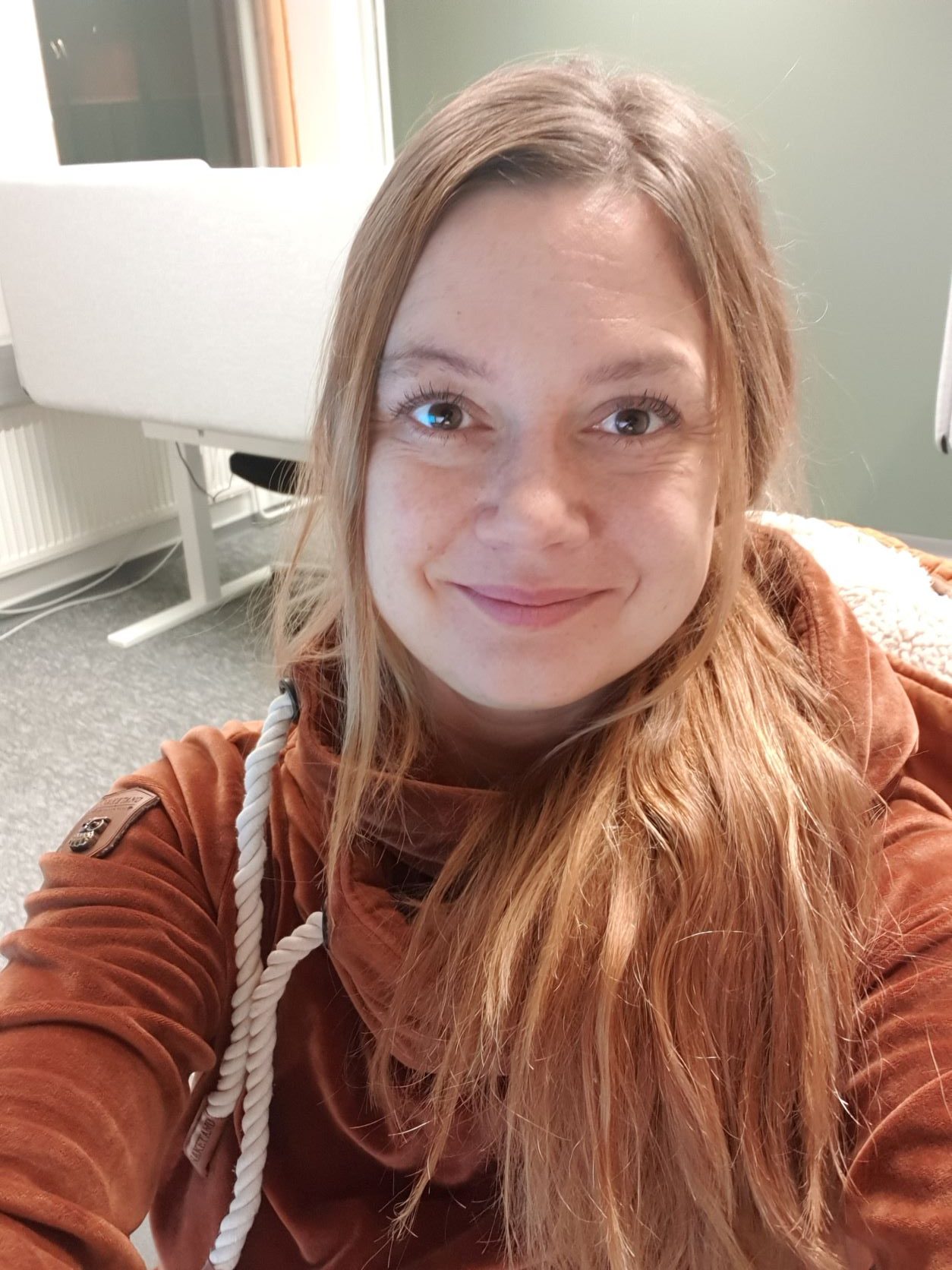 (The original post included several Finnish proverbs. The proverbs and some content closely related to them are not translated or presented.)
My name is Anni Tarkiainen, and I am a project worker in the UEF (University of Eastern Finland) Library. I started in this role in mid-August. The project itself focuses on developing the library's education services, and my duties included working with the new teaching material that is meant to be available for all. The material is called Information Retrieval Guide, and it will soon be published on a website. You might want to follow the library's information channels for announcements!
This project for developing library's education services has been running since the beginning of this year. My part was to do the technical part of the process. I spent most of my time designing and modifying the contents made by library's experts so that the content would fit well to the website. Another equally wide section of my work was designing and creating visual materials in an accessible format. Because of enthusiasm for accessibility topics, I also suggested and made modifications to the original content to make the guide clearer and more understandable.
My co-worker, Marika Mahlavuori, hoped that I would write a post about what it is like to work at the University of Eastern Finland Library in a short project. Aino Salonen wrote an article in Duunitori with several Finnish proverbs related to work life, and I used that article in my Finnish post. This English translation includes the explanations attached to each proverb I used, but the proverbs are not translated.
"Ei kysyvä tieltä eksy."
In the UEF Library, I felt welcome and got to work in an encouraging atmosphere. If something was unclear, it was easy to ask for help. Even as a project worker I was an equal worker with others who had been in the house for longer periods. Of course, regardless of the job, it is always worth being an active and nice colleague, listening to and talking to different co-workers. On office days it was nice to chat with everyone in the coffee room and at lunch. At the same time, I also learned that the library takes part in multiple tasks and is also involved in several activities.
"Aloittamista vaille valmis."
I have noticed that projects very often have a plan that should be followed. Sometimes the plan is looser, and sometimes it is tighter. Personally, I like that the official plan of the project offers the big guidelines, and more detail is agreed on in a smaller group. In this project, the plans were flexible enough even when small bends appeared.
"Hullu paljon työtä tekee, viisas pääsee vähemmällä."
A lot of content was already available in the library's current teaching materials, and the existing materials were successfully used as part of the open learning material created in this project. That means not all the content on the new website was made from scratch, although we did, of course, modify the materials to make them accessible and easier to learn from. For example, I aimed for uniform language and clear illustrations. The future maintenance of the guide was also considered as well as the contents of the guide were finalized with tools available to the University of Eastern Finland (e.g., WordPress and ThingLink).
"Mittaa kahdesti ja sahaa yhdesti."
Planning is sometimes needed for effective and reasonable work even in a short project. In finalizing the materials of this guide, we designed our work so that there is also meaningful work to be done during the waiting times.
"Yksi peruna kerrallaan."
When the remaining work was returned to smaller parts, it did not seem impossible to finish the website in time although there was occasionally a lot to do. We achieved the goals very well during the four months of work. On the other hand, as the work progressed, many new areas were noticed waiting to be developed. Some of them we already worked on this autumn and will continue to work on in the future.
"Ei siinä kauaa mene, kun töitä tekee."
I think that in short-term projects work it might be best to work in a way that at least certain target levels are met. It is good to get things done by a predetermined moment, because projects might change or sometimes even end after a certain period. The time pressure of the projects may be of concern, especially if something unforeseeable appears. Naturally, some challenges came up during this autumn, and colleagues reminded me that it is not expected to have every little detail finished before the great deadline.
"Rohkea rokan syö."
Even though it is common that at the beginning of project work the scope of future tasks may lack details, starting on this project was not difficult for me. Also, as the work progresses, there are often also issues that cannot be invested in during the project with the necessary strength. Such issues may have to be cut off from the to-do list for the time being or in total to achieve prioritized goals. I am glad we managed to create a guide that is very comprehensive and open to all, and we can further develop the guide based on the feedback.
"Alku aina hankalaa, lopussa kiitos seisoo."
It is also important for a project worker to remember to take care of herself: it is not always necessary to take part in all events if they do not support the project's goals or fit in with one's own interests. It was important for me to focus on the skills related to e-learning materials and the accessibility requirements, and this wish was well realized.
So, thank you library experts of the University of Eastern Finland for supporting me and working together with an important learning material, and introducing me to the culture and company of a skilled, student-appreciating, and enthusiastic group of colleagues! We will see you again, won't we?
Anni Tarkiainen, projektityöntekijä | project worker
Opetus- ja tietopalvelut | Training and information services