(Please, scroll down to read in English)
Täällä korkeakoulumaailmassa syksy on uuden alku. Olemme ilolla panneet merkille, että kampus on herännyt eloon parin hiljaisen lukuvuoden jälkeen, ja tämä näkyy myös kirjastossamme. Harjoittelemme yhdessä kampusarkea: erikoista kyllä, samalla viivalla ovat niin vasta taloon tullut fuksi kuin kokeneempi UEFilainen, joka on pandemia-aikana osallistunut yliopistoelämään etäillen. 
Meille kirjastolla on selvää, että askarruttavaa asiaa riittää ja turhia kysymyksiä ei ole. Sen sijaan on tärkeää, ettet jää kysymyksinesi yksin, vaan käännyt oitis puoleemme. Hyvänä esimerkkinä tavallisesta pulmasta toimii kysymys: "Miksi en pääse kirjautumaan UEF-Primoon?" Sarjakuvan keinoin vastauksen voi veistellä näin: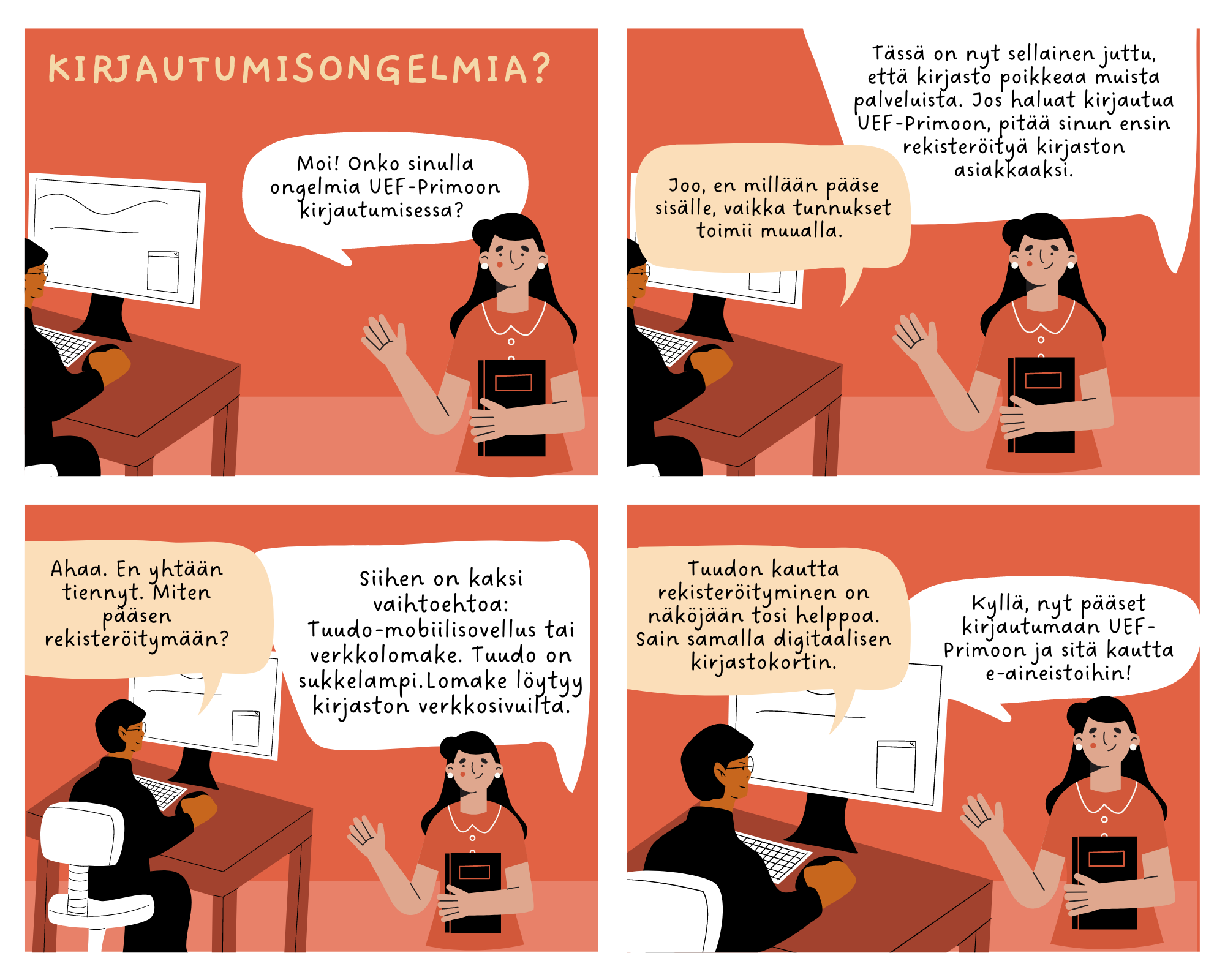 Entä jos en tiedä, mikä UEF-Primo on? Tuudosta nyt puhumattakaan? 
Ei hätää! UEF-Primo on ikioma hakukoneemme, joka auttaa sinua aina silloin, kun etsit perinteistä painettua kirjaa, elektronista materiaalia tai muuta kaipaamaasi aineistoa. Ei sovi myöskään unohtaa, että UEF-Primo on mainio paikka hoitaa kaikkea asiakkuuteesi liittyvää: näet lainasi ja niiden eräpäivät, voit tehdä varauksia, uusia lainojasi ja maksaa kertyneitä maksuja. Lounaalla Primo ei puolestasi käy, mutta melkeinpä kaikki muu sen kautta hoituukin!
Tuudo taas on opiskelijan oma mobiilisovellus, joka on oikein hyödyllinen kampusarjessa. Sen Kirjasto-osioon saat digitaalisen kirjastokortin, joka kulkee aina matkassasi ja, kuten sarjakuvakin sen kertoi, mahdollistaa UEF-Primoon kirjautumisen. Näet laina- ja varaustilanteesi myös Tuudosta. Kun pohdit kirjastossamme piipahtamista, sovelluksesta on näppärä tarkistaa toimipisteidemme aukioloajat. 
Mitä mahtaa tarkoittaa, kun puhutaan 24/7-kirjastosta? Entä onko kirjastossa ryhmätyötiloja? 
UEFilaisena voit käyttää Kuopion ja Joensuun kampuskirjastoja kulkuluvalla myös iltaisin, viikonloppuisin tai juhlapyhinä, kun kirjastot ovat suljettuina. Kulkuluvan hankkiminen onnistuu käden käänteessä: käy täyttämässä Kamun Itseopiskelutilat-sivulta löytyvä lupahakemus. Kun hakemuksesi on käsitelty, sinuun ollaan yhteydessä. Kamusta löydät tiedon myös kampusten ryhmätyötiloista, joita kannattaa käyttää aina, kun työskentelystä aiheutuu puheensorinaa. Kirjaston osalta ryhmätyötiloja löytyy Joensuun kampuskirjastosta ja KYSin tieteellisestä kirjastosta. 
Entä kun haluan saada ääneni kuuluviin? 
Kirjasto on olemassa käyttäjiään varten. Kun sinulla on mielen päällä jotakin, jossa voisimme kehittää toimintaamme ja parantaa palveluamme, älä epäröi kirjoittaa meille. Lomakkeen palautteen jättämiselle löydät tästä. Huomaathan, että palautetta voi jättää myös anonyymisti. Jos kuitenkin haluat, että vastaamme sinulle, muistathan jättää yhteystietosi.
Jokapäiväistä apua meiltä saat kasvokkain asiakaspalvelupisteiltämme, sähköpostitse, puhelimitse ja chatin kautta. Jos et tiedä, minkä väylän tai kenen kirjastolaisen pariin kääntyä, ohjaamme sinut kyllä tarvittaessa eteenpäin. Ota seurantaan verkkosivujemme Ajankohtaista-osio sekä Yammer- ja some-kanavamme, jotta tiedät missä mennään. 
Vielä se tärkein: tervetuloa kirjastoon!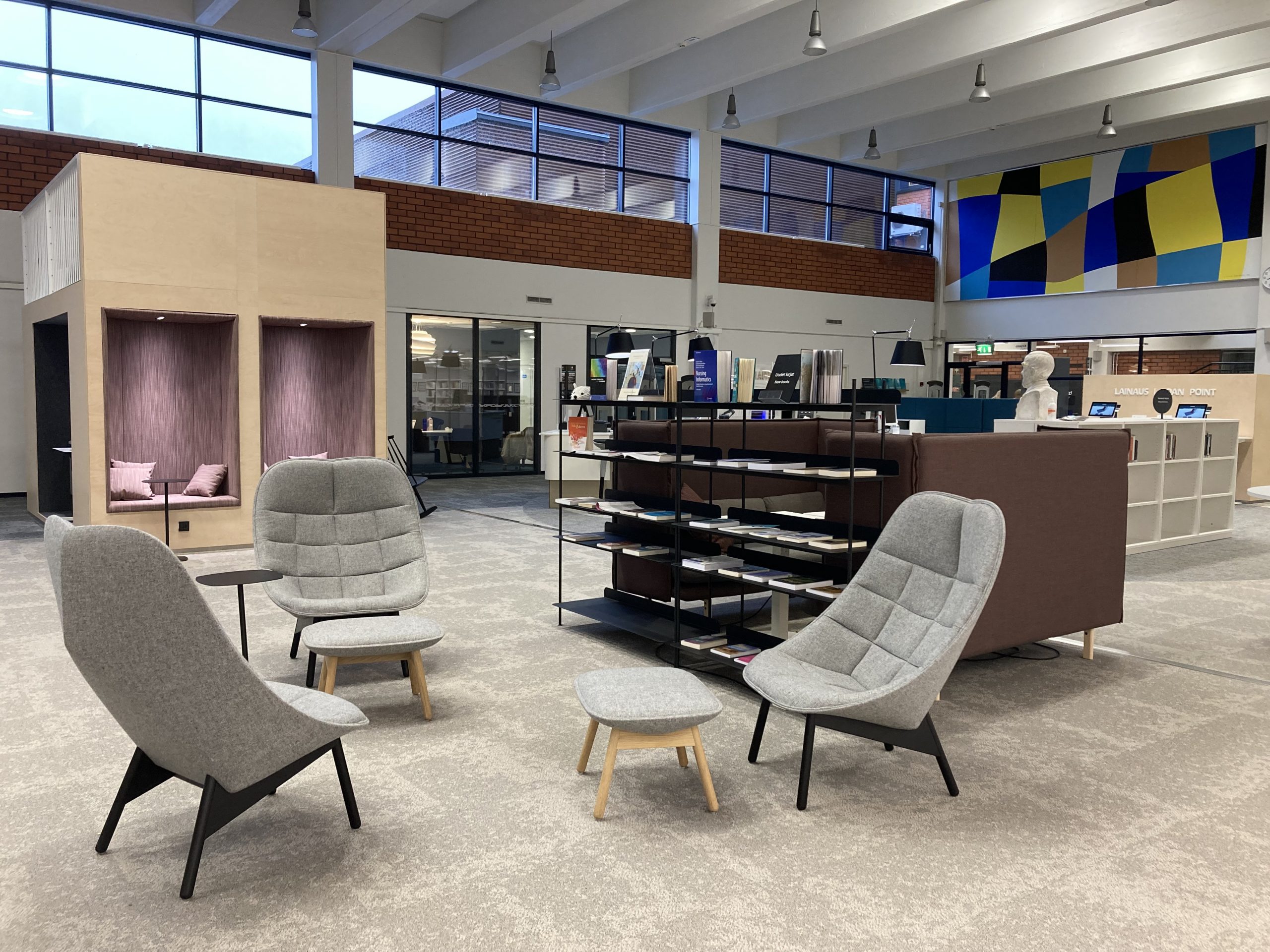 Here in the academic world autumn is the start of something new. We have gladly noticed that the campus has come to life after two years of silence and this shows also in our library. Together we are practicing everyday life at the campus. Strangely enough, the situation is equal to newly arrived first-year students as well as to a seasoned UEFian, who has participated in the academic life remotely during pandemic. 
For us it is crystal clear that there are always heaps of questions about the library and none of them are unnecessary. Instead, it's important that you don't feel left alone with your questions, but feel free to get in touch with us. A classic example of an ordinary problem is the following: "Why can't I log into UEF Primo?" One way of answering is by a comic strip.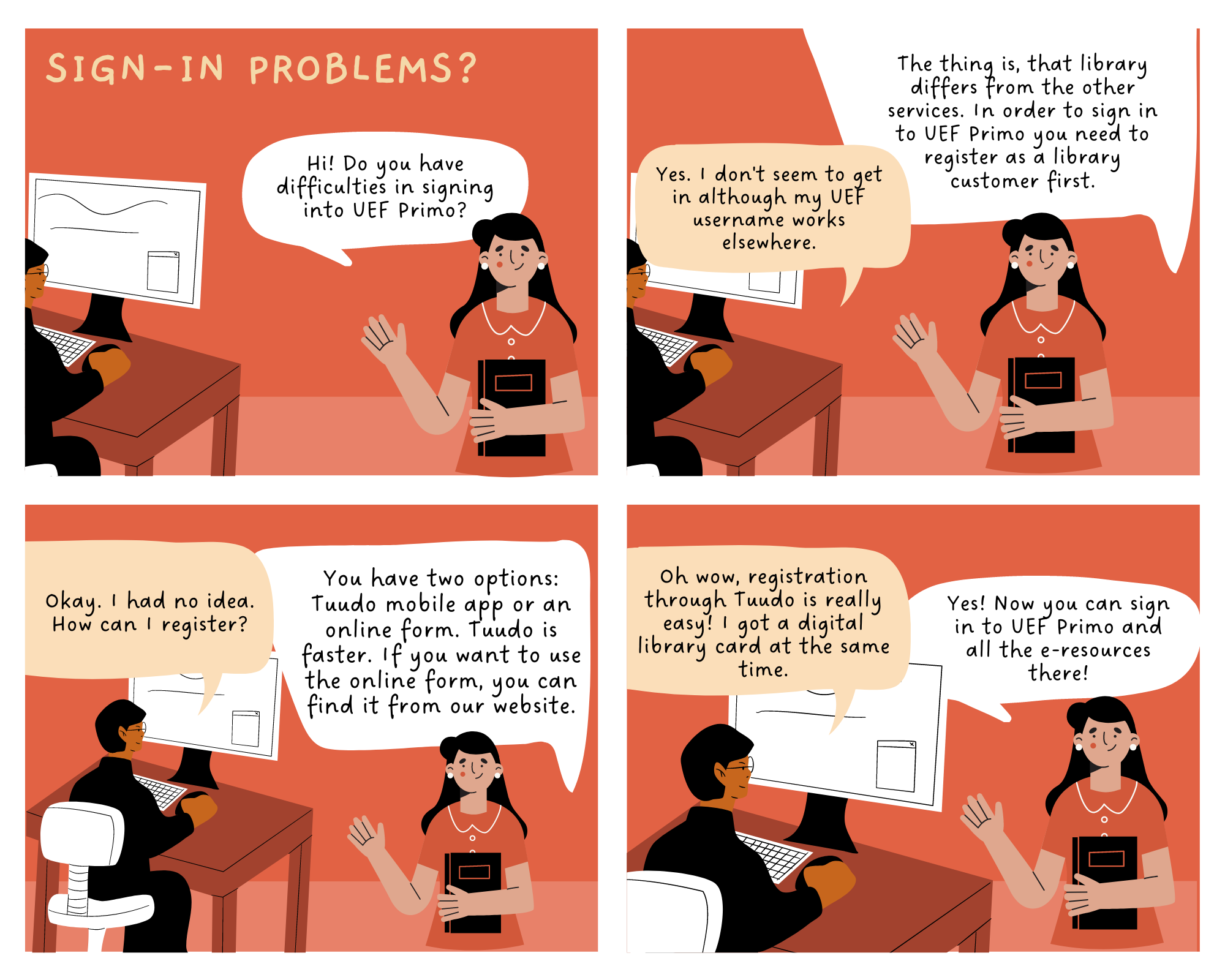 Well, what if I don't know what UEF Primo is? Let alone Tuudo?
No worries! UEF Primo is our very own search service that helps you whenever you are searching for a printed book, electronic resources or any other material. Let's not forget that UEF Primo is a fine place to manage everything related to your customership: you can see your loans and their due dates, make reservations, renew your loans and pay fines and fees. Unfortunately, Primo doesn't have lunch for you but nearly everything else can be done there!
Tuudo, on the other hand, is a mobile application and a real one-stop shop for everything a student needs. At its Library section, you can have a digital library card that always travels with you. Having the card makes it possible to log in to UEF Primo, as the comic strip pointed out. You can also see your loans and reservations on Tuudo. When you consider visiting our library, it's handy to check the opening hours on the application.
I've heard rumours about Library 24/7 and group study rooms. What about them?
As a UEFian, you can get an access badge and use the Kuopio and Joensuu campus libraries in the evenings, weekends or holidays when the libraries are closed. Getting an access badge happens in no time at all: fill in a form at Kamu's Self-study facilities webpage. Once your application has been processed, you will be informed. On Kamu, you can also find information on the group study rooms at the campuses: it's a good idea to always use them when studying causes chattering. Library has group study rooms at the Joensuu Campus Library and KUH Medical Library.
What if I want my voice to be heard?
We as a library are here for you. If there's something on your mind, please don't hesitate to contact us, so that we can improve our services. You can find a feedback form here. Please note that you can also send feedback anonymously. If you wish that we get back to you, please remember to leave your contact information.
When in need of everyday help, there are many options to get in touch with us: face-to-face, by e-mail, phone or chat. If you don't know who to contact or what medium to use, we will make sure that your question gets directed to the right place. Please follow the news on our website and our Yammer and social media channels to keep up to date.
Last but not least: welcome to the library!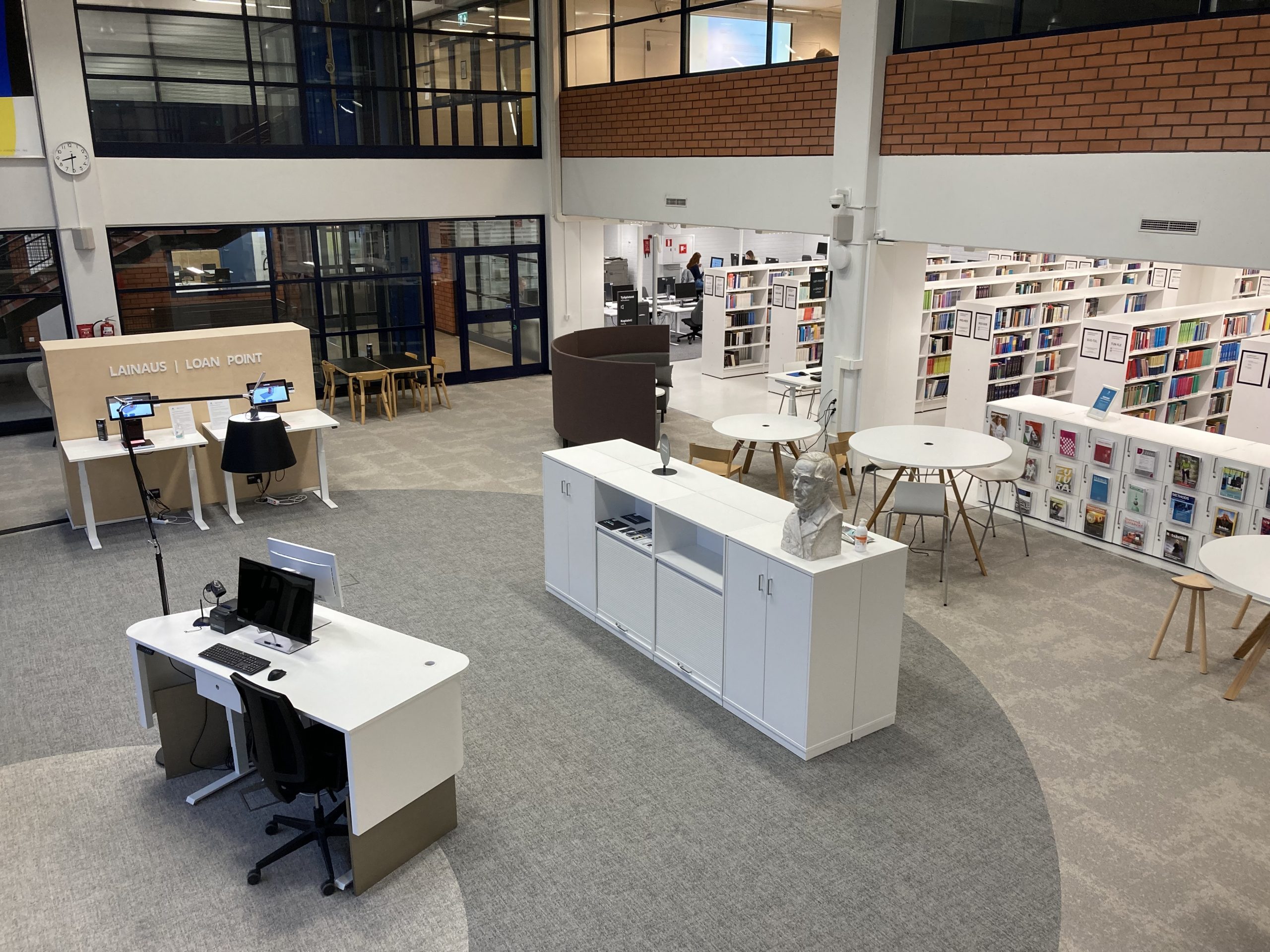 Olli Hiltunen, tietopalveluneuvoja | Infomation Services Advisor
Piia Pietarinen, tietopalveluneuvoja | Infomation Services Advisor
Asiakaspalvelut | Customer Services