(Please, scroll down to read a summary in English.)
Itä-Suomen yliopiston kirjaston vuosikertomus 2018 Avoin tiede – avoin mieli on julkaistu.
Jarmo Saarti johdattaa aiheeseen otsikolla Kohti avoimempaa ja vaikuttavampaa tiedettä. Tomi Rosti kirjoittaa avoimesta tieteestä monitasoisena toimintana. Tomi Rosti ja Marja Kuittinen tekevät avoimen tieteen tiekarttoja tutuiksi. Tomi Rosti, Tomi Kinnunen, Jarmo Saarti ja Anne Karhapää kirjoittavat tutkimusaineistojen avaamisesta osana avoimen tieteen palveluita. Anne Karhapää ja Antti Laurila kirjoittavat UEF-eRepositorystä ja kirjaston tutkimuksen tuen palveluista tutkimusaineistojen avaamiseen ja hallintaan. Kaisa Hartikainen, Tuula Rissanen ja Helena Silvennoinen-Kuikka kertovat, miten avoin tiede haastaa kirjastoammattilaisten osaamisen.
Savonlinnan kampuskirjaston toiminta päättyi 31.5.2018, joten vuosikertomuksen viimeisessä artikkelissa Marja Maijala, Mikko Meriläinen, Riitta Porkka ja Kirsi Rask käsittelevät kirjaston viimeistä toimintavuotta Savonlinnassa ja Savonlinnan kirjastotoimintojen siirtämistä Joensuuhun sekä luovat katsauksen Savonlinnan kampuksen kirjastojen historiaan.
Vuosikertomuksen liitteissä on tilastotietoa kirjaston toiminnasta sekä listaukset henkilökunnan julkaisuista ja asiantuntijatehtävistä vuonna 2018.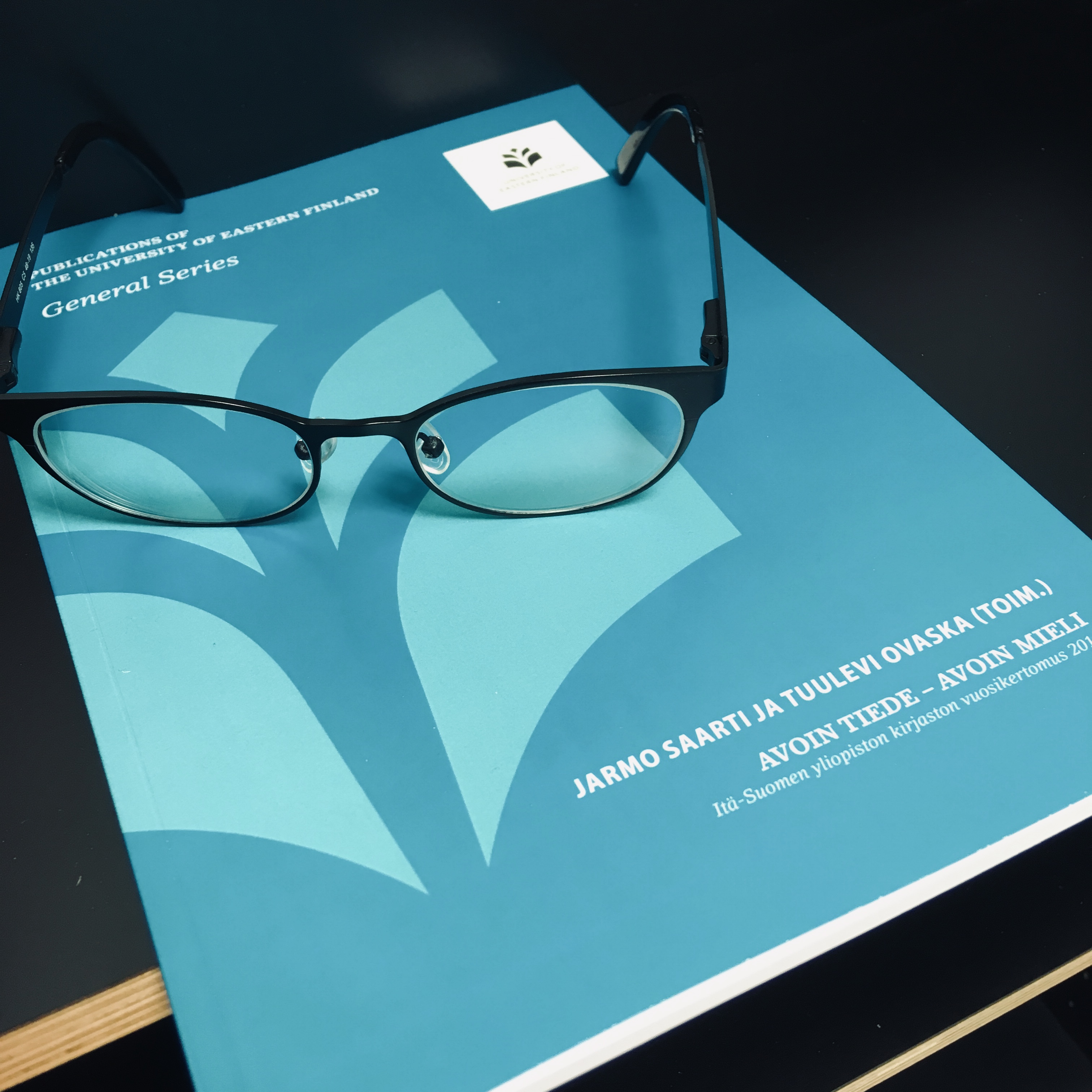 The Annual Report of the University of Eastern Finland Library 2018, called Open Science – Open Mind, has been published. It is in Finnish but includes an abstract in English. The appendix of the annual report contains statistical information regarding the library's activities, along with a listing of staff member publications and specialist assignments in 2018.
Jarmo Saarti, kirjaston johtaja | library director
Tuulevi Ovaska, erityistietoasiantuntija | information specialist & communications coordinator
Opetus- ja tietopalvelut | Training and information services
Mikko Meriläinen, tietoasiantuntija | information specialist
Tietoaineistopalvelut | Collection services