Hyvä lukija, kerron tässä blogissa Yhdysvaltojen Pensylvaniaan sijoittuvasta tutkimusvaihdosta tammi-maaliskuun aikana. Suomi 100 -teeman sopien matkan kesto on; mitä muutakaan kuin sata päivää! Toivon blogista apua erityisesti sellaiselle henkilölle, joka pohtii ulkomaan tutkijavaihtoa, mutta ei oikein tiedä mistä aloittaisi valmistelut. Tervetuloa mukaan seuraamaan matkaani!
Kuka?
Nimi: Saara Sillanmäki
Koulutus: LL, tohtorikoulutettava ja kliiniseen fysiologiaan ja isotooppilääketieteeseen erikoistuva lääkäri
Kotipaikka: Kuopio
Perhe: Puoliso Tero ja Ninja koira
Oma tutkimus: Väitöskirja valmisteilla sydämen vasemman kammion supistumistoiminnan mittaamisesta, oletettu valmistuminen vuoden 2018 loppuun mennessä. Lisäksi mukana useissa muissa tutkimusprojekteissa sydänterveyteen liittyen.
Muut toimet: Kliinisen fysiologian yhdistyksen ja Lääkäriliiton KFI alajaoston sihteerinä sekä UEMS Acredation CME Commeteen jäsen
Milloin matkaan?
Olen ollut aina kiinnostunut kansainvälisyydestä, joten suurena haaveenani on ollut työskennellä väitöskirjaprojektini aikana ulkomailla. Aloitin oman tutkimusvaihtopaikan etsimisen viime vuoden keväällä. Tuolloin tohtoriksi valmistumiseen odotettava aikaa oli jäljellä reipas vuosi. Suosittelenkin tutkijavaihtoon lähtemistä tohtorikoulun loppupuolella tai ainakin siinnä vaiheessa kun oma tietämys aiheesta on kattavaa ja tutkimustyönteko onnistuu jo melko itsenäisesti.
Vaihtokohteenvalinta?
Itse aloitin vaihtokohteen hakemisen internet/tietokanta selailulla. Tutkin missä muualla omanaihealueen tutkimusta tehdään ja ketkä ovat viimeaikoina julkaisseet aiheesta. Tässä vaiheessa olisi jo hyvä olla ajatus mitä haluaa – suunnitelman voivat tosin matkanvarrella muuttua useita kertoja. Jos ensimmäinen yhteydenotto ei ota tuulta purjeisiin, niin ei kannata lannistua! Todennäköisesti yhteistyökumppania voi joutua etsimään jonkin aikaa. Oma tutkimusvaihtoni järjestyikin kongressitapaamisen kautta. Olin seuraamassa omaa tutkimusaihetta käsittelevää luentoja ulkomaisessa kokouksessa. Menin juttelemaan erään luennoijan kanssa hänen esityksensä jälkeen – pian aloimmekin jo suunnittelemaan yhteistä tutkimusprojektia!
Valmistelut?
Euroopan sisällä vaihto onnistunee todennäköisesti kohtuullisilla järjestelyillä. Näin ei kuitenkaan ole Yhdysvaltojen kohdalla – "paperishow" on  monivaiheinen. Sen läpikäyneenä on jo yhtä kokemusta rikkaampi! Ensimmäiseksi kannattaa tehdä kirjallinen tutkimussuunnitelma kohteessa tehtävästä tutkimuksesta. Tutkimussuunnitelman lisäksi kohdemaa saattaa vaatia runsaasti erilaisia asiakirjoja (mm. sopimuspapereita, passikopioita, tulotietoja yms.). Lisäksi usein vaaditaan kielitaitotodistus. Kohdallani tämä hoitui vastaanottavan tahon puhelinhaastattelulla, mutta jotkut yliopistot voivat vaatia erillisen kielitestin tekemistä lähtömaassa. Yhdysvaltoihin lähtiessä yleensä tarvitaan viisumi. Viisumiprosessissa kannattaa huomioida, että ensimmäistä kertaa viisumia hakiessa tulee käydä Helsingin konsulaatissa jonne passi tulee jättää. Sain omani takaisin alle viikossa. Aikaa prosessiin kannattaa varata reippaasti, riippuen kohteesta mutta minun tapauksessa siinä meni noin puolivuotta.
Ennen matkaa kannattaa selvittää apurahansaamisen mahdollisuus. Useat yhdistykset tarjoavat mahdollisuutta hakea matka-apurahaa, mikä helpottaa matkan toteuttamisessa. Lisäksi on tärkeää selvittää kohdemaan terveydenhuollon kattavuus. Yhdysvaltoihin lähtiessä tulee hankkia riittävän laaja matka/sairausvakuutus.
Kun lupa-asiat ovat järjestyksellä, niin seuraavana hankinnan alla on lentolippu ja majoituspaikka. Itselleni haastavinta reissussa oli juuri majoituksen löytäminen vaikka aloitin sen etsimisen jo heti vaihtoprosessin alussa. Yliopisto ei sallinut majoittumista opiskelija-asuntoihin, eikä sairaalallakaan ollut  tarjota majoitusta. Olin yhteydessä myös lukuisiin vuokranantajiin mutta, lähes poikkeuksetta vuokrasopimus olisi pitänyt sopia vuodeksi mikä ei tapauksessani ollut vaihtoehto. Kalustettujakaan asuntoja ei tahtonut oikein löytyä joten aloitin asumisen pitkäaikaismajoitusta tarjoavasta hotellista, josta käsin on paikanpäällä helpompaa etsiä edullisempaa asuntoa.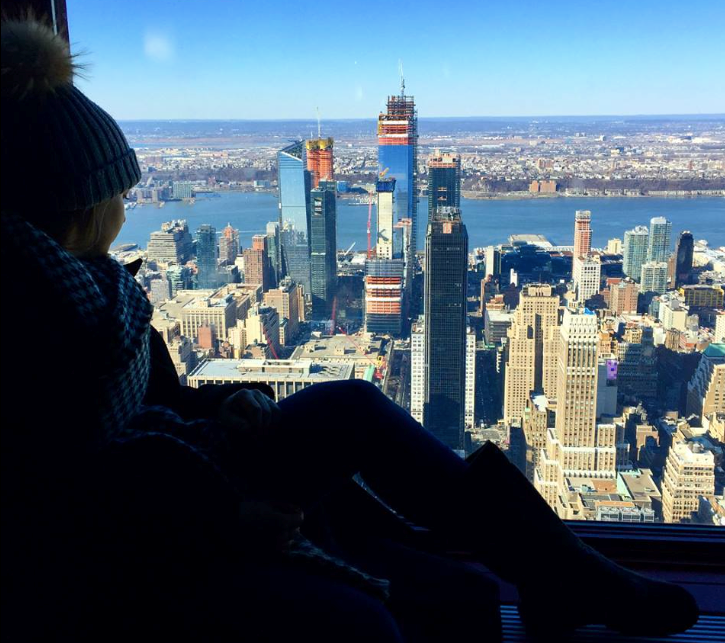 New York; Näkymä Empire State Buildingista
20.12.2017 Reissussa vihdoin!
Pitkään odotettu matka alkoi viimein hieman ennen Jouluaattoa. Lähdimme reissuun puolisoni kanssa ja tarkoituksena oli viettää Joulu New Yorkissa. New York oli mahtava, varsinkin joulukoristelut olivat näyttäviä. Kaupunki oli ehkä hieman liian ruuhkainen makuuni mutta paikka, jossa kannattaa ehdottomasti käydä!
25.12.2017 Pittsburgh – Here we gome!
Saavuimme Pittsburghin lentokentälle illan jo pimetessä. Lentokenttä oli erittäin toimiva, ei ihme sillä se on valittu vuonna 2017 vuoden kansainväliseksi lentokentäksi – ensimmäisenä lentokenttänä Yhdysvalloissa! Kiertelimme lähipäivät keskustassa, kaupunki vaikutti New Yorkin jälkeen ihanan rauhalliselta. Säätila oli hyinen, pakkanen hipoi -20 celsiusta ja tuuli teki siitä vielä kylmemmän tuntuisen.
Keskusta on täynnä pilvenpiirtäjiä ja historiallisia rakennuksia, mutta tunnelma on yllättäen kuin pikkukaupungissa. Pittsburghin ydinalueella asuu reilu 300 000, mutta sen vaikutuspiirissä asuu n. kaksi miljoonaa asukasta. Aiemmasta terästeollisuudestaan ja lukuisista silloistaan (joita on reilusti yli 400) tunnettua Pittsburghia kutsutaan myös "rautakaupungiksi". Kasvi- ja eläinkunta muistuttaa hyvin paljon suomalaista vastaavaa. Säätila Pittsburghissa on hyvin vaihteleva; saman viikon aikana voi tulla lunta ja pakastaa, ja kohta lämpötila voi nousta reippaasti plussan puolelle ja ukostaa. Täällä on sanonta: "Jos et pidä säästä, odota 15 minuuttia". Pittsburghin vierailun aikana lämpötilat ovat vaihdelleet -20 ja +20 celsiusasteen välillä. Pittsburgh on myös tunnettu turvallisuudestaan, ja se on kahdenkymmenen turvallisimman suurkaupungin joukossa Yhdysvalloissa. Itse olen kokenut kaupungin turvallisena, mutta kuten kaikkialla – täältäkin löytyy alueita, joissa ei kannata liikkua edes päiväsaikaan.
Pittsburghin suosituimpia urheilulajeja ovat pesäpallo (kaupungin oma joukkue Pittsburgh Pirates) amerikkalainen jalkapallo (Pittsburgh Steelers) ja  jääkiekko (Pittsburgh Pinquins). Kävimmekin katsomassa Pittsburgh Pinquinsien jääkiekkopeliä ja kannattamassa suomalaista NHL pelaajaa Olli Määttää.
Ennen vuodenvaihdetta puolisoni täytyi suunnata kohti Suomea ja minä pääsin odottamaan töiden alkua.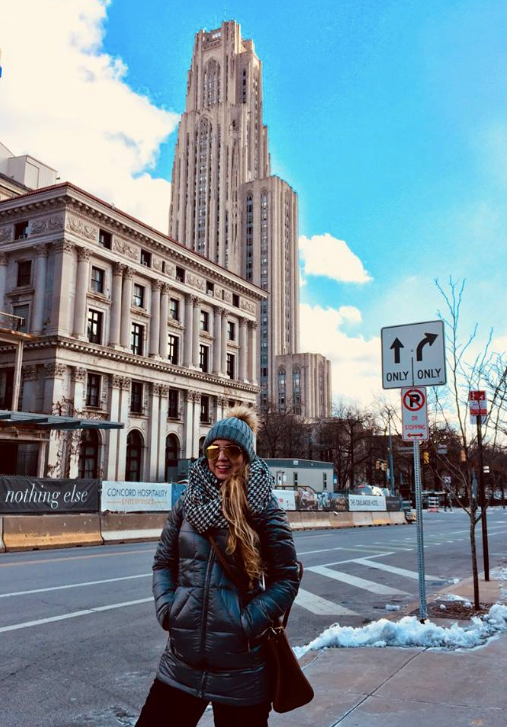 Pittspurgh University; Cathedral of Learnin
2.1.2017 Työt alkaa
Pyhien vaihduttua arkeen pääsin vihdoin aloittamaan työt. Vastaanotto Presbyterian sairaalan Nuclear Cardiology osastolla oli lämmin; sain jopa oman työhuoneen osastolta. Tutkijajaksoni alkoi ulkomaalaisille tutkijoille tarkoitetulla orientaatioluennolla, pakollisilla verkkopohjaisilla "tutkimus tenteillä" ja kulkukorttikuvauksella. Luvat tietojärjestelmien käyttöön sain noin viikon sisällä saapumisesta ja pääsin toden teolla aloittamaan tutkimuksen. Parasta kaikessa oli auttavaiset ja ystävälliset työkaverit!
Pian saapumiseni jälkeen minulle selvisi, että alkuperäinen tutkimusaiheeni tulisi osittain vaihtumaan. Sain tehtäväkseni etsiä viimevuosina sydänlihasperfuusion gammakuvauksella tutkituista potilaista tutkimukseen sopivia potilaita. Työnsarkaa riitti, sillä sadan sopivan vasen haarakatkospotilaan löytymiseksi jouduin käymään n. viisituhatta tutkimusta/lausuntoa lävitse. Suomessa olen myös tottunut siihen että EKG -nauhoitteet ovat sähköisessämuodossa, joten niiden tarkastelu on yksinkertaista. Täällä näytteet ovat paperiarkistossa, josta ne täytyi käsin hakea. Tämä oli toisaalta mukavaa vaihtelua istumatyölle!
Normaali työaikaani on ollut keskimäärin 9,5 tuntiin/päivä – omasta tahdosta olen pyrkinyt tekemään mahdollisimman pitkiä päiviä, jotta saan vietyä projektin kunnialla loppuun. "Esimieheni" tekee täällä niin huimaavaan pitkää päivää, ettei voi kuin ihmetellä mistä hän energiansa saa; 12 h/päivä jatkuvasti olisi minulle kyllä aivan liikaa!
6.1.2018 Viikonlopunviettoa
Viikot menevät todella nopeasti ja viikonloppuna saattaa ehtiä hengähtämään hieman. Joskus tosin deadlinet painavat niin pahasti päälle, että viikonloputkin täytyy pyhittää työlle.
Pidän paljon luonnontieteistä, joten pidin kovasti Carnegie Museum of Natural Historysta. Suosittelen lämpimästi, mikäli joskus päädyt tähän kaupunkiin!  Olen käynyt viikonloppuisin eri nähtävyyksissä; Carnegie Sciense Center (paikallinen "Heureka" johon koin itseni hieman yli-ikäiseksi) ja National Aviary (lintutarha, joka ei hienoista mainoksista huolimatta ollut mielestäni käymisen arvoinen paikka).  Lähtemättömän vaikutelman minuun teki Phipps Conservatory and Botanic Garden; upea trooppinen kasvuhuone, jossa mm. orkkdeat kukkivat kauniisti.
12.1.2018 Superpäivä
Eräänä päivänä pääsin osallistumaan vierailijana American Heart Aassociationin (AHA) järjestämään Fellows Research Dayhin (kilpailupäivä nuorille sydäntutkijoille). Tapasin useita tutkijoita ja päivä oli todella antoisa. Sain lisäksi tietää, että yksi artikkeleistani oli hyväksytty Journal of Nuclear Cardiologyyn ja kaiken kukkuraksi sain tiedon saaneeni vielä apurahankin. Aika Superpäivä siis!
15.1.2018 Shopping mall
Suureksi ihmetykseni Pittsburghin keskustan/yliopiston alueelta ei tahdo löytyä paljoakaan kauppoja/ostoskeskuksia. Lähin iso kauppakeskus on noin 20 minuutin ajomatkan päässä (Rose Park Mall). Autottomana melko hankalasti tavoitettavissa. Eräänä maanantaina (Martin Luther Kingin päivänä – paikallinen vapaapäivä) työkaverini vei minut shoppailemaan kauppakeskukseen ja tutusmaan lähialueiden pikkupuoteihin. Lisäksi kävimme syömässä tuoreisiin mereneläviin erikoistuneessa ravintolassa (nimi jäänyt unholaan). Ruoka täällä on erilaista, tuhdimpaa kuin kotisuomessa. Sairaalanruokalassa ehkä villeintä on ollut tuoreen popkornin myynti. Ei tulisi mieleenikään syödä sellaista työpäivänaikana, mutta monelle näyttää kelpaavan oikein hyvin. Pittsburghilaiset muutoinkin nauttivat syömisestä ja se on yksi ajanviete. Ruokaa pitää olla ja paljon!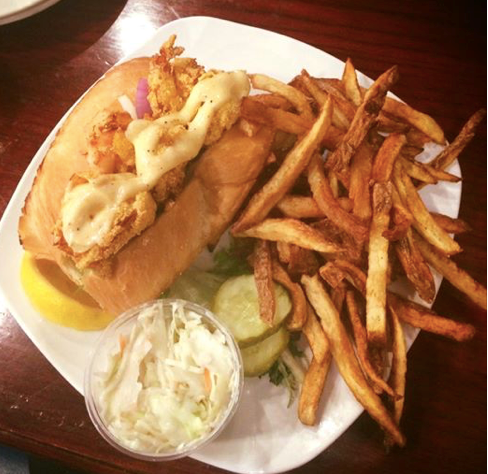 "Normaali" lounas, päivällinen tai iltapala
14.2.2018 Ystävänpäivä
Täällä ystävänpäivä on iso juttu! Kaupat täyttyvät ilmapalloista, herkuista, kukista ja korteista jo viikkoja ennen ystävänpäivää. Yleinen ystävällinen käytös on täällä myös enemmän arjessa mukana kuin Suomessa. Aiemmin enne matkaa mielsin "Small talkin" pinnalliseksi, mutta enää en ajattele niin. Arvosta nykyisin pieniä tervehdyksiä ja kohteliaisuuksia paljon! Täällä on tavanomaista rupatella niitä näitä täysin ventovieraiden kanssa ilman sen kummempaa syytä.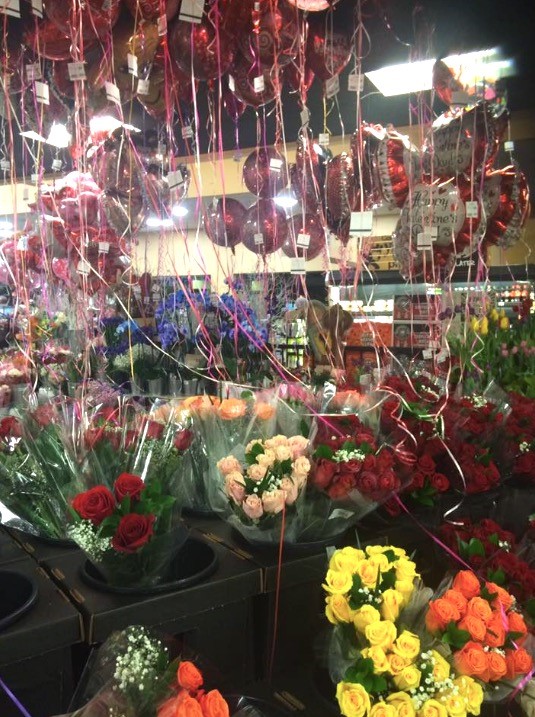 Ystävänpäivähumua läheisessä ruokakaupassa