(Please, scroll down to read in English.)
Olen Maija Piispa, Joensuun kampuskirjaston uusi tietopalveluneuvoja. Aloitin työt tietoaineistopalveluissa kesäkuun alussa. Olen alun perin kotoisin Päijät-Hämeestä, mutta opiskeluiden ja töiden myötä olen asunut ympäri Suomea ja välillä ulkomaillakin.
Olen opiskellut Tampereen yliopistossa, jossa pääaineenani oli informaatiotutkimus. Valmistumisen jälkeen olen ollut vuosia töissä yleisissä kirjastoissa, viimeisimpänä kuitenkin Eduskunnan kirjastossa. Itä-Suomen yliopiston kirjastossa työtehtäviini kuuluvat esimerkiksi aineiston luettelointi kirjastojärjestelmään ja asiakaspalvelu sekä hyllytys.
Vapaa-ajallani pidän lukemisesta ja luenkin kirjallisuutta laidasta laitaan, kevyistä lukuromaaneista tietokirjallisuuteen. Lisäksi pidän kissoista (joita minulla on kaksi omaa), luonnosta ja mökkeilystä.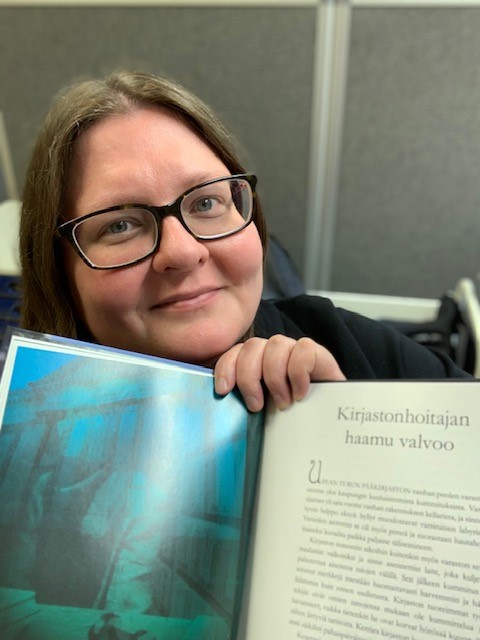 My name is Maija Piispa and I'm a new information services advisor at the Joensuu Campus Library. I started working in collection services at the beginning of June. I'm originally from Päijät-Häme region but studies and work life have taken me in several parts of Finland over the years and for a short period of time abroad too.
I studied information science at the Tampere University. After graduation, I worked for many years in public libraries, but the latest place I worked in was the Library of Parliament. At the University of Eastern Finland Library, my primary duties include cataloguing, customer service and shelving books.
In my free-time, I like to read all sorts of books from different genres. I also like cats (I have two of my own), nature and spending time at my summer cottage.
Maija Piispa, tietopalveluneuvoja | Infomation Services Advisor
Tietoaineistopalvelut | Collection Services