Suomen 100-vuotisjuhla näkyy kirjastossamme läpi koko vuoden. Kuopion kampuskirjastossa on esillä 21.2. – 24.2.2017 kirjanäyttely pitkän iän salaisuuksista. Näyttely liittyy Itä-Suomen yliopiston Studia Generalia –luentosarjaan, jonka  aloittaa 22.2.2017 Kuopiossa terveystieteiden tiedekunnan koordinoima tapahtuma "Haluan elää terveenä 100-vuotiaaksi Suomessa".
Sanotaan, että nauru pidentää ikää. Voit kokeilla vaikka potilaskertomuksista löytyneitä lipsahduksia:
"Vannotaan nyt olemaan kuulolaitetta käyttämättä aivan tarpeellisissa tilanteissa."
"Oikean korvan käyttö ei ole vasemmalla puolella suositeltavaa."
"Liikkuu vasemmalla kädellä spontaanisti."
"Varoitellaan hieman raskaammasta työnteosta, lähinnä kuokkiminen, sukeltaminen päälaelleen etc. olisi syytä jättää laskuista pois. (Potilaan ammatti on opettaja.)"
"Varpaat kainalossa kevyttä rotaatioliikettä."
"Tulosyy: Tukieläinongelmat."
"Viime yönä muutaman tunnin kestänyt jakso, joista ei muista mitään."
"Toisinaan ei pysty samanaikaisesti ajamaan autoa ja pesemään ikkunoita."
"Kaikessa huokailussaan potilas tekee sympaattisen vaikutelman."
Lähde: Parantunut hoidosta huolimatta: päättömiä potilaskertomuksia, Mervi Marttila, 2005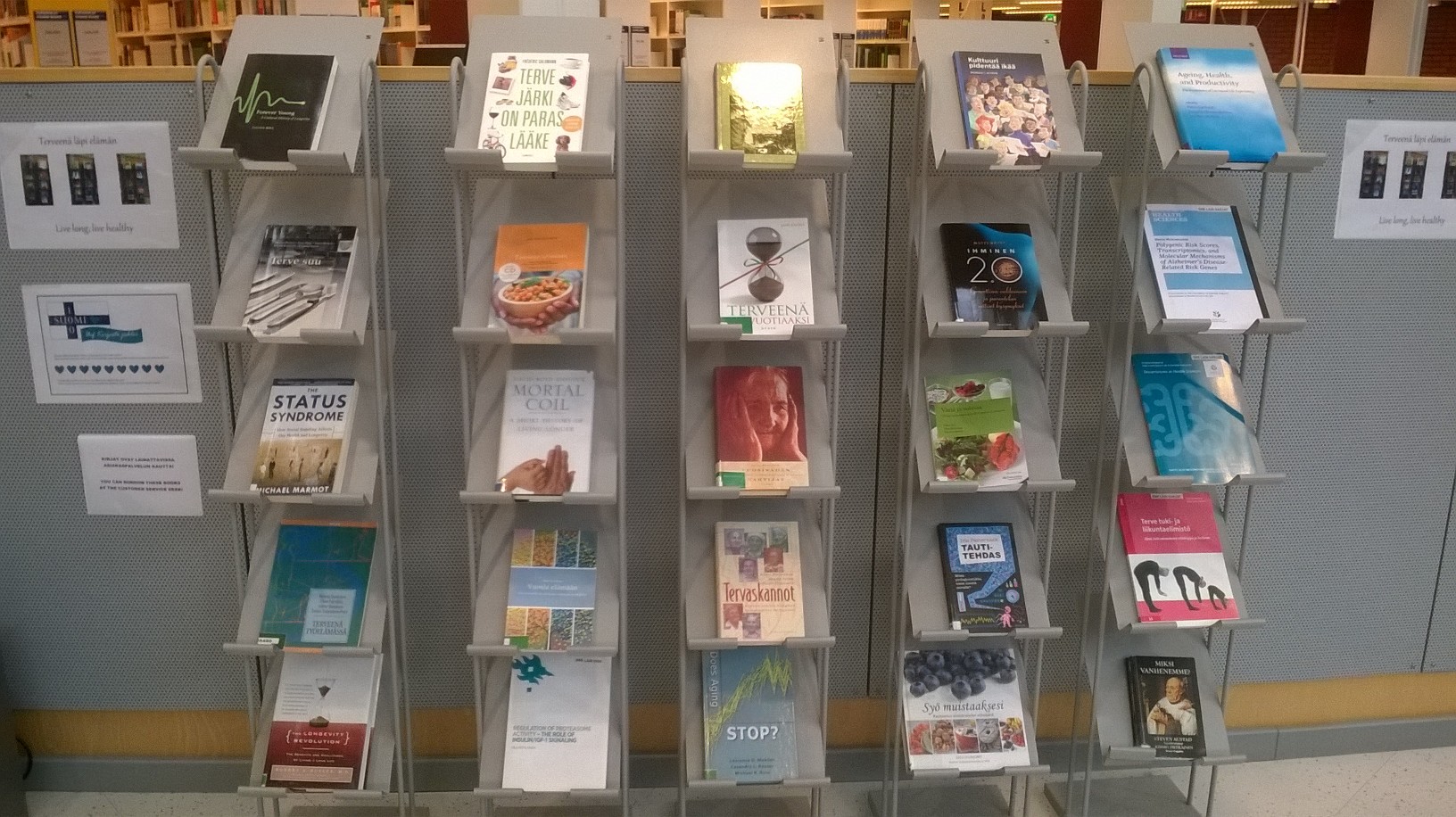 Finland 100 jubilee is present in our library throughout the year. Now there is a book exhibition on the Kuopio Campus Library related to the University of Eastern Finland's Studia Generalia event.
Teksti/text:
Tarja Turunen
Tietoasiantuntija / Information Specialist
Anu Eskelinen
Tietoasiantuntija / Information Specialist
Kuva/picture: Tarja Turunen