(Please, scroll down to read in English.)
Olet ehkä alkuvuoden aikana huomannut, että vanhan tutun MOT Kielikoneen (MOT sanakirjasto, MOT Proofing kielentarkistin [englanti] ja MOT Books [Kielitoimiston oikeinkirjoitusopas]) käyttöliittymä on tarjonnut sinulle käyttöön uutta MOT Kielipalvelua. Palvelu sisältää MOTista tutut työkalut Sanakirja.fi-alustalla. Uutena ominaisuutena palvelu sisältää MOT Kääntäjän (käännökset 23 kielen välillä). Lisäksi kielentarkistimessa on entistä enemmän kieliä: englannin lisäksi ranska ja saksa – ja lisää kieliä on tulossa. Myös muu MOT Kielipalvelun sisältö täydentyy.
Tutustu palvelun sisältöön tarkemmin.
Kuinka MOT Kielipalveluun käsiksi?
Opiskelijat ja henkilökunnan jäsenet voivat tilata kirjautumislinkin palveluun etäkäytössä seuraavasti (sama ohje videona):
Mene osoitteeseen sanakirja.fi/korkeakouluille.
Valitse organisaatiosi valikosta ja syötä organisaatiosi antama sähköpostiosoite.
Klikkaa sähköpostiisi tullutta linkkiä.
Aseta salasana tilillesi, jotta pääset kirjautumaan palveluun kaikilla laitteillasi, missä vain.
Itse palvelu toimii osoitteessa sanakirja.fi, kun olet kirjautuneena tilillesi. Yliopiston verkossa kirjautumista ei tarvita.
Loikkaa vanhasta uuteen sinun ei kuitenkaan ole pakko tehdä oitis, sillä vanha MOT säilyy käytössämme vuoden 2021 loppuun.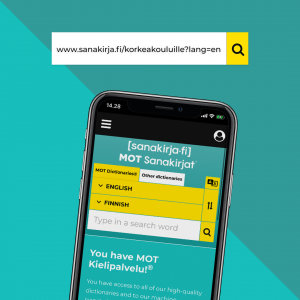 You may have noticed that since the early part of the year the interface of the old and familiar MOT Online service (MOT Dictionaries, MOT Proofing [englanti] and MOT Books [Kielitoimiston oikeinkirjoitusopas]) has guided you to the new MOT Kielipalvelu service. The new service on the Sanakirja.fi platform includes tools familiar from the old MOT. As a new feature, the service contains MOT Translator (translations between 23 languages). In addition, the proofreading service has more languages than before: in addition to English, there is French and German – and more languages are on the way. Other contents of the MOT Kielipalvelu will also be supplemented and updated.
Learn more about the contents of the service.
How can I access the MOT Kielipalvelu?
Students and staff members can request a login link to the service for remote access as follows (video instruction):
Choose your organisation from the list and enter the email address you use in your organisation, then click "Get a login link".
Click the link in the email you receive.
Set a password for your account so you will be able to login to the service with all your devices – whenever and wherever.
When you are logged in to your account, the service can be accessed from sanakirja.fi. Within the university network, you can access the service without logging in.
You do not have to take the leap from the old to the new immediately because the old MOT will be in our use until the end of 2021.
Kaarina Meriläinen, tietoasiantuntija | information specialist
Tietoaineistopalvelut | Collection services