(Please, scroll down to read in English.)
Lokakuussa 1517 tapahtui jotain, mikä muutti myöhemmän maailmanhistorian. Vakiintuneen tarinan mukaan tohtori Martti Luther naulasi Wittenbergin linnankirkon oveen 95 teesiä anekauppaa vastaan ja sai aikaan myrskyn, joka lopulta johti protestanttisten kirkkojen eroon roomalaiskatolisesta kirkosta. Vaikka itse naulaustapahtuman historiallisuus on kyseenalaistettu, teesien julkistaminen ajoittuu joka tapauksessa vuoden 1517 loppuvuoteen.
Luther oli tuottelias kirjoittaja. Hänen koottujen teostensa kriittinen editio, ns. Weimarer Ausgabe (WA), käsittää noin 80 000 sivua, jotka on jaettu 121 osaan. Ne sisältävät Lutherin teokset latinaksi ja saksaksi (Schriften/Werke), kirjeenvaihdon (Briefe), pöytäpuheet (Tischreden) ja Raamatun saksankielisen käännöksen. Weimarin edition toimittaminen aloitettiin vuonna 1883 ja se tuli lopullisesti valmiiksi vuonna 2009, joten ei mikään lyhyen tähtäimen projekti!
Nämä laajat tekstiaineistot digitoitiin ja julkaistiin CD-ROM-muodossa  vuonna 2002 sekä verkkoversiona vuonna 2012 . Vuodesta 2013 lähtien Luthers Werke im WWW on ollut käytettävissä Itä-Suomen yliopiston verkossa teologian osaston hankkimana, ja yliopiston opiskelijat ja henkilökunta voivat käyttää niitä myös kampusten ulkopuolella omilla UEF-tunnuksilla. Tietokantaa pitää yllä ProQuest-kustantamo.
Lutherin koottuja pääset lukemaan, kun kirjoitat UEF-Finnan hakukenttään esimerkiksi "Luthers Werke im World Wide Web". Jos käytät tietokantaa kotoa käsin, kirjaudu ensin sisään UEF-Finnaan omilla tunnuksillasi. Kun valitset linkin "tietokannan käyttöliittymä", eteesi avautuu seuraavanlainen näkymä: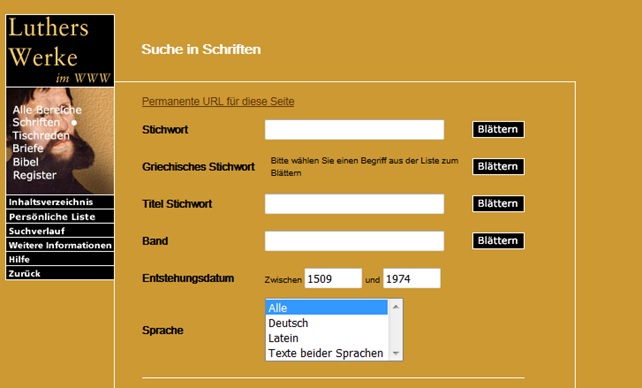 Käyttöliittymä on saksankielinen, mutta myös englanninkielinen vaihtoehto on valittavissa. Sivun vasemmasta laidasta voi valita, haluaako selata Lutherin kirjoituksia yksitellen vai tehdä hakuja niiden kokoteksteistä. Sisällysluettelon saa auki Inhaltsverzeichnis-linkin takaa. Sieltä voi edetä yksittäisiin kirjoihin ja avata esimerkiksi niteen "Vorlesungen über die kleinen Propheten" (Schriften, 13. Band). Avauksen yhteydessä tietokanta haluaa vielä varmistaa, haluatko todella ladata tekstin, mutta valitsemalla kohdan bestätigen Sie se avautuu vaivattomasti. Ja näin on luettavissa Weimarer Ausgaben kriittisesti editoitu teksti sivunumeroineen ja viitteineen.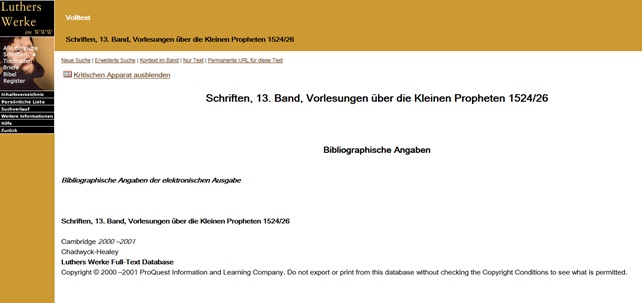 Hakutoimintoon pääsee valitsemalla vasemmassa laidassa olevasta listasta (Alle Bereiche…Register). Valitse ensin, mihin osioon haluat kohdistaa hakusi, ja kirjoita sitten hakusana(t), esimerkiksi "simul iustus et peccator".  Näin saat selville, että sanayhdistelmä löytyy teosten 40. osasta, tekstistä "In epistolam S. Pauli ad Galatas Commentarius", sen luvusta 3: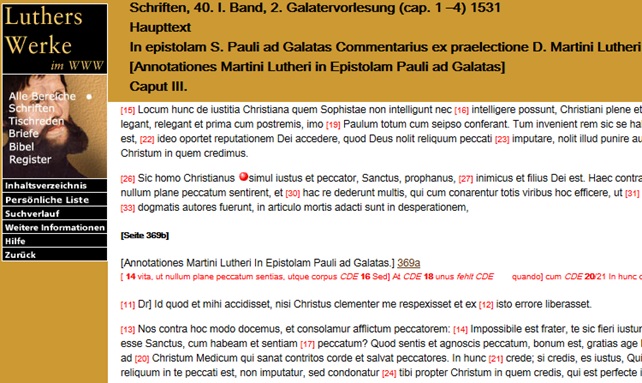 "Sic homo Christianus simul iustus et peccator, Sanctus, prophanus, inimicus et filius Dei est" – niinhän Luther sen tosiaan muotoili.
Antoisia hetkiä Lutherin tekstien parissa!
–
Martin Luther (1483-1546) is one of the central figures in the development of European cultural and intellectual history. This is as a result of not only his theological influence but also his contribution to the development of New High German. The complete Weimar Edition of Luthers Werke is an essential tool for theological, historical, philosophical, linguistic and literary research.
The complete collection of Luther's writings is one of the largest editions of any individual author ever to have been created. This monumental work, of which the first volume was published in 1883, consists over 117 quarto volumes. The Weimar Edition of Luthers Werke provides an indispensable historical-critical tool for theologians, historians, linguists and literary critics carrying out research into Luther's life and work.
The Weimar Edition of Luthers Werke is published in electronic form by ProQuest with the co-operation and support of the publishers Hermann Böhlaus Nachfolger Weimar GmbH & Co.
Jussi Hyvärinen
Tietoasiantuntija, humanistiset tieteet ja teologia
Information specialist, Humanities and Theology