(Please, scroll down to read in English.)
Nyt kun opintojen aloituksen pahin tietotulva alkaa olla taittunut, saatat huomata miettiväsi, mistä ne kurssikirjat löytyvätkään ja missä on sopivin soppi työskennellä. Tai ehkä oletkin jo kokeneempi konkari, joka koettaa palautella mieleen opiskeluarjen metkuja. Et varmasti kaipaa saavikaupalla lisää nippelitietoa, mutta kenties muutama viaton vinkki maistuisi? Kokosimme alle neljä neuvoa, joiden avulla otat haltuun nokkelan kirjastoarjen alkeet.
Tärkein vielä: toivomme, että tunnet olosi tervetulleeksi kirjastoon. Nähdään kampuksella!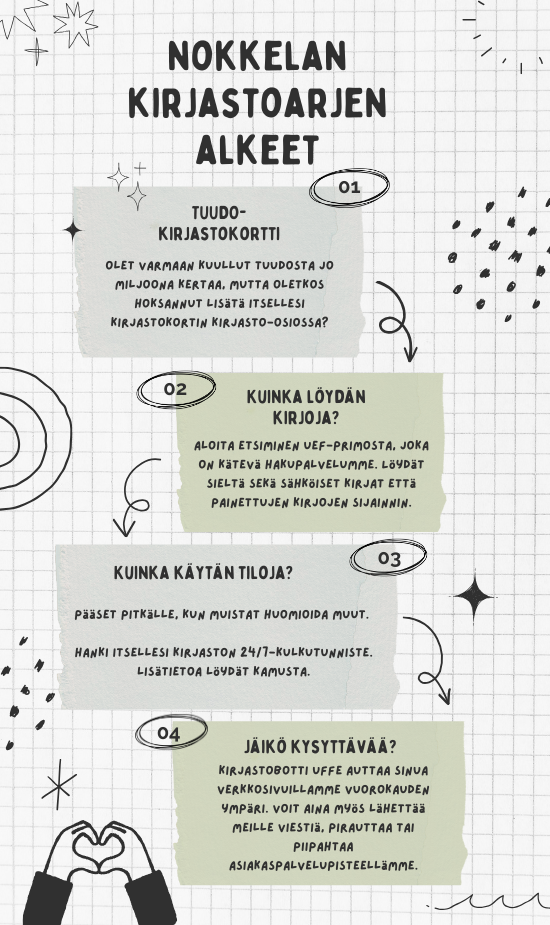 Now that the biggest information overload at the beginning of your studies is starting to fade, you may find yourself wondering where to find the course books or the most suitable place to work. Or maybe you are already a more seasoned student trying to remember the tricks of studying. We are sure you don't need much more nitty-gritty information, but maybe a few innocent tips would be nice? We put together four solid pieces of advice to help you master the basics of clever library use.
Most importantly: we hope you feel welcome at the library. See you at the campus!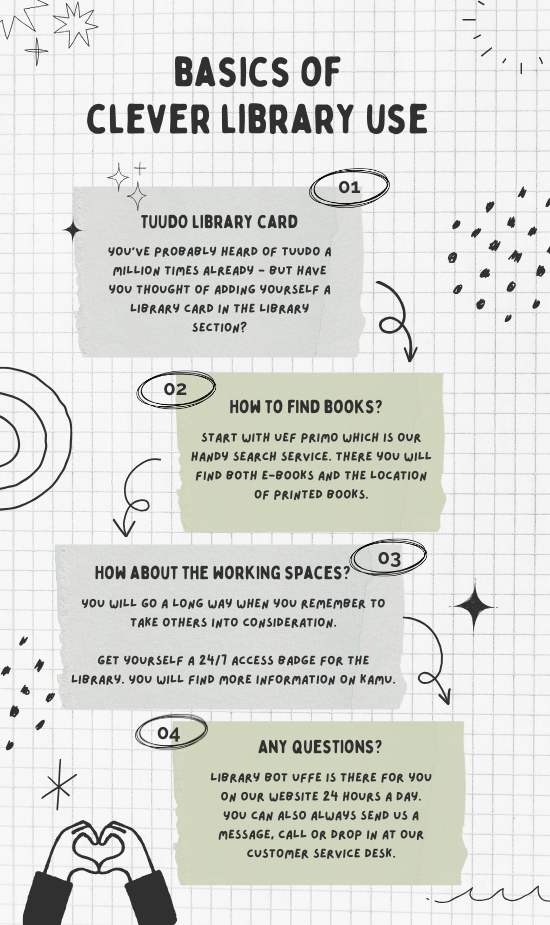 Olli Hiltunen, tietopalveluneuvoja | Information services advisor
Piia Pietarinen, tietopalveluneuvoja | Information services advisor
Asiakaspalvelut | Customer services