Totta! Ei ihan omina mutta käytössämme kuitenkin. Kirjasto on sopinut tiedekustantaja Elsevierin kanssa sopimuksen, jonka mukaan olemme saaneet käyttöoikeudet vuoden ajaksi yli 13 000 Elseverin kustantamaan e-kirjaan. E-kirjojen ostoarvo olisi yli 1,5 milj. euroa. Sopimus on eräänlainen vuokraussopimus, jossa vuoden kuluttua lunastamme omiksi vuoden aikana eniten käytetyt e-kirjat vuokra-ajan alussa maksetulla vuokrasummalla. Tämän hankintamallin avulla saamme tarjolle suuren määrän tiedekirjoja, mutta hankimme pysyvästi käyttöön vain ne, jotka osoittautuvat olevan meille tarpeen. Kirjat on saatu käyttöön vuoden 2015 lopulla, ja hankintasatsauksella on pyritty ennakoivasti tasoittamaan kirjojen hankintatarvetta kiristyvien määrärahojen tilanteessa.
Kirjojen ajallinen ilmestymiskate alkaa 1940-luvulta ja ulottuu vuoteen 2015 asti. Tarjolla on e-kirjoja monilta tieteenaloilta. E-kirjojen tiedot ja linkit itse kirjoihin on lisätty Josku-tietokantaan sekä hakupalvelu Finnaan. Lisäksi ne löytyvät Nelli-portaalin kautta Elsevier Books on ScienceDirect -palvelusta, missä kirjoja mahdollista etsiä myös selaamalla eri aihealueita hierarkkisesti. Suorat linkit selattaviin aihealuekokoelmiin ovat:
Physical Sciences and Engineering
Life Sciences
Health Sciences
Social Sciences and Humanities
Lisätietoja: nelli@uef.fi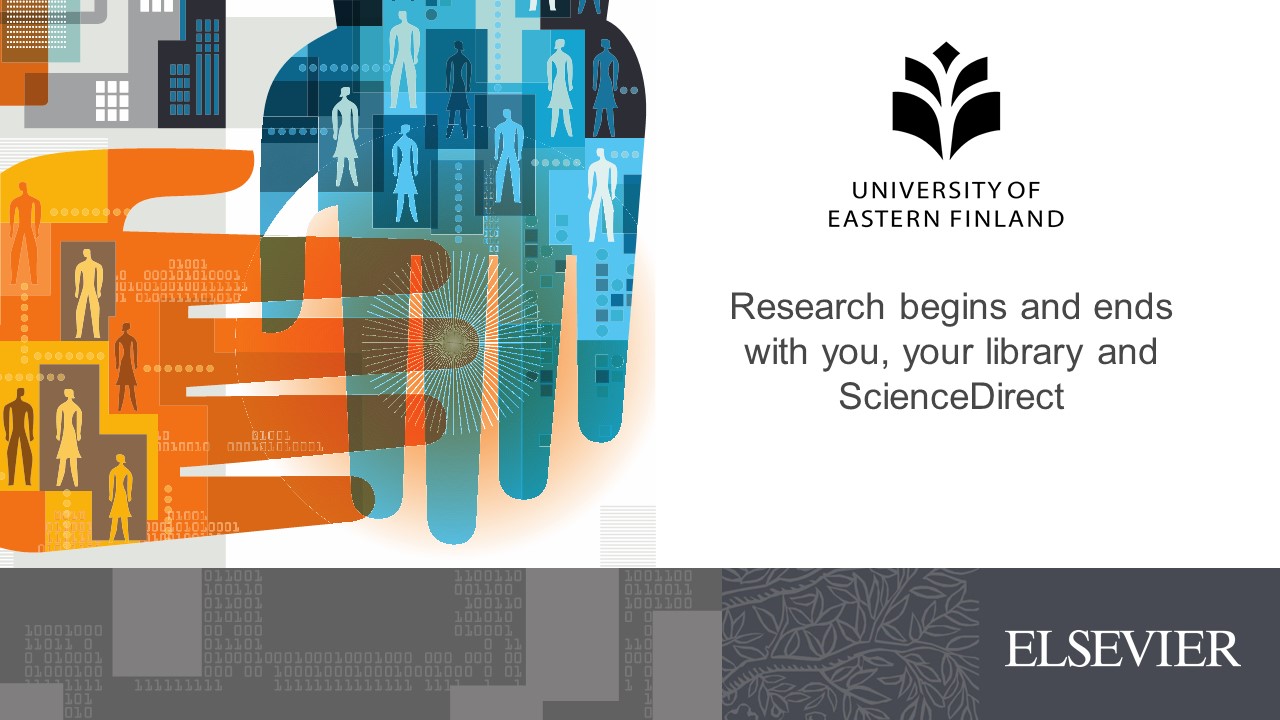 Library has made a contract with a scientific publisher Elsevier for over 13,000 eBooks. The value of the set  is more than 1,5 million euros. The contract is one kind of a rental contract, which allows us to use and read rented Elsevier eBooks for a year. After a year we can redeem the most used titles to our own permanent eBook collection for a rental sum paid. With this system can be ensured, that every eBook will be purchased for a need; not just in case.
The time span of eBooks is from 1940's to the year 2015, and titles represent many disciplines. All titles with full text links can be found on Josku database as well on Finna search service . The service Elsevier Books on ScienceDirect can be found on Nelli portal of the University of Eastern Finland Library, too. On the service interface you can also browse the eBooks hierarchically by subject categories. Straight links to the browsable subject categories are:
Physical Sciences and Engineering
Life Sciences
Health Sciences
Social Sciences and Humanities
For more information: nelli@uef.fi
Kaarina Meriläinen
Tietoasiantuntija / Information Specialist
Verkkoresurssipalvelut / Online resource services