This text is inspired by a manuscript under a review dealing with digitalization of education in Serbia. Observing and researching the topic started in 2020 by acknowledging obstacles and recognized indicators for it. From the first beginning and "from the national statistics, as well as from European comparisons, we know that Serbia still suffers from visible educational inequality and exclusion especially when we look at marginalized minorities. The educational level and educational structure of Roma population are influenced by its social status, deep poverty, and cultural specificities which represent the darkest aspects in the reality of this ethnic group. For marginalized minorities, emphasis on the meaning of education can even become a hindrance to socio-economic development, and lack of it as a means of intergenerational exclusion." (Armila, Stanković & Juutilainen 2022; also Milanković et al. 2015.) At the end of 2020, this obstacle was not mentioned loudly but had a loud echo – so loud that it brought various donations to Serbia for overbridging it. Digitalization of education was introduced as a main solution in reaching marginalized minorities.
Responding to the educational challenges facing Roma families, due to the COVID-19 epidemic for example, the Roma Education Foundation (REF), with the support of the Swiss Development Agency and the European Union Delegation, created the Emergency Fund to support Roma children in Serbia, due to the transition to online teaching. More than 600 Roma children of primary school age will be provided with internet and a tablet computer through which they will be able to follow distance learning (if they only have electricity in their homes, if they only have homes at all…). They will also be supported in enrolling in school, regular attendance, and learning, as well as organizing additional classes. Activities within the Emergency Fund were implemented by the end of 2020.
Digitalization: A socio-economic and socio-cultural promise of "modern"?
"Currently, when we discuss modernization, we also discuss digitalization as an imperative that cannot be overlooked. As a discursive project, digitalization is put forward with promises and imaginaries of, for example, access, equality, and inclusion, as seen in our research data. Today, all these imaginaries seem to be especially suitable in Serbia whose minorities have suffered from educational marginalization throughout a long history. In these imaginaries, socio-cultural modernization connects with a socio-economic promise." (Armila, Stanković & Juutilainen 2022.)
In our initial data collection for the year 2020, we were notified about first digital education conference in Serbia, with EDTECH Centre as its host. Today, a third conference is preparation. The International Conference Digital Education 2022 will be held online on April 15th and 16th, 2022 with a declaration: "We continue the tradition of gathering with the desire to exchange knowledge and experiences, to learn examples of good practice, to discover the best ways to connect education and modern technologies." http://edtech.center/en/conference-digital-education/
What about salvation from the educational divide?
The Prime Minister of Serbia, Ana Brnabić stated: "By the end of 2022, digitalization of all schools will be real. All schools and classrooms will be connected to the Internet, and all schools will have digital classrooms and textbooks." This is believed to open space for local governments, such as the initiative launched by Belgrade Deputy Mayor Goran Vesic, to buy tablets for students and thus contribute to a different method of educating elementary school students.
Digitalization of education is not a project of only education: "To be taken as a serious actor in the European political scene, Serbia needs to prove its seriousness in campaigning against socio-economic and socio-cultural inequalities – via an educational reform, for example." (Armila, Stanković & Juutilainen 2022.) As a response to some EU demands, the government would ensure that all schools in the entire territory of Serbia have the same conditions, regardless of how far away they are and how small they are. "And then we will see with the local self-governments how to ensure the constant renewal of equipment. That is a big investment", Brnabić said. She thanked the deputies for supporting the ratification of the loan from the EIB for related schools, worth 65 million euros. "We will invest in that all children have equal conditions, and that is somewhat better than those in most EU countries."
Minister of European Integration Jadranka Joksimović stated that the introduction of broadband internet in rural areas (were Roma people, for example, mainly live) was selected as one of the key projects for the candidacy for the Economic Investment Plan for the Western Balkans. These are large funds, but they were asked to be key projects that will go, not only in the development of infrastructure, but also in an inclusive growth, in a time of changing education and in which "we must prepare children for the future, to be competitive on the European and world labor market". Joksimović specified that 76 million euros is the total value of the project, and that the largest part is financed from the EU grant, and a smaller part from the EBRD loan. She also reminded that in January she signed the first 1.7 million euros with the Minister of Telecommunications for the preparation of project-technical documentation.
*******************************************
In our analysis, we still raise an important question: Can these technically orientated programs fade away the educational gap between different demographic groups in societies with different oppressed minorities? Like all societies, as a matter of fact.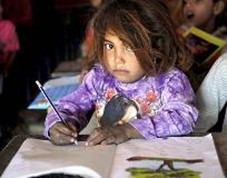 Raise your hand if you think installing internet in schools is enough to call education digital and equalizing!
Nobody. Ok, thanks.
Biljana Stanković
*******************************************
Literature
 Armila, Päivi, Biljana & Juutilainen, Lauri (2022) Balkan forms of Digital Divide. A manuscript under a review process in EERJ.
Milanković Jovanov, Jelena, Ivkov-Dzigurski, Andjelija, Dukicin, Smiljana, Ivanovic Bibic, Ljubica, Lukic, Tin & Kalkan, Kristina (2015) Attitudes of School Teachers about Roma Inclusion in Education. A Case Study of Vojvodina, Serbia, September 2015. Geographica Pannonica 19 (3), 122-129.