(Please, scroll down to read in English.)
Ensimmäinen vuosikymmenemme on kirjoissa ja kansissa. Vuoden 2020 vuosikertomus kattaa vuodet 2007-2020 ja kokoaa tilastotiedot vuodelta 2020.
Kaksitoista artikkelia
Itä-Suomen yliopiston kirjaston rakentaminen
Nyt puhuvat numerot – kirjaston toiminnan tarkastelua tilastojen kautta
Osaaminen, palautteet ja logistiikka – asiakaspalvelun yhteinen taival 13 vuotta
Aineistohankinta ja kokoelmatyö Itä-Suomen yliopiston kirjastossa 2010-luvulla
Kuvailutyön muutos – luetteloinnista ja sisällönkuvailusta metatietotyöhön
Ohjausta, opetusta ja tutkimuksen tukea: opetus- ja tietopalveluiden 2010-luku
Kaikki meni kuin tanssi – järjestelmien kehittämistä Itä-Suomen yliopiston kirjastolle ja kirjastossa
Viestintä kuuluu kaikille – mielikuvien arkistointia
Äkkiryhmiä ja joulukalentereita – luovuus kukkii kirjastossa
Itä-Suomen yliopiston kirjaston julkaisupalveluiden kehittäminen
UEF-Primo, uuden vuosikymmenen hakupalvelu
Kirjasto kiepsahti korona-aikaan
Liitteet
Itä-Suomen yliopiston kirjaston virstanpylväitä 2007-2020
Tilastot 2020
Henkilökunta 2020
Julkaisut 2020
Asiantuntijatehtävät 2020
Tutustu vuosikertomukseen! (avautuu uuteen ikkunaan/välilehteen). Painettunakin kirjana vuosikertomus on ilmestynyt ja on pian lainattavissa kirjastosta. Tarkastele kirjaston tunnuslukuja infograafeina. (avautuu uuteen ikkunaan/välilehteen) ja katso alta eri vuosien tapahtumat tiivistetyssä muodossa.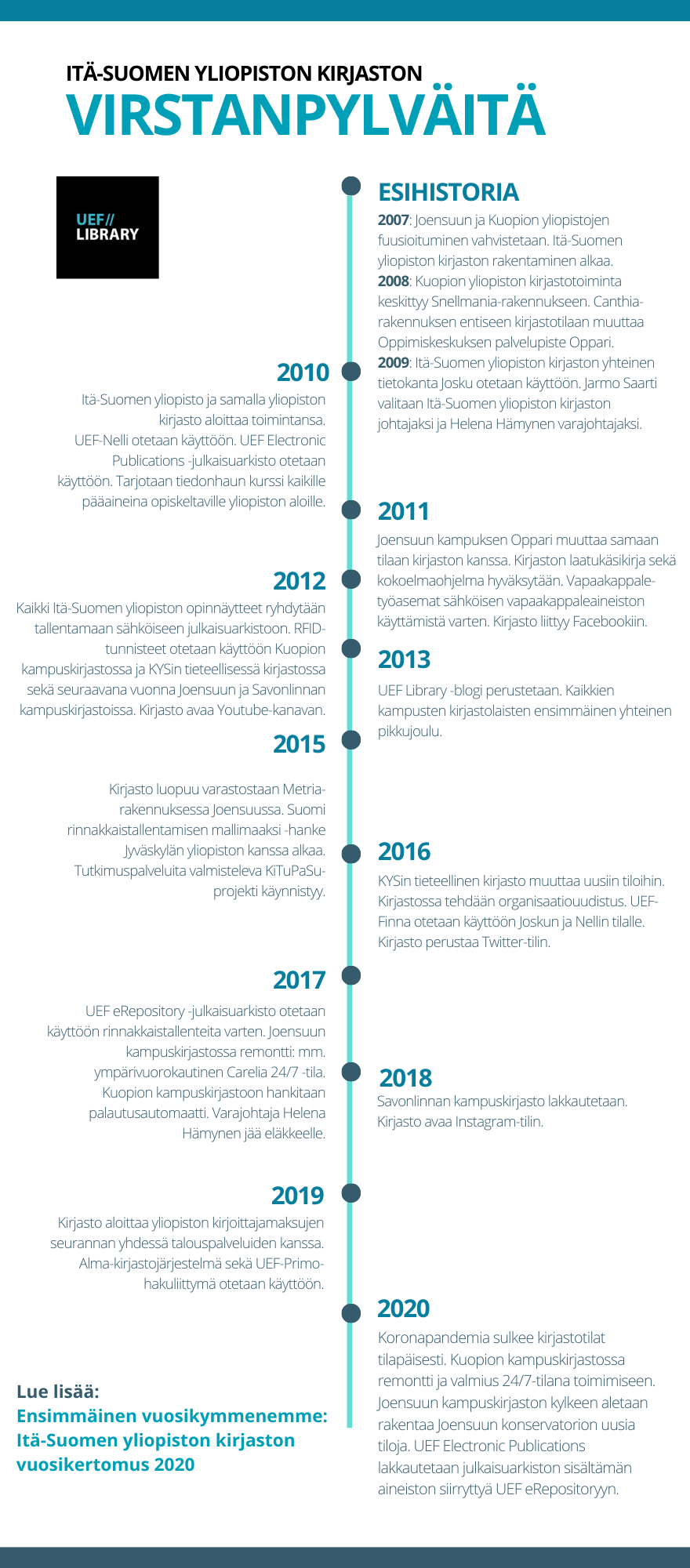 Our first decade is reported, in Finnish, in twelve articles, with a summary in English, in our Annual Report that also compiles statistical data for 2020.
Check it out! (opens in new window or tab). The report will soon be available also in print. View library key figures as infographs (opens in new window or tab) and see our timeline below.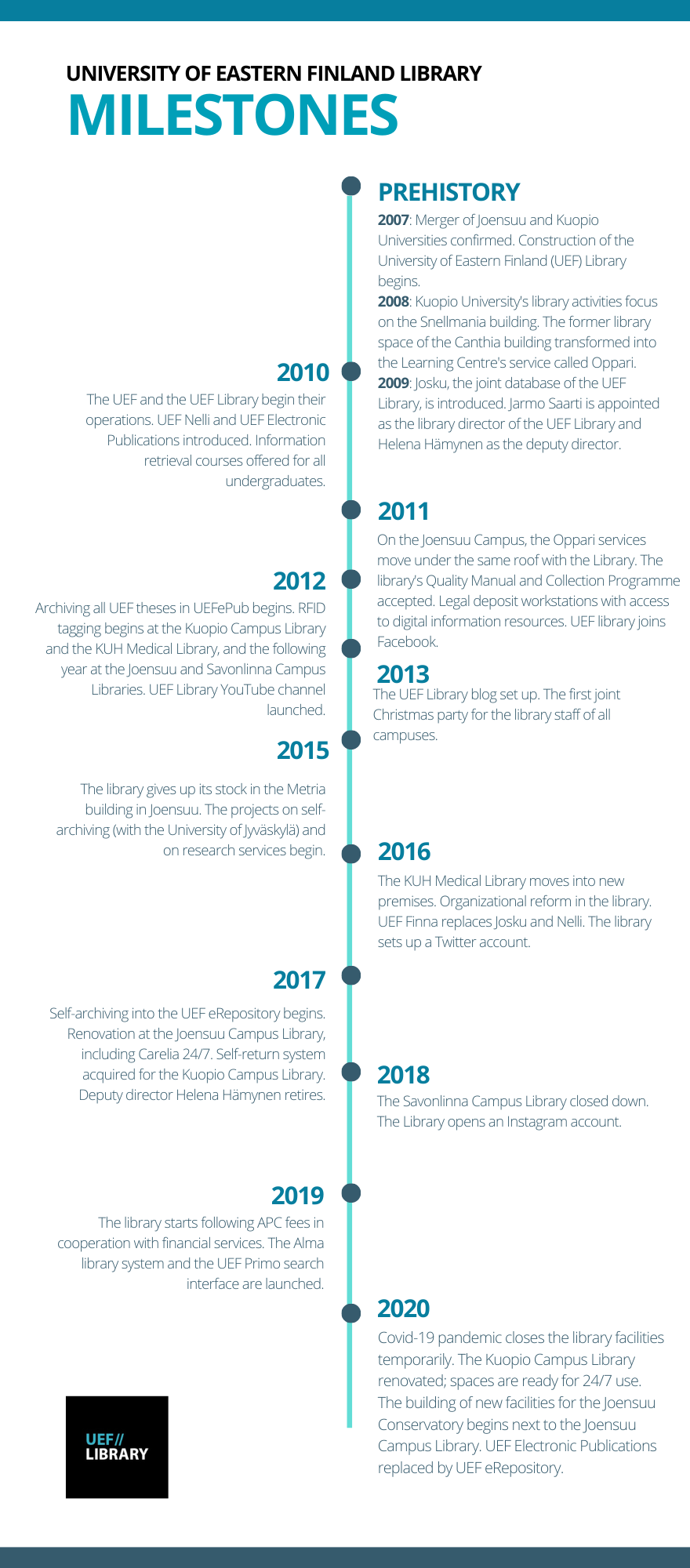 Tuulevi Ovaska, erityistietoasiantuntija | Information Specialist
Opetus- ja tietopalvelut | Training and Information Services
Mikko Meriläinen, tietoasiantuntija | Information Specialist
Tietoaineistopalvelut | Collection Services
Jussi Hyvärinen, tietoasiantuntija | Information Specialist
Opetus- ja tietopalvelut | Training and Information Services
Linkitetyt infograafit | Linked infographs:
Marja Kuittinen, tietoasiantuntija | Information Specialist
Opetus- ja tietopalvelut | Training and Information Services