(To read in English, please, scroll down.)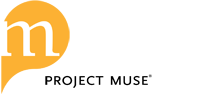 Project MUSE on palvelu, joka sisältää valikoituja tieteellisiä kokotekstilehtiä taiteiden, humanististen tieteiden ja yhteiskuntatieteiden aloilta. Palvelusta tilattujen lehtien valikoimaa on muutettu vuoden 2017 alusta lähtien. Aiemmin käytössä olleen Standard Collectionin tilalla on nyt Basic Research Collection.
Mutta eipä hätää: pääsy jatkuu edelleen yli 200 lehteen! Muutosperusteina ovat kustannussyiden lisäksi olleet käyttötilastot. Niiden mukaan Itä-Suomen yliopistossa on käytetty juuri niitä lehtiä, jotka sisältyvät myös Basic Research –kokoelmaan.
Lehtilista (ks. sarake X)
************
Project MUSE is an e-journal service containing selected, scientific full-text journals on arts, humanities and social sciences. The subscribed journal collection of Project MUSE has been changed in the beginning of the year 2017. Instead of the previous Standard Collection, we now have access to the Basic Research Collection.
But don't worry: still more than 200 journals are available! The decision for the change was based on costs and usage statistics. According to the statistics, the Project MUSE journals that are used the most at the University of Eastern Finland are those included in the Basic Research Collection.
List of journals (see the column X)
Kaarina Meriläinen
Tietoasiantuntija / Information Specialist
Tietoaineistopalvelut / Collection services