(Please, scroll down to read in English.)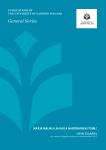 Itä-Suomen yliopiston kirjaston vuosikertomus 2017 tarkastee kirjastoa oppimisympäristönä. Artikkeleissa käsitellään muun muassa kirjastotilojen kehittämispuhetta, Joensuun kampuksen uutta Carelia 24/7-tilaa ja opiskelijoiden kokemuksia siitä, e-kirjojen käytettävyyttä, flipped classroom -menetelmää, jatko-opiskelijoille tarjottua tiedonhaun opetusta sekä pro gradujen avointa julkaisemista.
Vuosikertomuksen liitteissä on tilastotietoa kirjaston toiminnasta sekä listaukset henkilökunnan julkaisuista ja asiantuntijatehtävistä vuonna 2017.
—
The University of Eastern Finland's Annual Report 2017 contemplates the library as a learning environment. The articles in the report discuss, among others, topics around developing library facilities, the Joensuu Campus's new Carelia 24/7 space and the students' experiences of it, usability of e-books, the flipped classroom method, information retrieval training for postgradiate students and Master's Theses with open access.
The appendix of the annual report containts statistical information regarding the library's activities, along with a listing of staff member publications and specialist assignments in 2017.
Mikko Meriläinen, tietoasiantuntija | information specialist
Tietoaineistopalvelut | Collection services