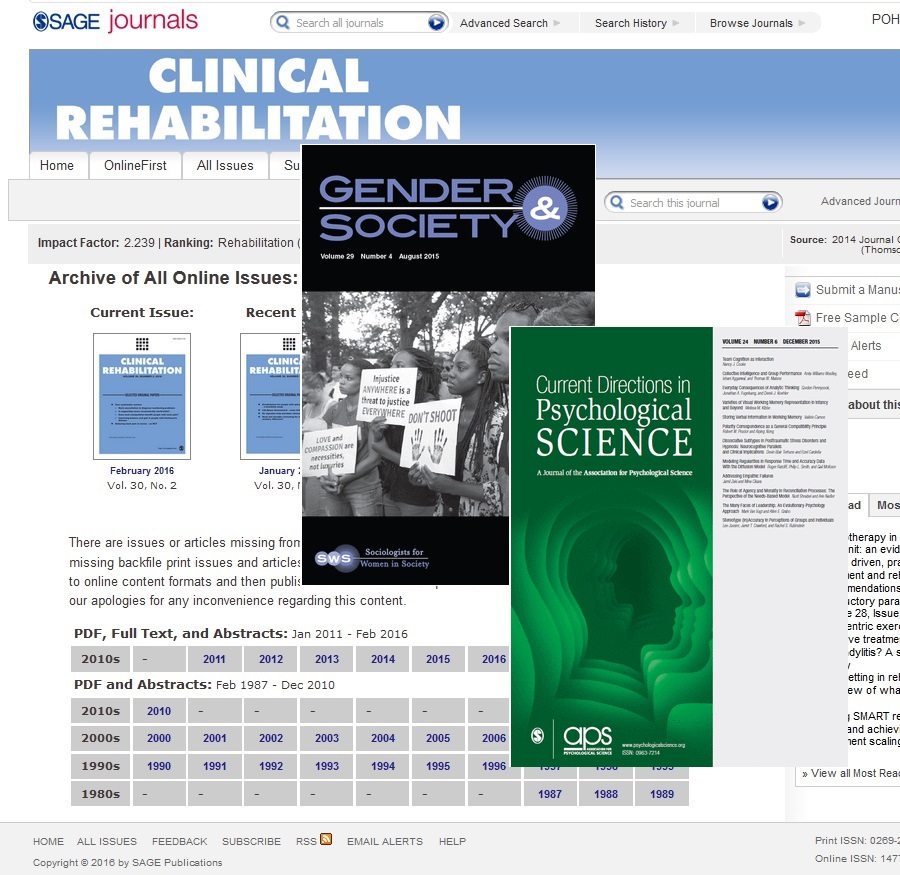 Iloitkaa tieteen ja taiteen ystävät, sillä yliopiston kirjasto on tilannut vuodeksi 2016 monialaisen Sage Premier –kausijulkaisupaketin. Löytyy sosiologiaa, lääketiedettä, kulttuurintutkimusta, politiikkaa, businessia, sukupuolentutkimusta, kasvatustiedettä – vain muutamia tieteenaloja mainitakseni. Aiemmin tilattujen Sagen lehtien lisäksi pakettiin sisältyy noin 550 uutta nimekettä. Suurin osa lehdistä tarjoaa myös kattavan arkiston vanhoihin numeroihin aina vuoteen 1999 saakka niiltä osin kuin vanhat vuosikerrat ovat saatavilla. Lehdet ovat jo löydettävissä ja käytettävissä Nelli-portaalin lehtihaun kautta.
Sage Premierin nimekkeet ja vuosikerrat vaikuttavuuskertoimineen (Impact Factor): http://www.kansalliskirjasto.fi/extra/finelib_julkinen/lehtilistat/SAGE/Sage%20Premier%202012%20Lehtilista%20vuodelle%202016.xlsx
Rejoice, friend of science and arts, for University of Eastern Finland Library has subscribed to interdisciplinary Sage Premier journal collection for the year 2016. This means that approximately 550 new journals are added to our collection. If available, most of the journals offer access to previous volumes back to 1999. The journals can be found via UEF Nelli portal.
The titles with their Impact Factor and archive information can be found here: http://www.kansalliskirjasto.fi/extra/finelib_julkinen/lehtilistat/SAGE/Sage%20Premier%202012%20Lehtilista%20vuodelle%202016.xlsx
Lisätietoja / for more information: nelli@uef.fi
Harri Parviainen
tietoasiantuntija / Information Specialist