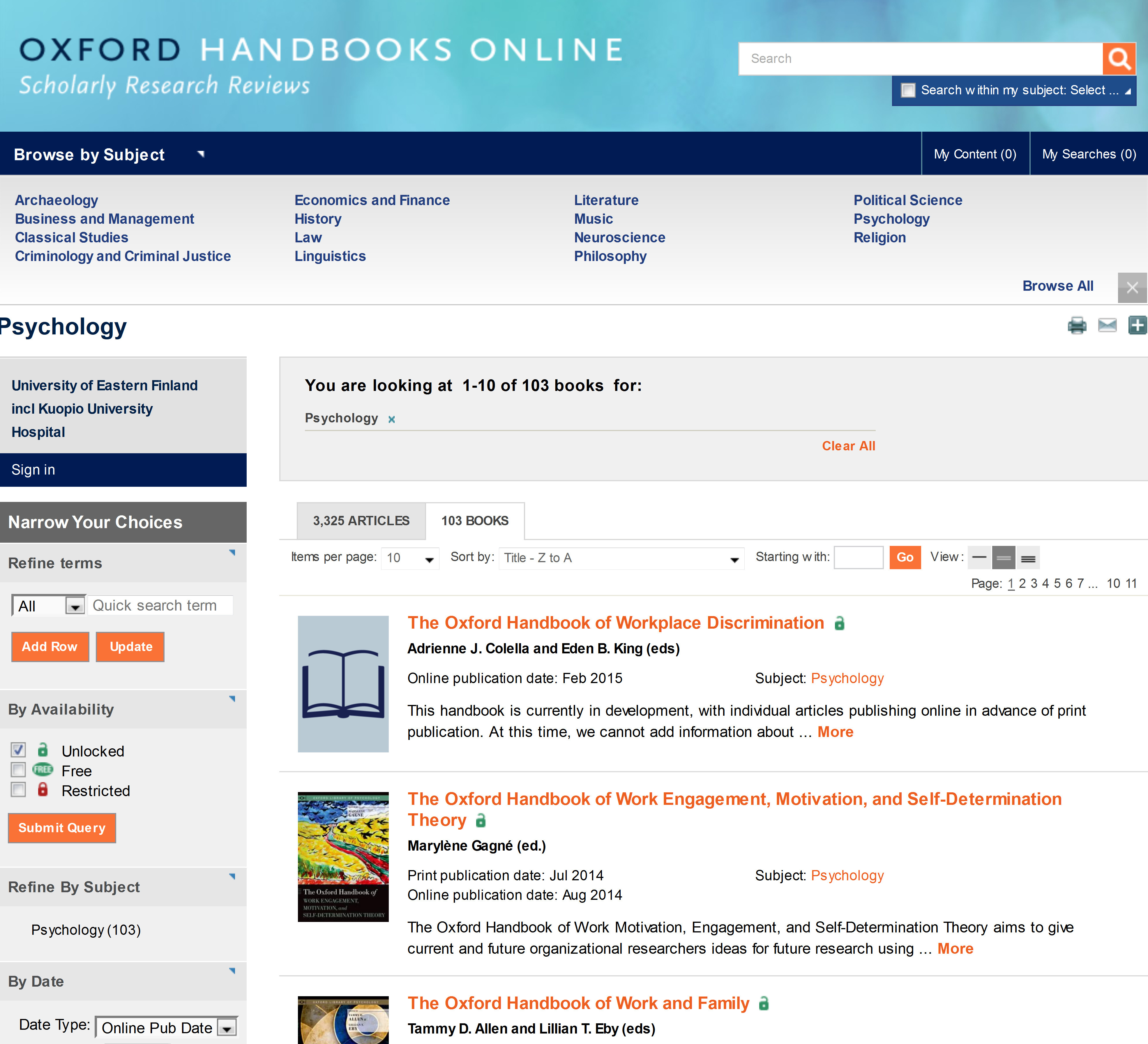 Itä-Suomen yliopistolle on hankittu pääsy seitsemään Oxford Handbooks Onlinen aihekokoelmaan vuosilta 2012–2016. Kokoelmat sisältävät Oxford University Pressin julkaiseman Handbook-sarjan teoksia. Teosten artikkeleissa luodataan tutkimuksen nykytilaa ja tulevaisuuden näkymiä eri aloilla.
Hankitut seitsemän kokoelmaa, suluissa kirjanimekkeiden lukumäärä:
Ennestään palvelussa oli pääsy 23:een Business & Management -kokoelman sekä 26:een Philosophy-kokoelman kirjaan.
Aiemmin hankitut nimekkeet mukaan lukien meillä on Oxford Handbooks Onlinessa lukuoikeus 285 kokonaiseen kirjaan. Linkit näihin löytyvät UEF-Finnasta. Lisäksi pääsemme lukemaan vuoteen 2016 mennessä ilmestyneet artikkelit 27:stä keskeneräisestä teoksesta.
Jotkut nyt hankituista nimekkeistä ovat kokoelmissamme myös painettuna versiona taikka luettavissa e-kirjana jossain muussa palvelussa. Tiedot näistäkin löytyvät UEF-Finnasta.
***
The University of Eastern Finland Library has acquired access to seven subject areas from 2012 to 2016 in the Oxford Handbooks Online collections. The collections include titles published in the Oxford Handbook Series. The articles evaluate the current thinking on a field or topic as well as consider the future directions of the debate.
The acquired seven subject areas, the number of book titles in brackets:
Previously, we have already acquired access to 23 titles in the Business & Management collection and to 26 titles in the Philosophy collection.
Including the titles acquired before, we now have access to 285 titles published in their entirety in the Oxford Handbooks Online.  You can find links to these handbooks from the UEF Finna. In addition, we have access to the articles published by 2016 of 27 unpublished handbooks.
Some of the handbooks are in our collections also in printed form or additionally available from another e-book service provider. These titles can also be found from the UEF Finna.
Mikko Meriläinen
Tietoasiantuntija / Information specialist
Tietoaineistopalvelut / Collection services