Locating the Paper
Searching the Internet, search engines and databases give you a list of results called references. If a reference contains a pdf- or a Full text -link and clicking the link opens the article, it's fine. But not all online publications are automatically for our university to access.
Especially in reference databases (Scopus, Web of Science, Proquest etc.) there are only few direct links to the pdf. Instead, you have to locate the full text of an article by yourself.
Find it -link regocnises the paid access
UEF Primo, reference databases and Google Scholar use a tool, that will show you what volumes and issues have been acquired to be available online in the university or if there is a printed version in the library collection.
This tools is called Find it/Libkey and it can be seen as an icon (picture below) or as a text like View at UEF alongside the search results.

Google or browser add-ons locates open access versions
If Find it doesn't find the article for you, it's always possible to try your luck with Google. It might find the article from an open online repository, a profile site or an open access publication.
There are also browser add-ons and extensions available that track down open access articles. They are installed via the browser's settings.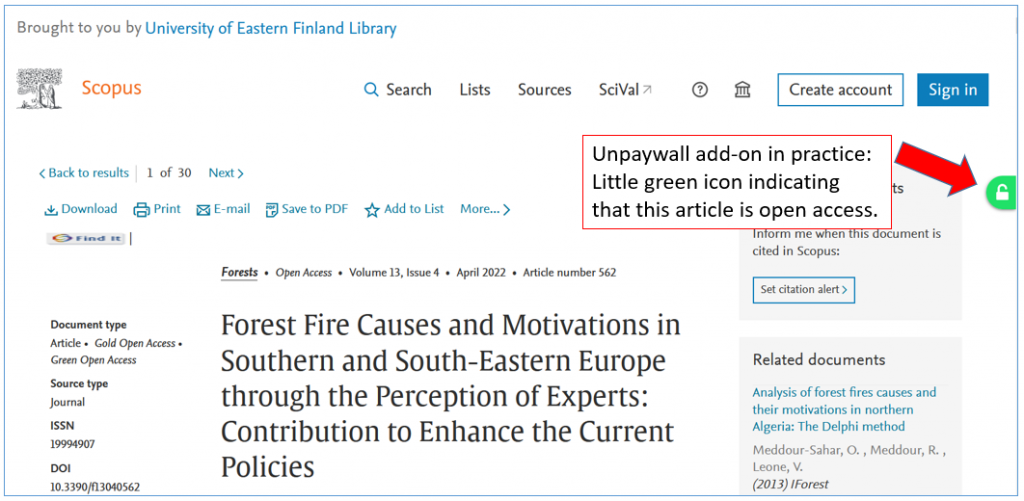 Printed publications
If there is no electronic copy available, you can try to track the printed publications. Search them from UEF Primo (Library collection) by:
title, if it is a book or a report etc.
journal title, if it is on article in a journal
book title, if it is an article in an edited book
Interlibrary service
If you don't find the article from the Internet or as a printed version from the library, you can order the article (or a book!) from the Interlibrary service for customers. See more information from the library homepage.
To Do:
Try direct link to open the article.
Use Find it -link to see if the university has subscription.
Try Google or add-ons to find an open version of the article.
Check if the library has a printed version of the publication.
Order an interlibrary loan.
Next page: Saving results