(This blog post was originally published on May 10th 2021 at https://www.uef.fi/en/article/blog-winter-limnology-in-north-karelia)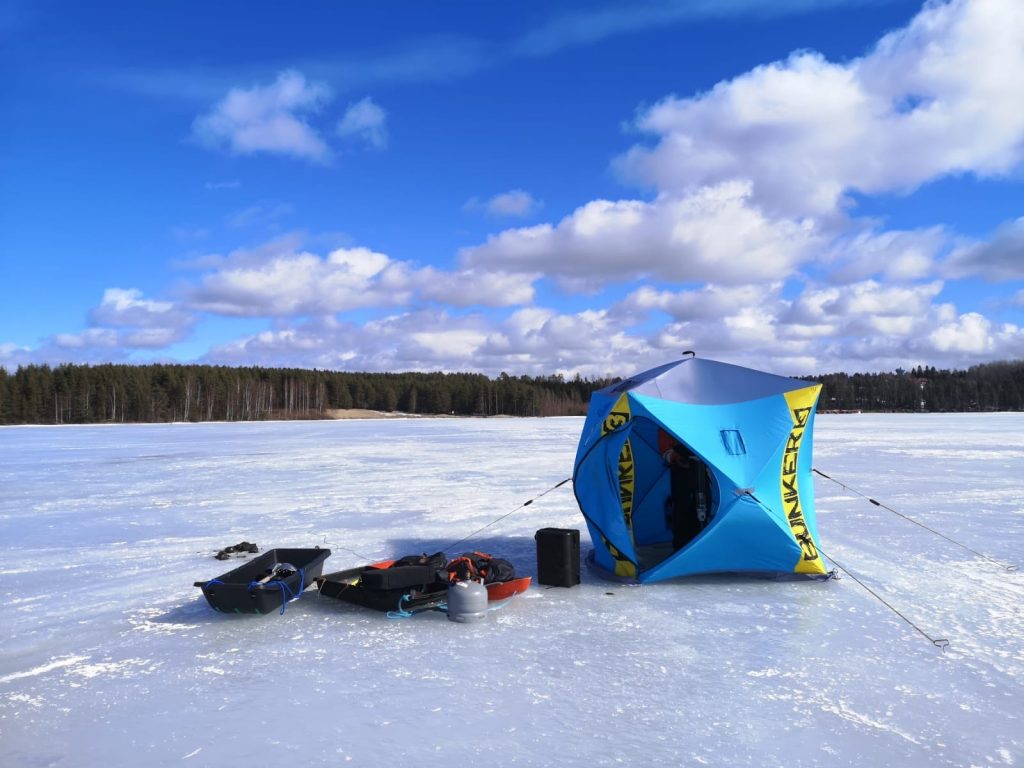 Text: Carlos Palacín & Helena Jäntti | Photo: Carlos Palacín
Winter limnology team, part of the UEF water programme, is investigating how the warming winters affect North Karelian lakes. This is the first time when the microbial communities in lake sediments in Eastern Finland are investigated by using modern tools based on stable isotopes and molecular biology, uncovering the whole diversity and process rates of the sediment microbial communities.
Eastern Finland, as part of the high Northern latitudes, is warming faster than more southern areas, and thus understanding the effect of climate change on lakes is crucial to be able to prepare and adapt to the prevailing change. Life under ice is still poorly understood, yet aquatic animals spend nearly half of their lives under the ice. This research is shedding light to sediment processes that are currently very poorly known in boreal lakes.
Lakes are bound to changes in their catchment area. In living memory, winter used to come rapidly, soil froze deep, and lakes used to be ice-covered for half of the year. Now, due to climate change, autumns are longer, there is more rain and snow, and ice-covered period is shorter.
More precipitation and shorter ground frost period mean more dissolved and particulate organic matter, containing carbon and nutrients, that are leaching from terrestrial environments into lakes. Intensive land uses can further magnify the impacts. This has led to darkening watercolor, known as brownification.
Even the Finland's most prestigious clearwater lakes such as lake Puruvesi have become visibly browner. In addition to changes in the watercolor, the increasing load from catchments also affects how nutrients recycle in lakes, and between the lakes and the atmosphere.
Preliminary data give us a warning that aquatic systems which receive high amounts of organic matter from their catchment, cannot cope with the effects of excess nutrient loads as efficiently as clearwater lakes, and are prone to the negative effects of eutrophication, including loss of oxygen and death of animals living in bottom sediments.
The large unknown is that most nutrient cycling measurements have been done during the open water season, and thus the role of wintertime nutrient processing is mostly unknown.
The winter limnology team has been measuring nitrogen cycling in lake sediments during the ice cover season on various locations in North Karelia. The team has sampled both in clearwater and brown color basins in lake Höytiäinen and lake Viinijärvi. Laboratory measurements of the collected samples reveal the resilience of lakes towards increasing loading of nutrients and organic matter.
The research is collaborative among the Biogeochemistry and Aquatic ecology and behavioural ecology groups of UEF, University of Jyväskylä and the Swedish University of Agricultural Sciences. The processing of samples is currently underway, and we can expect preliminary results during the fall 2021 and published outputs in early 2022.
WINTER LIMNOLOGY TEAM
Carlos Palacín-Lizarbe (UEF Connect profile)
Anssi Vainikka (UEF Connect profile)
Raine Kortet (UEF Connect profile)
Jari Syväranta (UEF Connect profile)
Helena Jäntti (UEF Connect profile)
Pyry Pihlasvaara (UEF Connect profile)
UEF Water programme is funded by Saastamoinen foundation, Wihuri foundation and Olvi foundation.