The art and science of attunement with the unseen – Ghost Light brings forth the more-than-human relations and temporalities we are immersed in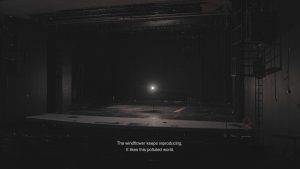 Art and research can walk hand in hand, intertwine, dialogue and explore the same questions. The sensory history of Europe and our transforming relations with the environment require both art and science approaches. The sensobiographic method walks with both1.
Art work can bring research data to experiential contexts that afford new horizons for reflection and personal attunements, and for possibilities of noticing things that tend to remain in the shadows. SENSOTRA's approaching conference "Urban-related Sensoria" will publish new art work founded on dialogues and thought & sound experiments between a researcher and two artists: Inkeri Aula from SENSOTRA in cooperation with prominent young sound and media artists Mark Niskanen and Jani-Matti Salo.
Ghost Light is a video installation that has been documented on an empty theater stage. It explores the metaphorical notion of ghosts2 of the environment: past lives, fossils, radiation, extinct species and their interconnections – namely, ghosts of the past – that remain with us. Traces of more-than-human past entangle with both our present and our imagination of the future. The art work participates in grasping the complexity of atmospheres and social and material mediations present in SENSOTRA's transgenerational walking data by relying on fragments of the walking accounts. Yet it becomes something beyond, as a work of its own. Awareness of "ghosts" questions the notion of human exceptionality in relation to other beings and organisms, revealing our interconnectedness. Ghost Light calls for a time for the human species to coalesce around stories of the more-than-human.
Ghost Light can be watched and listened to online related to the conference, Urban-related Sensoria, 10.6. 2020. https://www.niskanensalo.com/ghost-light
Follow the conference website here: Urban-Related Sensoria: Environments, Technologies, Sensobiographies. https://www3.uef.fi/en/web/urbansensoria2020
Follow the artists Mark Niskanen and Jani-Matti Salo's site here: www.niskanensalo.com
Inkeri Aula, Early Stage Researcher, SENSOTRA-project
1 Järviluoma 2019; The Art and Science of Sensory Memory Walking (see Publications on this blog). Moreover, half of our interviews in three countries have been conducted with artists of different fields and ages, who have their own special attunements to sensing the urban environment.
2 Arts of Living on a Damaged Planet: Ghosts and Monsters of the Anthropocene. (Eds. Anna Tsing, Heather Swanson, Elaine Gan, Nils Bubandt. 2017.)