SENSOTRA VISITS BRAZIL – Part One
Encounters from the coast to the mountains, July 2018
by Inkeri Aula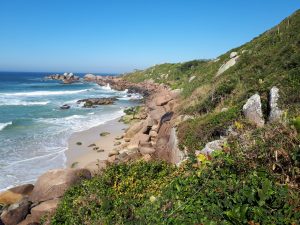 Anthropological encounters: sharing insights in IUAES, Florianópolis (Santa Catarina), 16/07 – 20/07/2018
The International Union of Anthropological and Ethnological Sciences IUAES organizes a big conference every five years. SENSOTRA participated on an intense conference week 2018 hosted by the Federal University of Santa Catarina, UFSC, in Florianópolis, Brazil.
The conference counted with ca. 2000 participants from different continents taking part in 200 open panels, in addition to keynote lectures, plenaries, closed panels, book launches, workshops, exhibitions and excursions ("anthropological experiences") to different destinations.
SENSOTRA was officially presented in two panels. In an open panel, "Circulation of body techniques and cultural and artistic performances in a context of human mobility", I presented how I've developed my previous research about the Afro-Brazilian fight-game-art of capoeira with the theoretical elaborations of a nonrepresentational approach to the concept of mediation in SENSOTRA, under the title "Sensory mediation of ancestrality". It was truly a privilege to join a panel of senior researchers who know the same field thoroughly.
Open panel no 156, "Sensorial ethnography and digital worlds: music practices in real and virtual spaces" was convened by SENSOTRA. The panel had around 25 spectators who engaged in active discussion on, among other things, the situationality of sensory perception, embodiment of memories and multisensory methods. With the dictatorial powers of the only convenor present, I took the first presentation slot to myself for presenting the project, our theoretical approaches and the sensobiographic methodology. After questions from the audience, Dr. Ikbal Hamzaoui from the Institut Supérieur de Musique de Tunis, led us to a world of sound affinities shared by Mexican and Tunisian musicians: artists from continents apart expressed sensing an intense similarity (or as our researcher Sonja Pöllänen would call it, 'likeness') with each others music. Last, Dr. Mihai Leaha presented his novel research at the University of São Paulo, with similar key approaches as those embraced by SENSOTRA, on how multisensory interactions situationally form embodied experiences of local participation. In this case, the context was a multisensory ethnography in both actual and virtual environments of a Do-it-Yourself music and club scene.
Some other panels also related to our themes, such as "Sensing Difference: urban ethnographies os familiarity and estrangement". During all the week, encounters with different scholars of cultural research once again demonstrated the wide relevance of studying sensory transformations in the contemporary relationships with the environment. Many intriguing discussions on the human body and movement, sound of language, endangered sustainability of livelihoods, and urban histories.
RESEARCH COOPERATION AND SENSORY MEMORIES: ARRIVING IN BELO HORIZONTE (MINAS GERAIS)

Memory has a curious relationship with place. When you return to a place that has been significant to you years before, past moods and experiences, entangled with the environment, suddenly become active in the present moment. This is a key reason for Helmi Järviluoma's method of sensobiographic walks, that brings interviewees to walk routes of their youth. I travelled to Belo Horizonte for cooperating with local researchers in the UFMG university and to introduce the sensobiographic walking method in Brazil, but it was also a journey to personal memories. I lived in Belo Horizonte as a student in 1995-96, and since have returned there twice. It is a city of 2,5 million inhabitants amidst the mountains full of minerals and gems, in the state named consequently Minas Gerais, 'general mines'. The landscape I had not seen for eight years looked and felt powerfully like home, although it is as different as can be from the flat archipelago of Turku.
Received by the director of the department of Information Sciences, Terezinha Carvalho de Souza, I began to learn about Brazilian research in the federal university of UFMG. Otherwise the university staff was still on winter holiday, and the political situation continues very difficult for all social research following the coup d'etat by a non-elected government introducing severe cuts in all levels of education. The excursions that I had planned for introducing the sensobiographic walking ethnography in rural communities affected by mining industries around the city had be cancelled, as the receiving project in media studies had ran out of funds to do anything at all. In the beginning of August was given a new decision on cutting down completely the funding system for post-graduate studies in the country, threatening the very existence of the majority of ongoing research project and doctoral programs. This is very alarming in a country, where the most popular candidate for October's presidential elections is in prison for contested charges, his main rivals praises military dictatorship, and already underfunded education has suffered severe cuts.
The transformations of lived environment affect local people's memory everywhere. In 2015 the fifth major river of South America, the sweet Rio Doce was devastated by a mining dam collapse, killing people and all life in the river, and destroying livelihoods of a number of communities, including the indigenous Krenak people. I learned that the population of the destroyed village Bento Rodrigues have themselves initiated monthly "sensory memory walks" to the site. They ring the alarm that was not ringing when the poisonous flood came down on the town, and having lost all their material belongings, tell stories to each other to remember their past drowned by the worst environmental disaster in Brazilian history.
Places that guard their natural beauty also require attention. In the beautiful mountains full of rock crystals in the Serra do Cipó I got acquainted with not only local village life but also collective endeavours of reclaiming what was called "mystical cartographies": the mapping of sacred walking paths between waterfalls and other marveillous sites in the national reserve.
SENSORY WALKING
In cooperation with a research network NEPPAMCS – Núcleo de Estudos Sobre Performance, Patrimônio e Mediações Culturais da UFMG I organized a Sensory walk workshop in a public park near to the state's federal university. The Lagoa do Nado has a history as a private colonial estate that became a recreational area, defended by a local population's movement against municipal plans of constructing condominiums. The movement was victorious and today the park is a breathing hole amidst busy roads, with 4 km of walking paths, a little lake, a cultural center and sports areas.
With a small group of students and researchers we walked a route I had previously chosen in the park. We met first in the second floor on a cultural center, functioning as an exhibition space, and returned there after the walk. The park was full of kids engaged in "holiday school" activities on a Friday afternoon. In the following compilation you can get a glimpse of the colorful atmosphere we encountered in the park. I was holding the camera in my hand and the fisheye effect distorts the image, but it also allows you to see better around. The instruction was not to talk or take photographs, but simply to concentrate on sensory perceptions of the environment.
After the walk the experience was discussed in a talking circle. The environment was so busy that many of us had a hard time in concentrating on the sensory observation. We discussed relationship with places, nature, urban green areas and sensory memories. Prof. Rubens Alves da Silva shared many insights on the diverse levels and interaction between observation, participation, relating with the locality and performing a group activity as an anthropologist. A student participant told us that she had never taken a step on the forest path before, as she had always been taught there's dangerous. The workshop, thus, literally opened new paths of experience.