An interview with Professor David Morton
Preamble
Life turning towards normalcy, it seems, feels practically like a shake-up to the "new normal"… It was three years ago that the World Health Organization declared Covid-19 to be a pandemic. And now, even cities and countries with the strictest coronavirus precautions have been rolling back their restrictions for a while. Here, in the Middle of Knowhere, Kuopio, we, and Finland in general, were in fairly good shape during and after the pandemic. Therefore, we are truly happy to welcome back to the University of Eastern Finland an international one-day ERASMUS+ Meetup, to be held on the 7th of June at the Kuopio campus, Canthia building. We are also pleased that, after several years, Prof. David Morton from the University of Utah, School of Medicine (UUSOM), Salt Lake City, will be able to visit us and deliver a lecture again.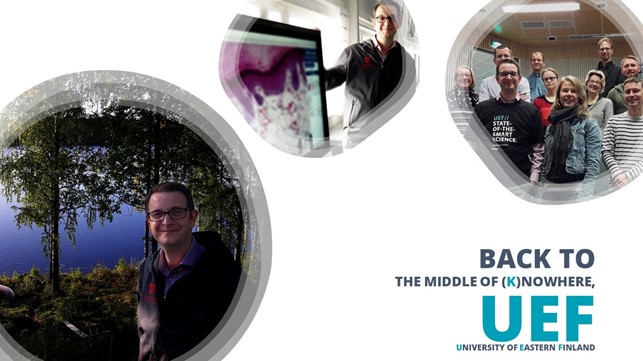 Interviewer: Welcome, David! As someone in the field of Anatomy, having visited the meetings of the American Association of Anatomists, as well as having met you numerous times before, I think I have a pretty good understanding of You in professional life. To start with the basics, you are from the University of Utah, School of Medicine, an established professor, and you also serve as the Vice-Chair of Medical and Dental Education. However, for the readers, could you tell us something more about your background? Where and how did you start your career?
David Morton: Well, it'd be a bit of a long story… In short, I originally applied to medical school as my main pick while also applying to a graduate program of clinical anatomy as a backup. The graduate program I was accepted into had a project that very much piqued my interest: writing a cadaver dissection manual. Twenty years of teaching at the School of Medicine and six textbooks later… It seems my choice turned out to be a good one. I do not shy away from directing tough classes for students who plan on becoming surgeons, radiologists, or pathologists.
Interviewer: For sure. I have had the possibility to hear stories from you and watch videos about your unique teaching methods, where you look for unusual ways to get the teaching material to "stick" after completing a topic in your courses. You even play guitar and sing about the subject sometimes. Could you tell me how you ended up becoming a Youtuber as an anatomist, receiving more than 20 million views so far?
David Morton: When I started doing the flipped classroom about 15 years ago, I created anatomy video tutorials as pre-work for my students. At that time our learning management system (Canvas) was clunky in storing and viewing videos. Someone told me that YouTube enables everyone to easily access the videos. So in 2015 I started uploading all of my videos to YouTube. Over the years more than just my students view and use the videos. It is a great source of satisfaction. The night I decided to upload the videos I asked my wife Celine what I should call the YouTube channel. Without blinking she said, "you like music … how about The Noted Anatomist". And that is how the channel got its name and why I include guitar and humming at the end of each video.
Interviewer: From our past connections, I know that you have some very personal connections to this side of the pond, both through your family and work experience. You have also somewhat recently begun to more thoroughly explore the spiritual side of matters through your religion. In your videos, you show many aspects of your life and the way you present your thoughts on both medical and "spiritual" matters is impressive. Do you think your experiences have changed your perceptions on how to approach your peers as well as your students when teaching?
David Morton: My mother was born in Treviso, Italy and emigrated to Toronto Canada when she was 21. My mother-in-law was born in Algeria and was raised in Marseille, France before moving to Toronto in her early 20's as well. They both met Canadian husbands and started a family. I met Celine at church when I was 13 and we have been married for 27 years. I recently became the Bishop of our congregation of 450 in my home town of Pleasant Grove Utah for the Church of Jesus Christ of Latter Day Saints. It is a source of great meaning and satisfaction as well.
Interviewer: Thank you, that's mighty impressive. We met for the first time in Boston a few years back, when You were named a Fellow of the American Association for Anatomy (AAA), and also served on the Board of Directors of AAA. A few years later, for the first time in your life, you visited Finland, presenting at a symposium at our university in 2017. You gave several very emotional and inspiring lectures about flipped class teaching methods in Basic Medical and Dental Science Education. We, who participated in his course in '17, still have some very vivid memories of his presentations. Here, on the web pages of the On the Move blog, we would like to ask for your thoughts on your first visit and your recent expectations before this second one… What made You choose to come such a long way overseas, to deliver your lectures at our symposiums both back then and now?
David Morton: I love any excuse to get to work with you again. Plus, I loved my time in Kuopio. The school is impressive and professional. I jumped at the chance to return.
Interviewer: The University of Eastern Finland and the city of Kuopio have provided the perfect backdrop for many academic events in the past. Had you researched this elegant, nature-rich city of ours before your first ever trip here? What were your expectations when traveling to Finland and Kuopio?
David Morton: I knew that Finland had many trees and lakes and knew it would be beautiful but … seeing and experiencing nature in Finland in person was such a profound experience. Plus, you enabled me to have a smoked sauna experience in the biggest one in the world at Rauhalahti and that was a highlight.
Interviewer: There exist many differences between our continents and countries, be it in education or otherwise. Being a Professor from the US, coming to an academic symposium in Europe must have been quite a culture shock. Back in 2017, when both students and professionals in academia were trying to understand your thoughts on Flipped Class methods, how were you able to find a common language in Education?
David Morton: Yes, there are cultural differences between Europe (Finland) and the USA (Utah). However, all students, especially the ones in the health sciences, want to be challenged and learn. That is why active learning methods like the flipped classroom work anywhere in the world. When I was here in 2017, I gave a workshop to professors from all over UEF campus on flipped classroom. I was asking many questions and I wondered how much interaction would occur especially with the language differences. All the professors engaged and participated in the session. I learned once again that professors and students alike want the opportunity to be part of their educational experience.
Interviewer: Thank You. It is nice that you are taking into consideration the environmental impact of your travels and conferences. It is important that one travels only for good and thought-out reasons. Could you summarize the purpose of this meeting?
David Morton: Supported by the ERASMUS+ Global Mobility Program, the University of Eastern Finland will host a one-day Meetup on Basic Medical and Dental Science Education on the 7th of June, 2023. There will be 14 invited speakers coming from, for example, Canada, Finland, Ghana, and USA. The participants will join the meeting either on-site or virtually. We will share our experiences and proven teaching strategies that help us succeed in the preclinical classroom and in clinical education. The major topics of the meetup will include Innovative Teaching Strategies and Best Practices.
Interviewer: Thank You, it sounds like it will be really interesting. Can you tell us something about your own upcoming presentation, a sneak peek of sorts? Also, do you have any "extracurricular" plans you're willing to divulge? Hiking around the trails of Puijo, perhaps? Eating some crispy muikku (vendace) at the market square?
David Morton: Yes, yes and yes. I sure hope we can have another Sauna and get some hikes in.
Interviewer: I am sure that the proverbial wind from your thought-provoking topic will generate lots of discussion. Finally, please allow us to ask, what do you think UEF and Kuopio can offer to attract you on this second visit? Do you have any advice for the firstcomers, having visited us earlier? What do You think would be useful to know before someone visits UEF, Kuopio, from a different part of Europe, or even an entirely different continent?
David Morton: Bring a camera and make sure it has a full charge because you will take hundreds of photographs of this beautiful country. Also, take some time in the capital of Helsinki as it has so much history there.
Interviewer: Thank you for your time! Much appreciated. And do let me say: WTF (Welcome To Finland), again!
A link to a video abstract of David for the Erasmus+ MeetUp on 7th of June 2023 for medical and dental educators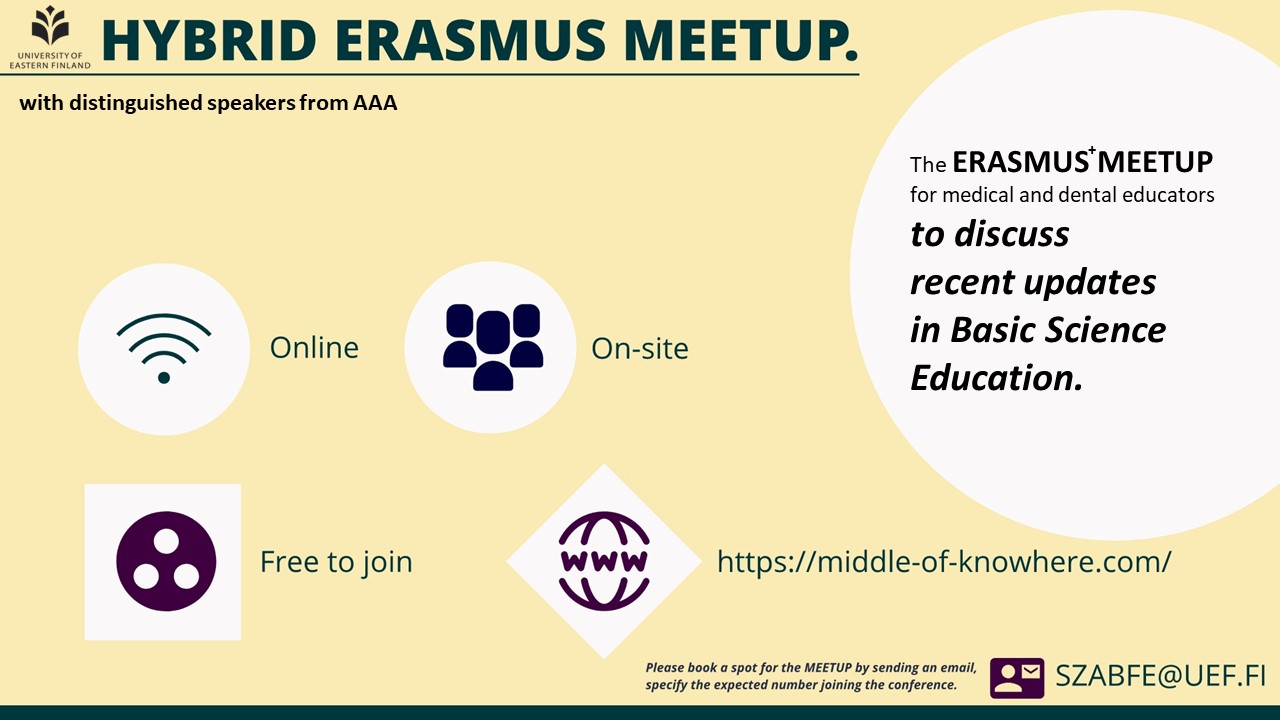 Interviewer Szabolcs Felszeghy, School of Medicine, UEF