Hei everyone! I am Phat Do, a Vietnamese student currently in my second year of the Master's programme in Linguistic Sciences at the University of Eastern Finland, Joensuu campus. Since it seems there have already been (and will be) many posts sharing about students' and staff' personal experiences in Finland, my post will be a bit different and focus more on an aspect that I believe to be of interest for a lot of potential students around the world: the finances of a student's life in Finland and tips on saving.
I believe this topic is relevant since Finland, as well as its Nordic neighbors, is considered among the countries with the highest living expenses in the world and is rightfully so. As a result, despite the numerous great things about the country, particularly its education system, financing one's studies here is always one of the biggest hesitations for potential students, especially ones coming from home countries with less expensive living costs. As I am a Vietnamese who had never resided abroad before the current study, you can be sure that I am speaking from my own experience, too. Also, as significant as tuition fees can be, I am not referring to them in this post, since I believe UEF has one of the most generous scholarship schemes among Finnish universities and it should ease up your budget quite a lot, leaving the living costs to be the main headache.
So, to the main point, I would like to assure everyone that the situation is not as bad as you might think. For a quick reference, you can expect to spend roughly about 300 – 320 euros each month for everything, including rent, electricity, water, Internet, food, etc. Although this is a reliable estimation coming from my personal experience, of course it is subject to so many factors, as everyone has their own preferences and ways to spend their money. As such, I will list out some of the most significant tips (in my opinion) to save money while living and studying in Finland (well, technically it should be in Joensuu only, but I believe the situation would not be too different in other cities). A minor alert before the list: these tips of saving could be too trivial or sound "cheap" to some people, so they are just my suggestions and you can pick out only the ones that work for you.
1. Bank account
This comes first in the list as all students coming to Finland will need to have one. As good as the banking services here can be (most of the time, at least), they usually come with monthly fees that can range from 3 to 7.5 euros. Although these are not too much in exchange for good services, experiences from people I know have proved that the quality can differ quite drastically depending on the bank you choose. As such, my suggestion is to go for a special offer that has only been introduced this academic year (2018-2019): a complete bank service (an account, a MasterCard debit card, internet banking, mobile banking, etc.) at a large bank that is well-designed, convenient, hassle-free and most importantly, free until you graduate. The card also functions as a student's card itself, so you can carry it around to get discounted prices for students mostly everywhere in Finland. I am quite surprised that such a good offer is not so well-known among students here, hence this suggestion. Just look for "order a student card" within your Frank app and follow the instructions, or just drop a comment below and I will be happy to assist you further.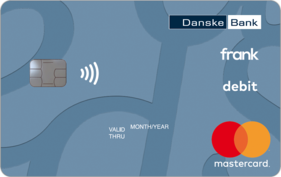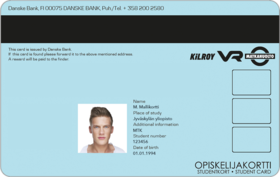 Sample images of the free student/bank card.
2. Accommodation and transportation
Regarding the apartments that Joensuu Elli (the housing company for students here in Joensuu) offers, prices can vary quite much depending on the location, facilities, year of building/renovation, etc. From my experience, if you want to save on rent, it is worth it to spend some effort on looking at the list of offered apartments before you make a request. This is because with some knowledge of the offers, especially with the help of Google Maps or similar apps, and some consideration regarding your needs and preferences (surrounding areas, distances to supermarkets and stores, etc.), you can set a suitable amount of maximum rent for your request and thus do not end up paying for more than what you actually need (e.g. having a large kitchen though you do not cook by yourself much or at all, living near the city center though you barely go out, etc.). Another major factor in choosing accommodation is your chosen method of transportation. If you are sure that you will be using local buses most of the time, living near a bus stop is worth thinking about, considering how infrequent buses are here… If you decide to adapt the Finnish way and stick to cycling (like I do), distances to the university and the city center may be more important. In the end, it is about finding a balance that works for your own situation.
For some reference, I am paying 215 euros (Internet subscription not included) in a spacious shared-among-3 flat that is about 4 kilometers from the university, about 100 meters from 2 small supermarkets and a post office, and about 1 kilometer from 2 large supermarkets. I could have saved more if I had had a better preparation in applying for a flat, but this is not too bad, in my opinion. For transportation, a student's bus card costs 49.5 euros each month, while you can buy a good used bike for roughly the same amount if you know what you are looking for. I bought my current bike with gears, a kickstand, a light, a basket, almost new tires, etc. for 55 euros. Just keep in mind that bike gears are almost a must here if you plan to cycle far and frequently, unless you are a committed and hardcore cyclist yourself, since the streets and roads in Joensuu are not so flat.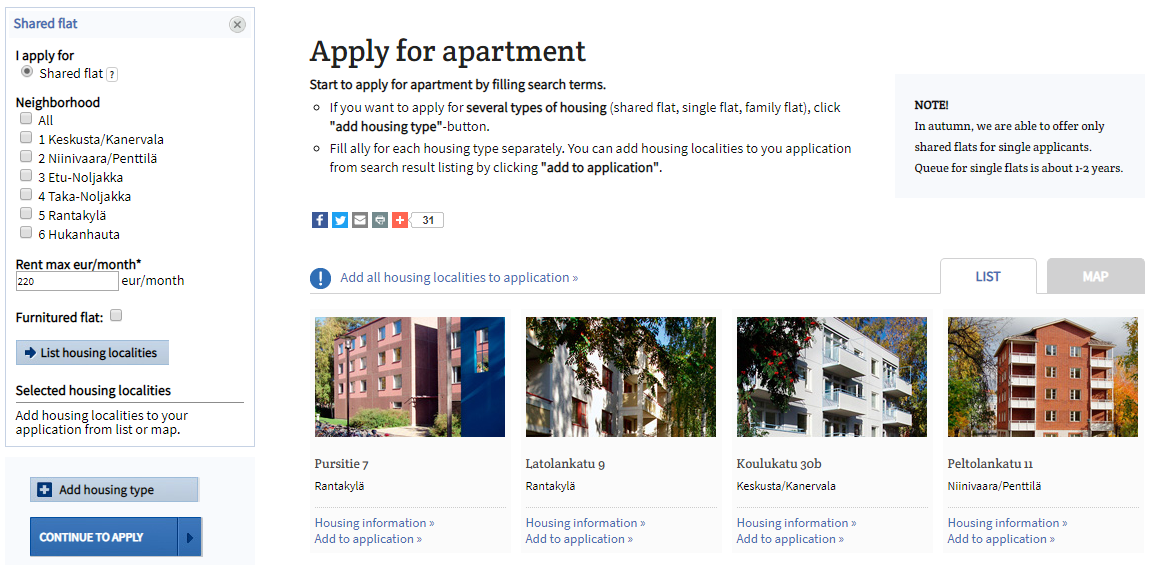 Pay attention to the details to come up with a suitable max rent.
3. Food
Quite many international students here opt for meals at the university's cafeterias/restaurants, and they have a good reason for that: meals cost only about 2 euros each, are nutrition-balanced and diversified for various diets and can guarantee full stomachs for everyone. Still, if you prefer to cook by yourself and eat in (for more freedom in eating time, to have dishes from your own cuisine, etc.), it could be even more economical than that. The tip is not to limit yourself to the more popular stores and give the discount supermarkets a chance. If you regularly follow their weekly discount leaflets, you should be able to have a good idea of how much each type of food usually costs and can score great discounts when they are available. For your reference, I had white cabbage for 29 cents a kilo last summer, while the common price can range from 1 to 1.5 euros a kilo. Similarly, marinated chicken can go on discount for 1 euro a kilo, half its usual price. If you are willing to go the extra mile, you can find some other students to buy and share together offers of 7 kilos (or even more!) of pork or ham for 2.5 euros a kilo. A good general advice is to pay attention to (and remember, if you can; it is like my hobby now and also helps a lot with learning Finnish) the prices per kilo or liter of the food and drinks, and not the prices per item or unit. These tips not only helped me save quite a lot regarding food expenses, but also greatly diversified my diet.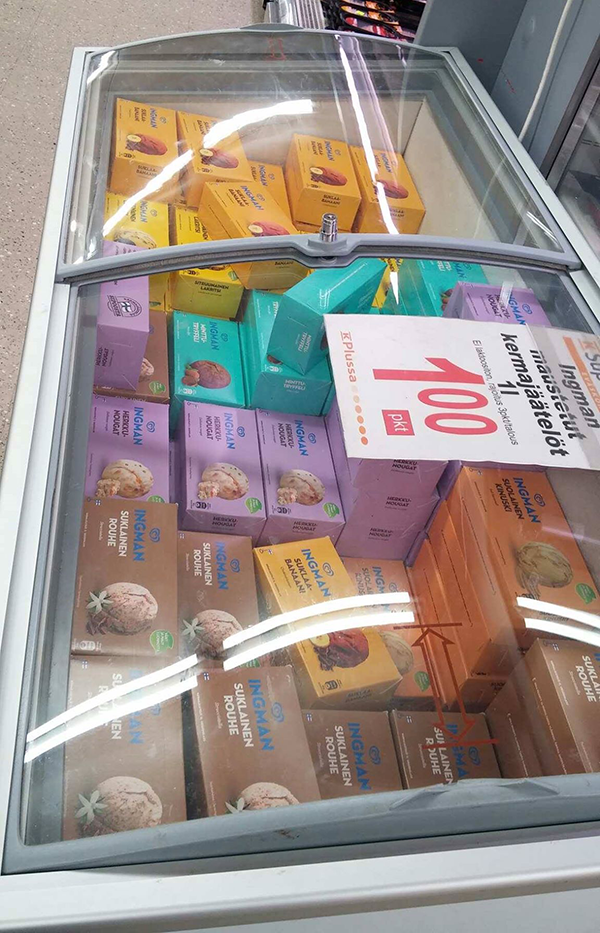 Ice-cream of various flavors discounted for 1e/liter (usual price is roughly 2.5e/l).
You might wonder "Who has time for all these stuffs? I am here to study, not to nit-pick grocery prices for cheap discounts." and you are absolutely right. I am well aware of this, hence the minor alert at the beginning. My point is, if financing is among your worries before you decide to study in Finland, following these tips of mine could ease your mind a great deal and could even help you make the decision. I still have many other useful tips to share, maybe in a later post, so if you find these helpful or want to discuss anything related to them, I am looking forward to your comments!
P/S: Just to make the point that these saving habits do not mean you cannot focus on your studies, here is a photo of me with my overall badge of completing 55 ECTS in the first academic year (I actually completed many more than that, but I hope you get the point). So, no worries!
Phat Do