If you happen to be in Joensuu during the spring term, and if it happens to be a year in which the IBU Worldcup takes place in Finland, experiencing the cheerful atmosphere of a Biathlon race in Kontiolahti is an entry on everyone's bucket list you cannot miss. Even if you are not a big fan of sports, the happy atmosphere is a great event to attend and watching the race in the snowy, Finnish forest against the backdrop of beautiful Lake Höytiäinen is surely something I will not forget.
If you are familiar with the gripping sport you will know where this blog entry is heading. If not, let me back up.
Biathlon is a combination of fast-paced cross-country skiing and precise shooting. Depending on the discipline the athletes are racing along the 2-4km long rounds 3 or 5 times and in between stop to aim their small-bore rifles at targets with a diameter as small as 115-45 millimeters (standing or lying down while shooting) and in a distance of 50 meters. Being able to hold your hand as steady as it is necessary to successfully do this after the challenging tracks (including steep climbs like the famous Kontiolahti 'wall climb') is a true mystery to me and fuels the fascination for this extravagant sport. Missed shots lead to extra meters the athletes have to ski  in the 'penalty loop' or time are added to their overall score. And as with most sports: the fastest athlete wins.
Biathlon disciplines range from individual and sprint races to pursuit, relay and the all-time-favorite mass start. The IBU Website is a great place to discover more about it, including a collection of did-you-know-facts such as "the first ever competition is believed to have been held in 1767 in Norway".
But let's get back to Kontiolahti.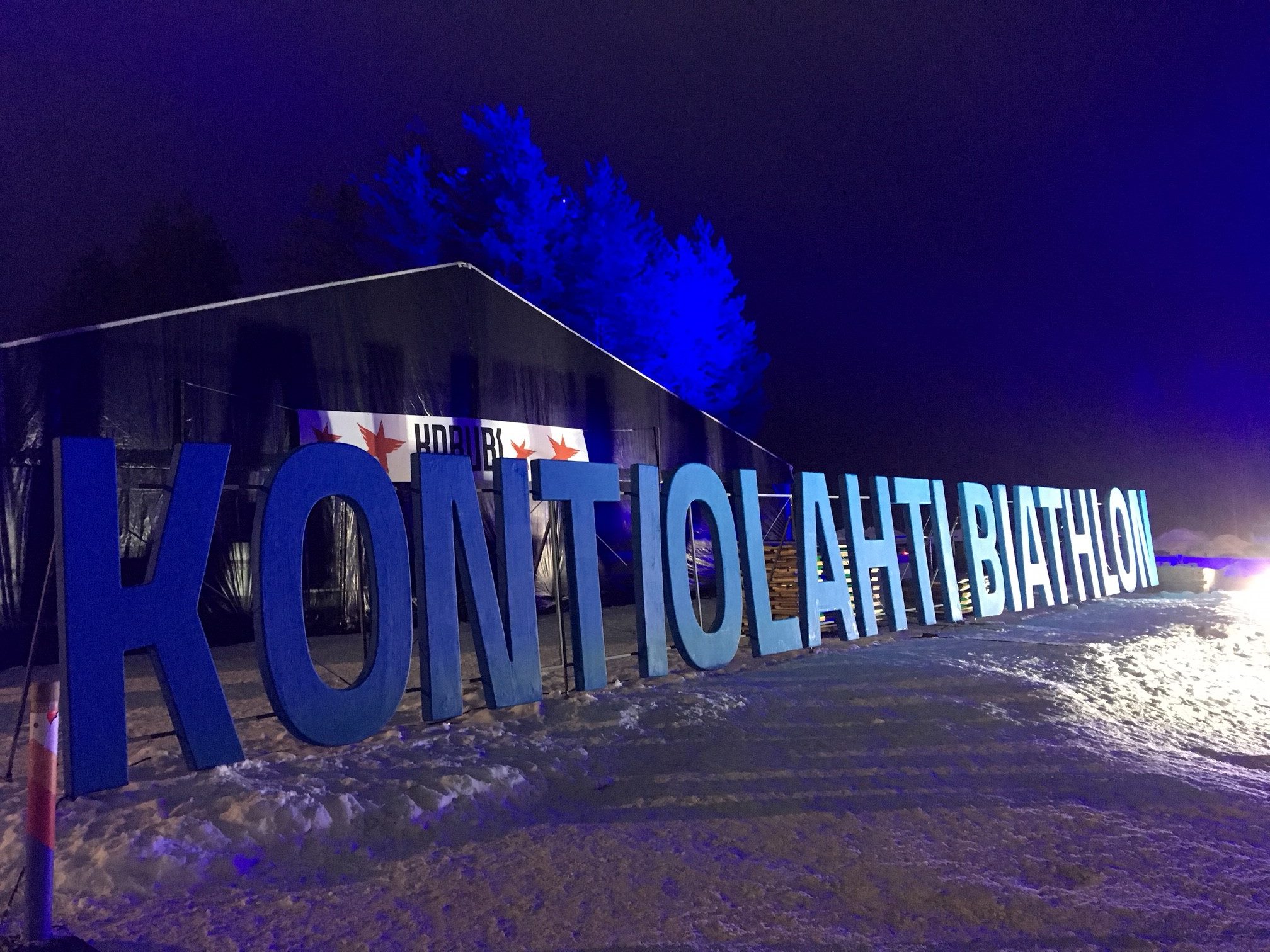 Tiny Kontiolahti is only 1/5 the size of Joensuu, but nevertheless it is one of only nine venues for the annual world cup. From Joensuu it's less than a 15 minutes drive. And Finnish biathlon has a huge star: Kaisa Mäkäräinen. She lives in Joensuu and races for Kontiolahden Urheilijat, the sports club at Kontiolahti. She has won the overall worldcup twice already in 2011 and 2014 and stood on the podium almost 70 times.
It seems to me that everyone in the city knows her name. During the final competition last weekend – the women's mass start – the sea of Finnish flags and support banners for Kaisa as well as the noisy "Kaisa, Kaisa!" cheers produced an incredible atmosphere. A loud and concurrent "hey!" could be heard for every target she hit.
Still, another amazing fact about the friendly crowd in Biathlon is that they cheered for everyone the same way. Every athlete passing through the stadium was pushed forward with supportive clapping and when young athlete Vanessa Hinz surprisingly won the race, spectators made her cross over the finish line with a wide smile on her face, waving to her fans. Her happiness might have only been exceeded by Kaisa who finished the race on 4th position and seemed to enjoy her home game as much as her fans did. And she's got every reason to smile. She is leading the overall score this year by more than 50 points and there will be many fingers crossed for her during the next and final competitions in Norway and Russia later this month. Hyvää, Kaisa!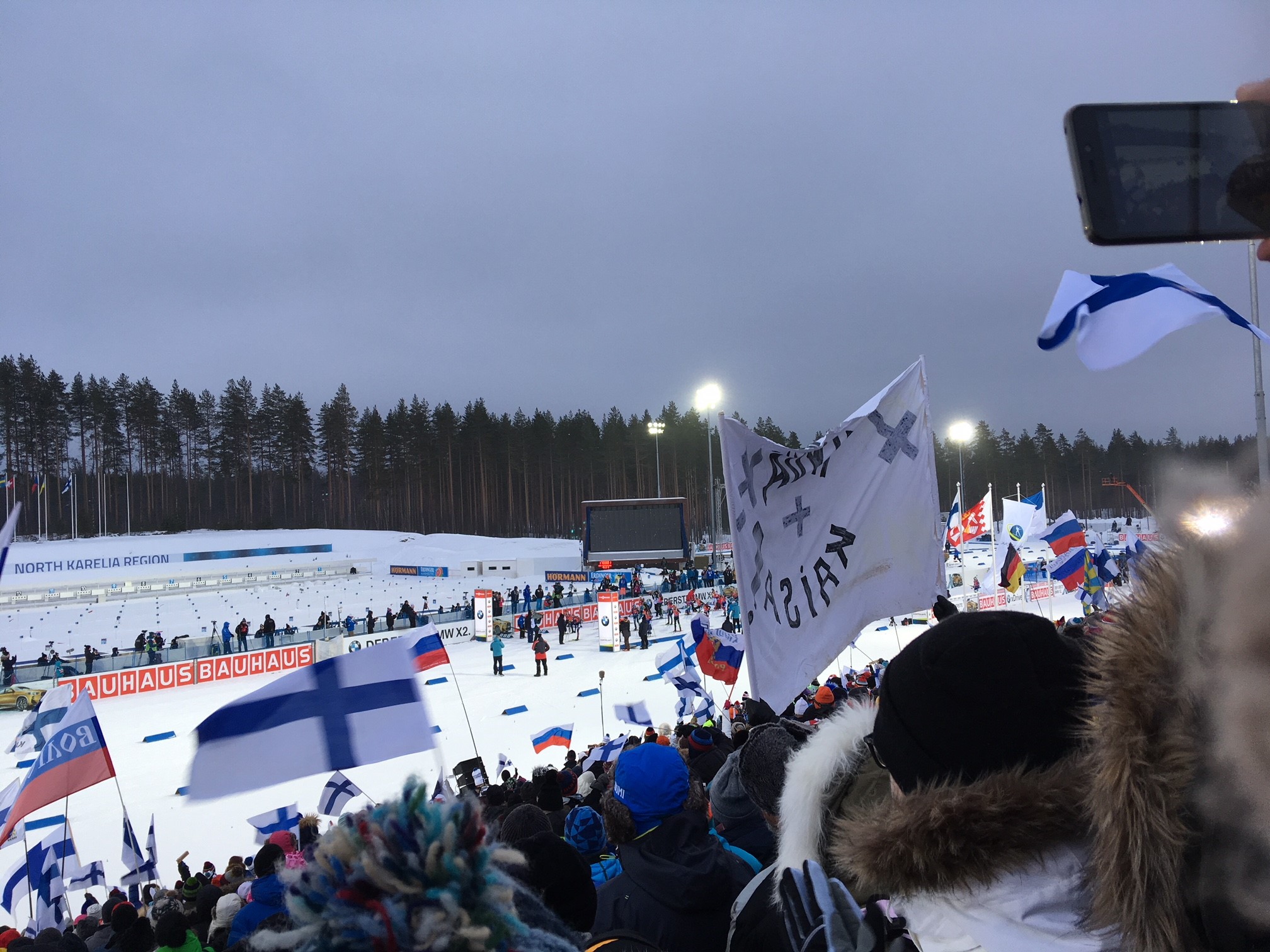 "Hyvää, Kaisa!" my favorite support banner in the crowd.
Sarina Jasch