Before
The things I had to take care of before exchange were applying to the university on the website of KNU, flying tickets, travel insurance, choosing courses and registering on time on the website. Everything was quite easy as I had support from University of Eastern Finland as well and I got good advices from the both sides, my home university and KNU.
I started searching every possible information about the country and its culture. Even there is a lot of videos and blogs about South Korea and about living there, I felt like this country is still quite unknown for us. I was very curious and excited about going there for 4 months as the experience is always different if you live in the country than only staying there as a tourist.
Campus, dormitory and studying
My university was Kyungpook National University in Daegu. Daegu is only one hour drive away from Busan. I liked Daegu since the beginning as it is interesting, more local than for example Seoul and it had all the facilities I needed.
From the very first day I was amazed by KNU campus. For me it felt more like a town, with huge area, shops, restaurants, multiple sport fields and even swimming pool in one of the buildings. On the campus we could find everything we needed and even more, areas for resting and hanging out with other students like parks for having a picnics or fountain to relax.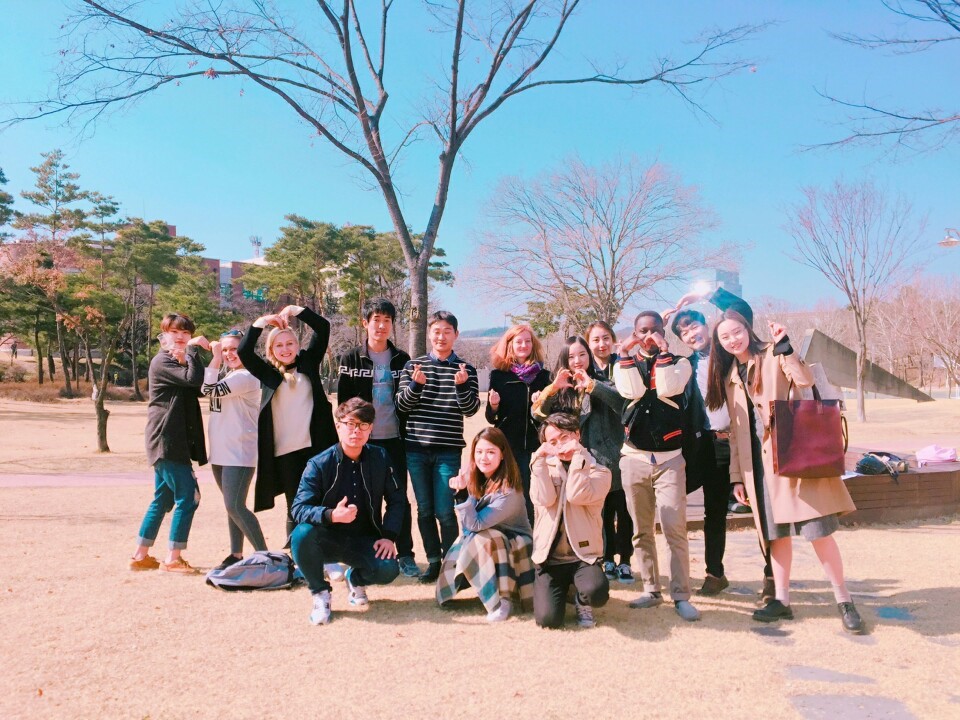 Picnic at the campus park are with mixed group of Korean and International students. We created a "club" for getting to know Korean culture and Korean students could practice English and get to know foreign cultures as well. We had meetings every second week and we had dinners and picnics together.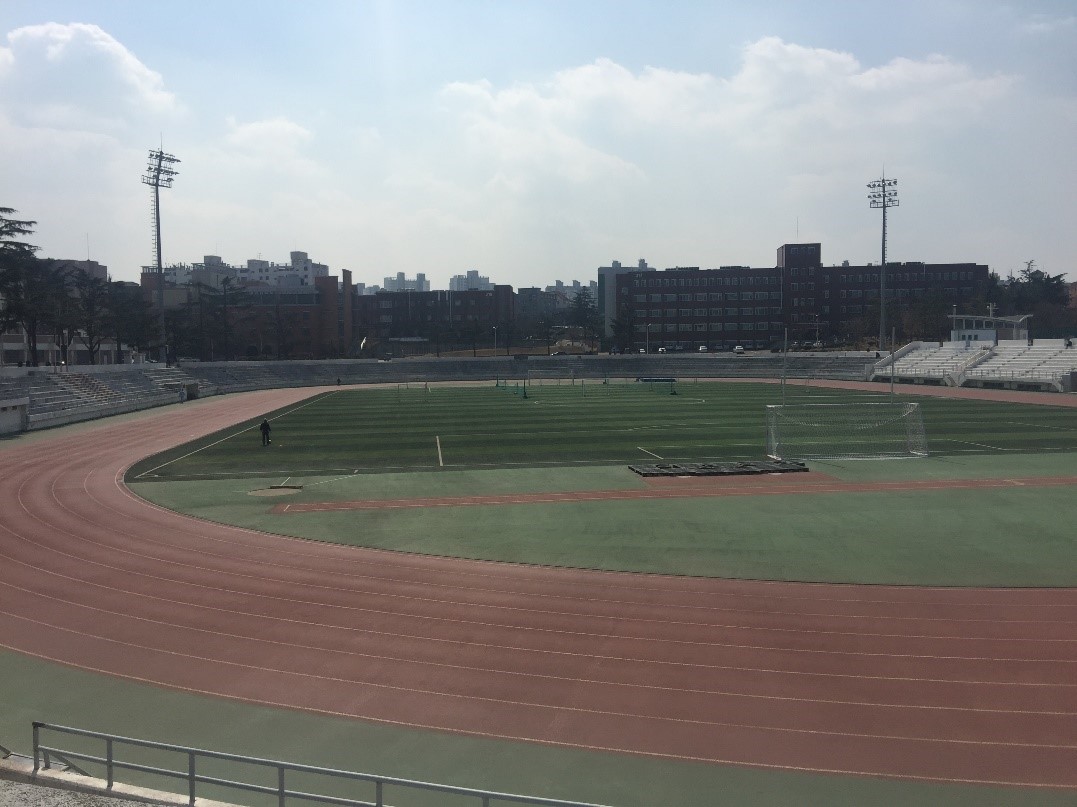 KNU provides a lot of sport facilities for the students at the campus area. Campus was open are, so everyone who liked to do some sports or spending time on campus area could enter it. Korea is one of the worlds' safest countries, so this kind of trust is normal. Koreans are peaceful and very friendly people.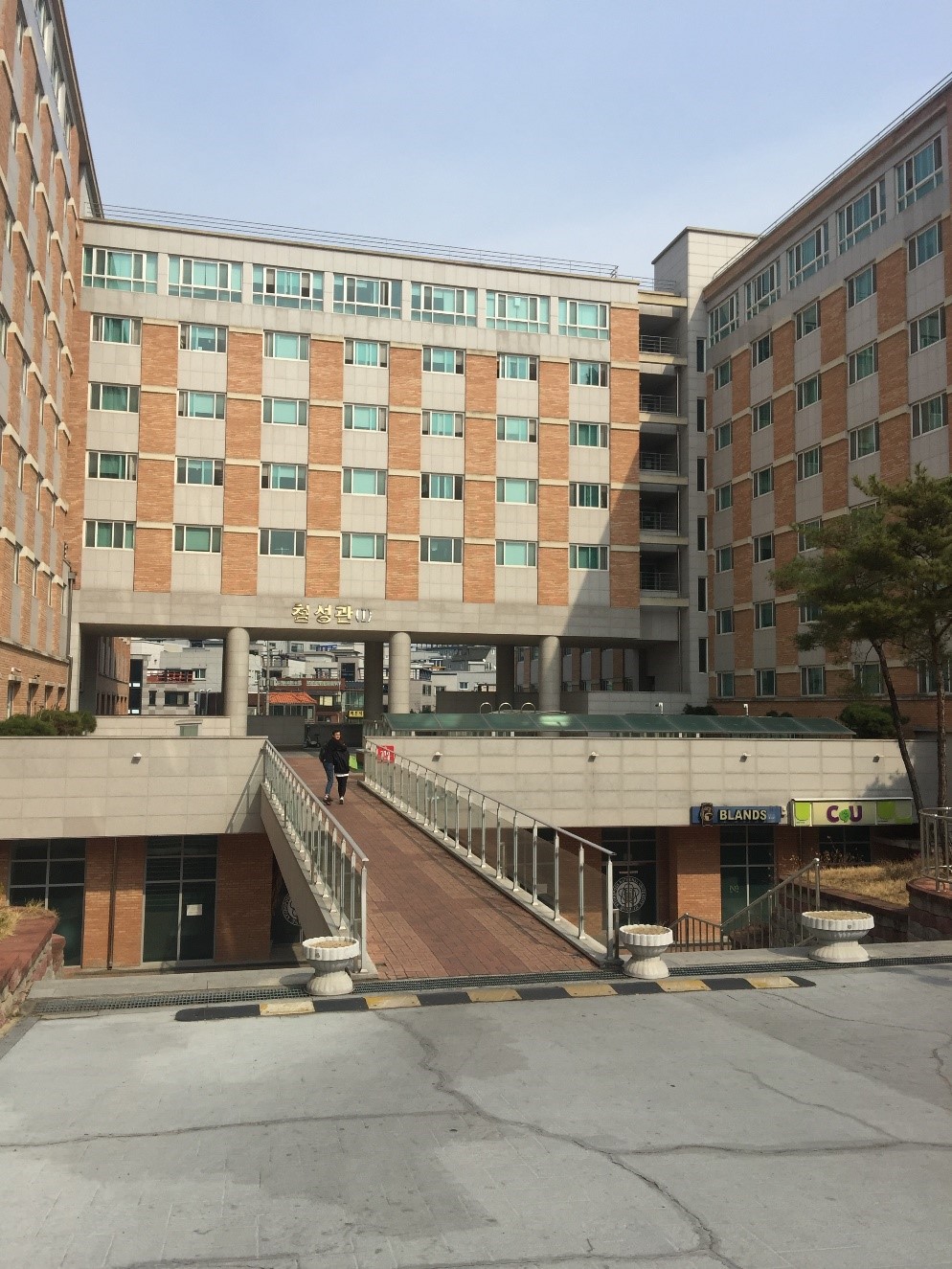 My dormitory building. Our rooms were shared with other person same gender. In this dormitory building, which is called "New dormitory" we had a bathroom inside the room. Other international dormitories, had bathrooms outside the room, shared ones. In this building we had laundry room, coffee shop, student restaurant, small kiosk, small gym and studying room. Basically everything we needed to survive the day even without going out of the dormitory.
In this building we had mixed international and Korean students. Funniest thing for us as foreign students was that rules were very strict and for example boys and girls had separated floors and even elevators. Cameras are everywhere so they could follow that students are not breaking the rules. Another rule was that entering all dormitories between 1 am and 5 am caused penalty pointes for all students who did it. Using the key during that time caused penalty points and certain amount of penalty points could cause ejection of the dormitory. However, none of the rules were causing any troubles to us as we understood that they are made to keep the dormitory quiet.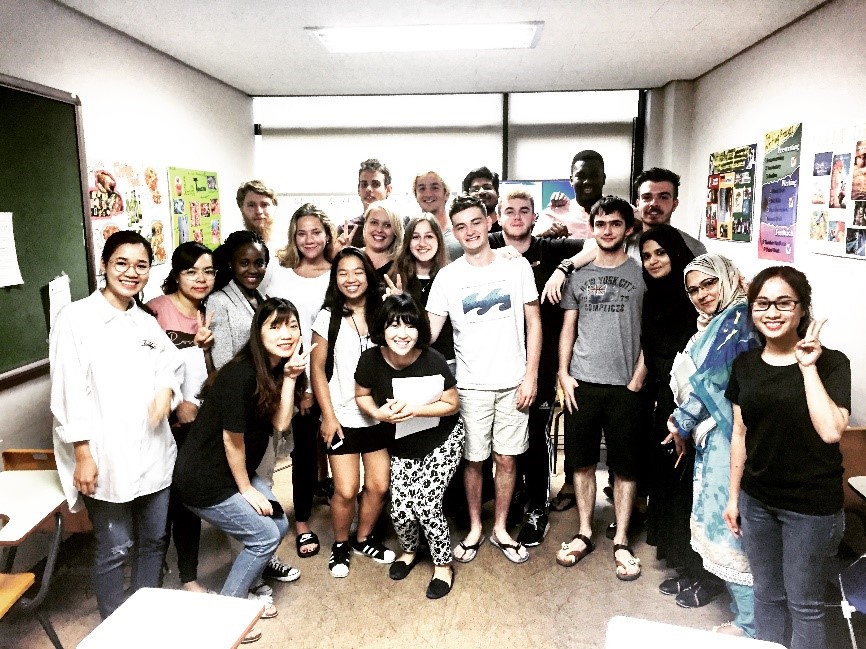 Our group of Korean language 1. Studying Korean language was fun as our teacher made us talk a lot. In addition to it we could read Korean already after two first weeks in Korea. Korean language course was one of the courses I chose to take. I wanted to learn some Korean to get more into Korean culture.
Every course required 70% of attendance. Lectures, assignments, midterm exam and final exam were included into every course. Courses were interesting and professors were excited about teaching. Quality of teaching was very good.  Korean students took part into same courses as us, so it was interesting to hear their opinions and how work life is in Korea. This is precious information we could share between international and Korean students.
Cultural life of Korea
As I named this "Colorful South Korea", Korea has so many sides and amazing cultural things which make it very exiting country. Korean traditional villages, costumes, food and culture are very unique and made us feel sometimes like we are in some kind of fairytale.
In our free time our favorite things were of tasting different Korean dishes, singing karaoke (which became my hobby in Korea), hiking (Daegu is surrounded by mountains) and shopping. Shopping is part of Korean culture, Koreans buy a lot of clothes, cosmetics and they are always eating out. You can see Koreans with their coffee, bubble tea or fresh juices around every city or town buying things as they are spending time with their friends and boy/girlfriends like that. For my surprise it was also quite cheap to buy clothes and cosmetics in Korea.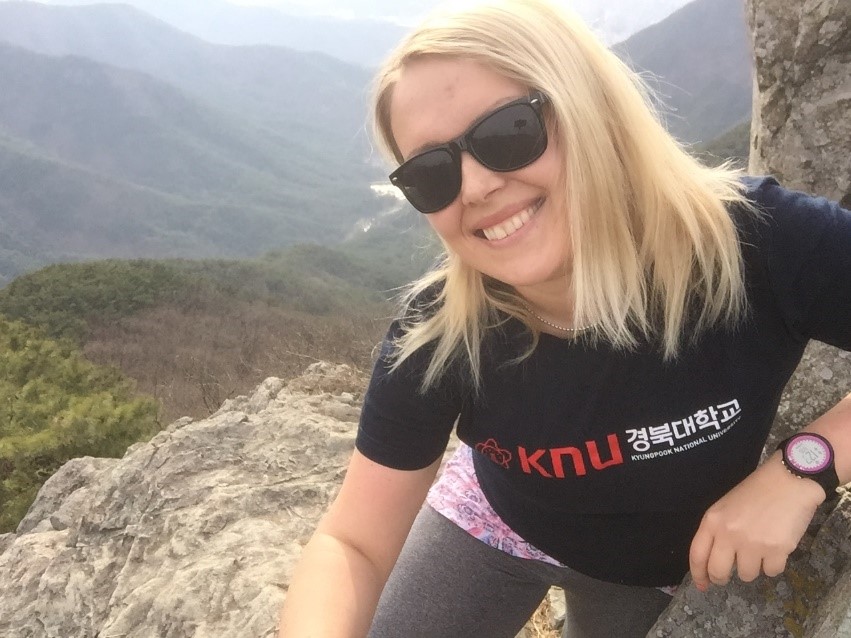 Hiking at the Mountain Apsan in Daegu.
Eating and dining is probably the most important habit for Koreans. Eating together with friends and family is what Koreans do every day. Sometimes it was hard to find a restaurant where you could find a meal for one person.
Food was just amazing and it was also quite cheap for many of us as Europeans to eat in restaurants. Around 2000-7000 won, which is 1,5-6 euros, you can get a good meal. Of course Korean style of eating is sharing all the dishes with everyone in the table and that style is very nice as you can taste more at the same time. There is around 6 restaurants also on the campus area, where you can get a good meal as well for 2-3 euros.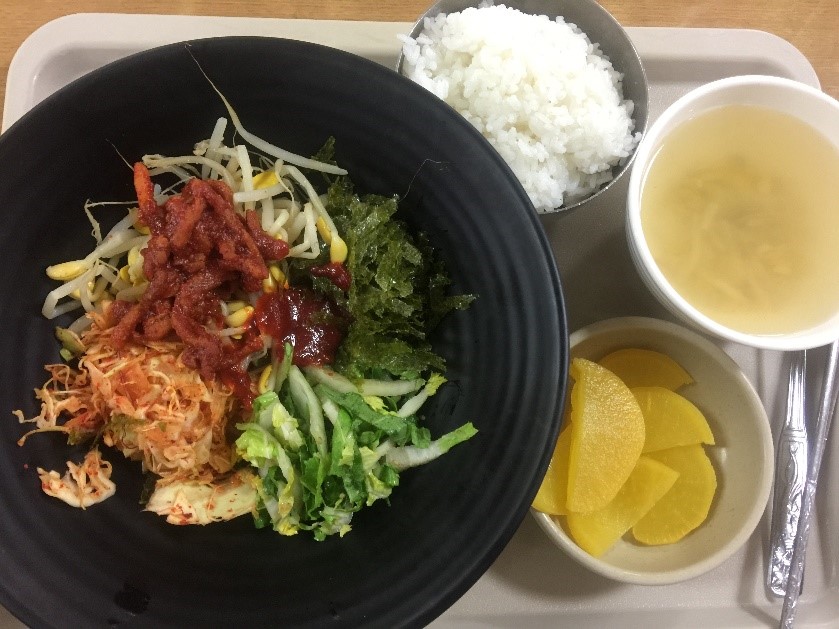 Bibimpap at the university cafeteria. Bibimpap is one of the most traditional and famous dishes in Korea. In Korea all the meals are served with some side dishes, here soup and radish.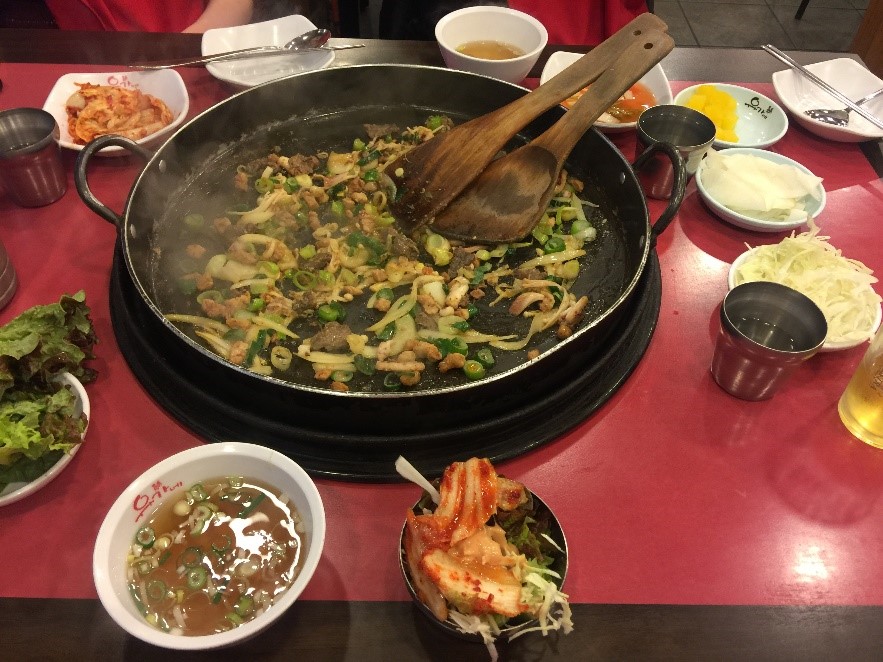 This is "Korean fried rice- restaurant". One of my favorites of Korean dishes. In the middle of the table is a pan and you can fry all the fresh ingredients by yourself. It is a funny way of spending time with a family or friends. Side dishes are also included here as well.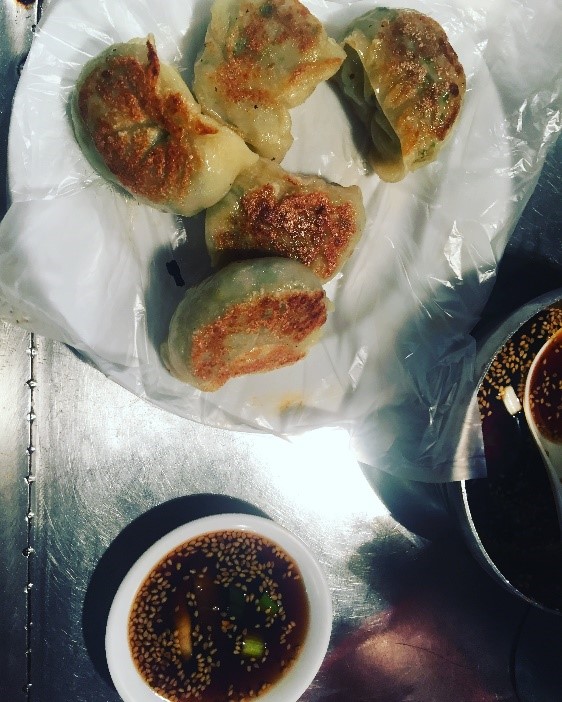 Korean dumplings at the night market. Food markets are still part of Korean culture and people are really lining there for hours to get some very famous dishes.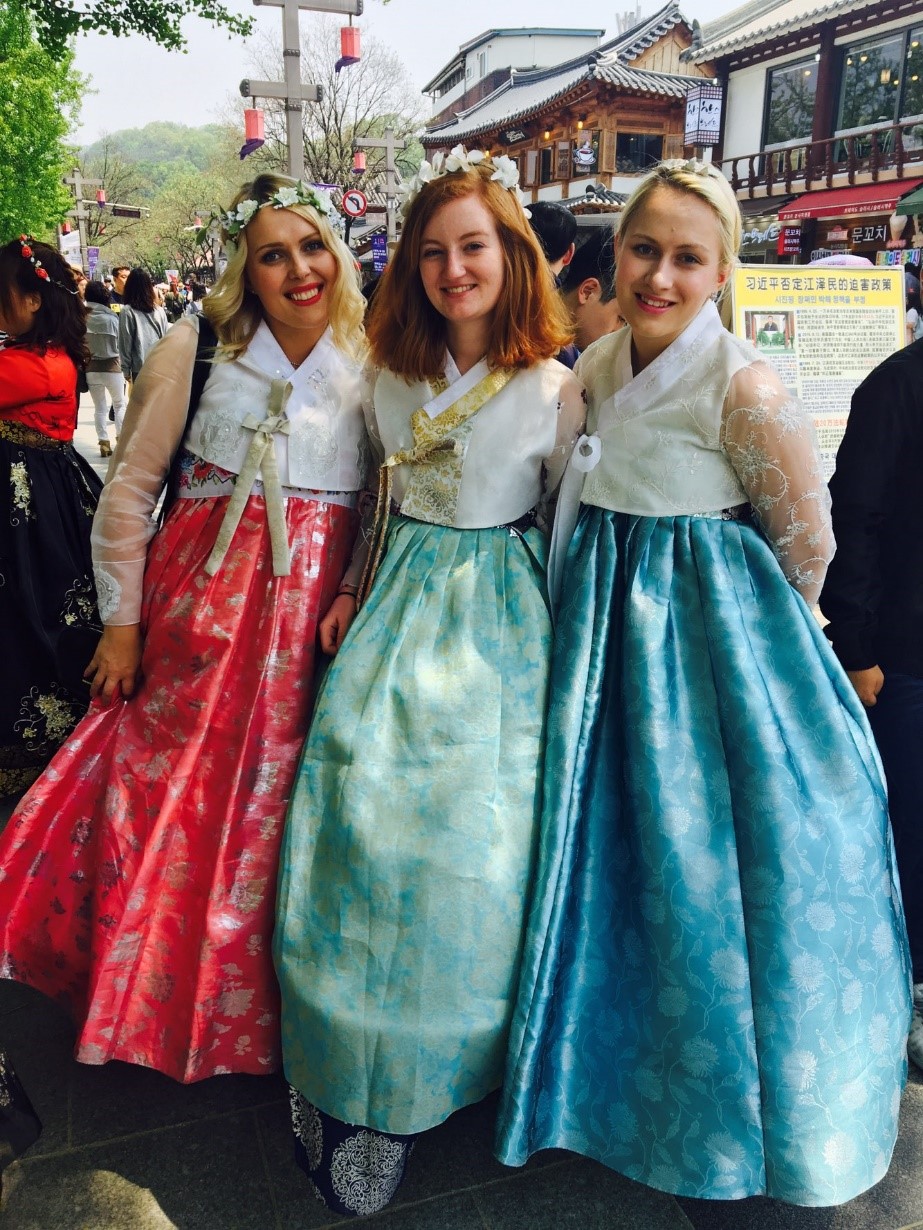 Wearing Korean traditional Hanboks in Jeonju. This was an amazing opportunity and experience for us.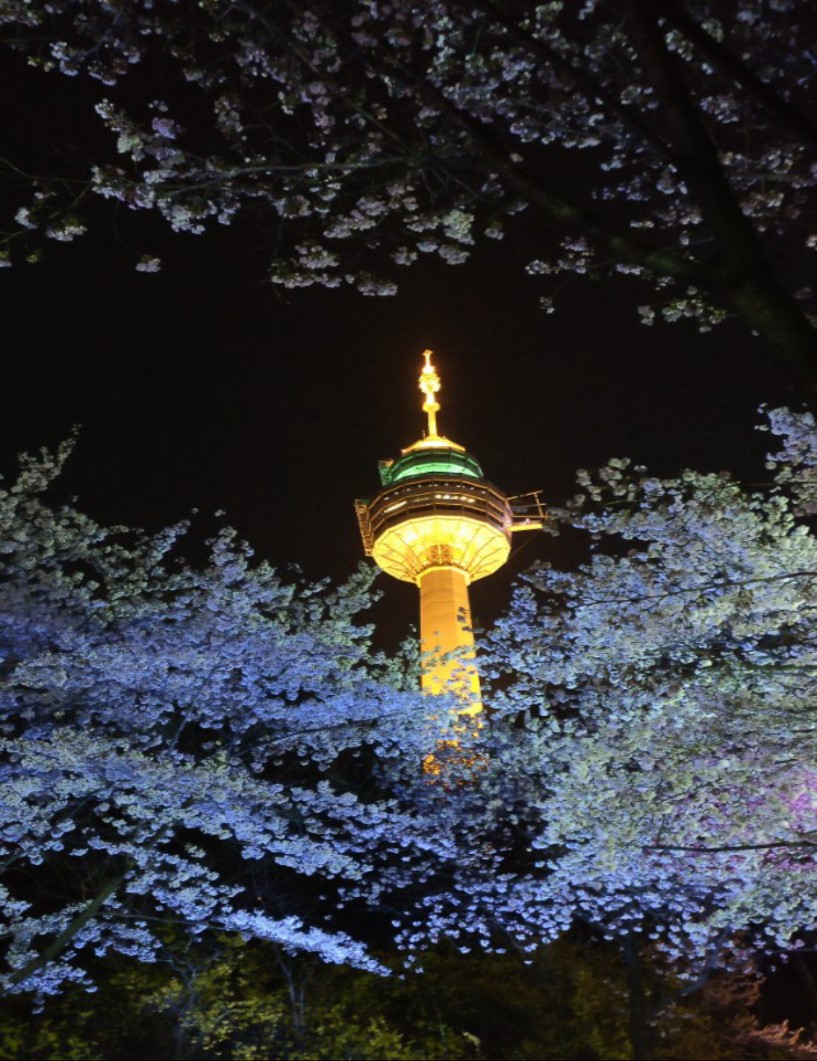 Cherry blossom at evening in Daegu. Cherry blossoms in Korea during April are amazing. Cherry blossom festivals are organized around the country and creating an environment for visitors by lightning and music. Different kind of festivals are arranged around Korea, it is part of Korean culture as well. In Europe we are used to the music festivals, but in Korea the range is more colorful. They have everything, starting from Tomato festivals to Lantern festivals.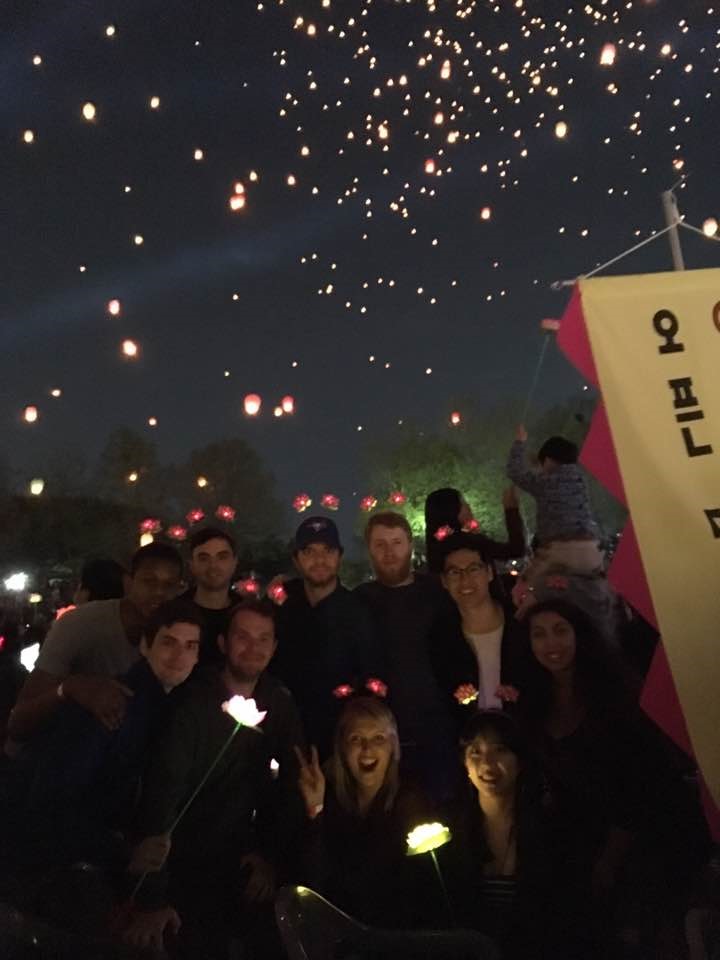 Lantern Festival in Daegu on 23.4. Thousands of Lanterns were sent to the sky to make wishes of their "senders" come true.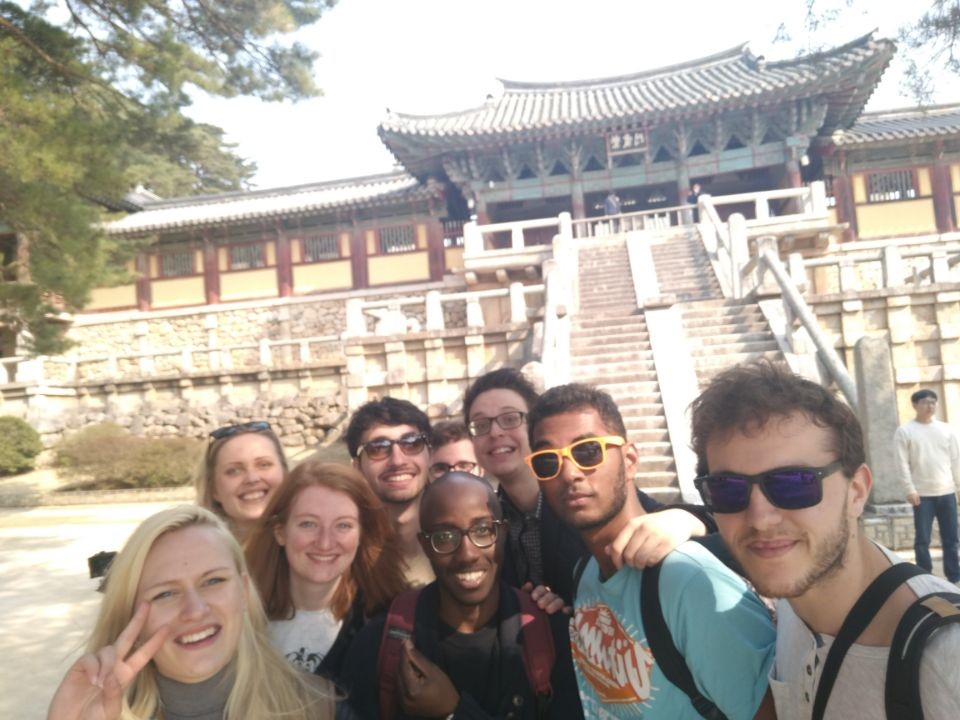 One of the historical temples in town Gyeongju, which used to be capital of Korea before.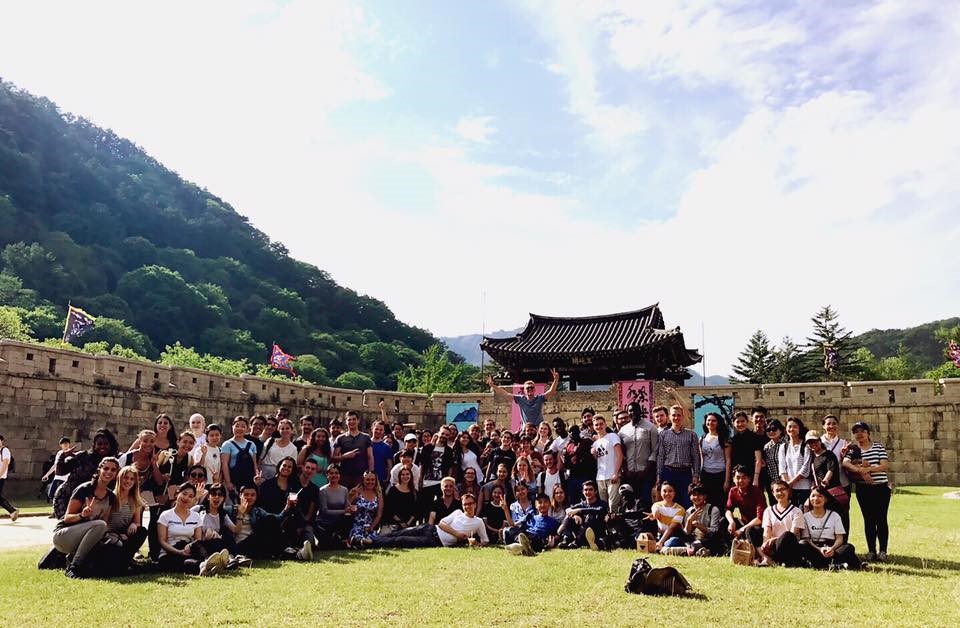 In this picture we are on the trip to traditional "Pot making festival". It was organized by KNU. One of the best things we did were trips together. During this festival we could wear Korean traditional clothes "Hanbok", eat traditional food, see traditional Korean tea ceremony and listen to performers.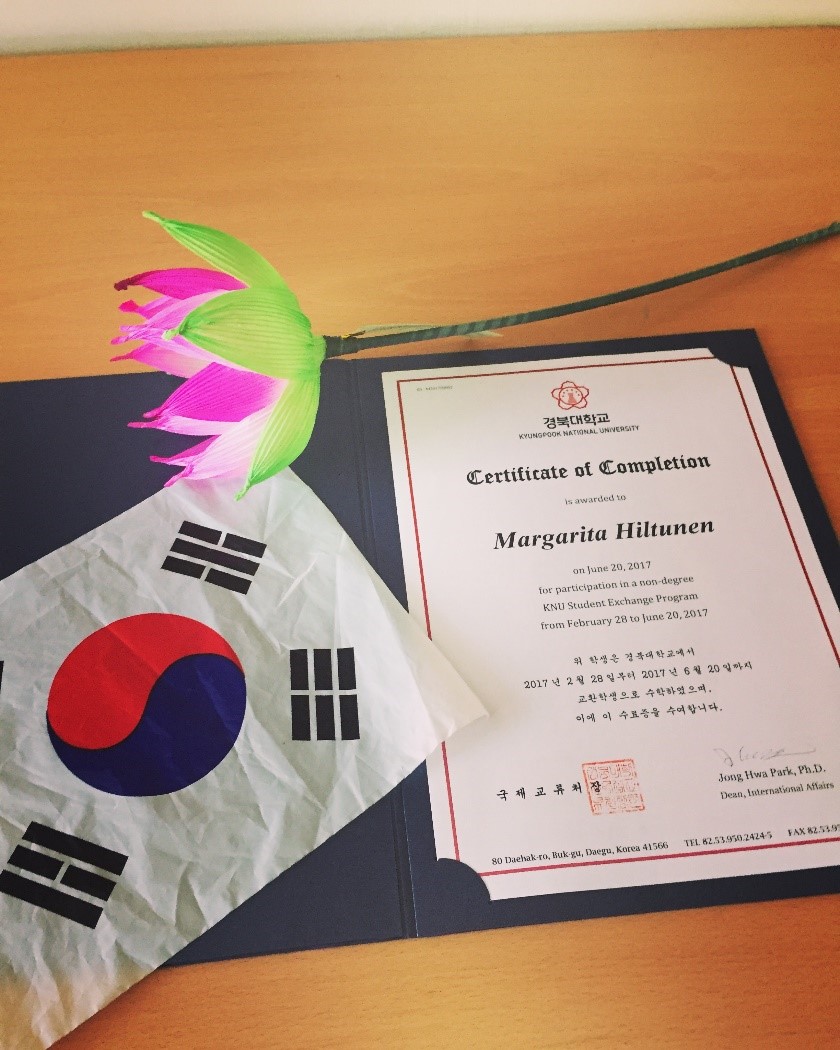 Memories from Korea will stay forever. Studying at KNU gave me opportunity to get so many new friends, Korean and international. I know Korean culture much better and as a beginner in Korean language I have my motivation to continue learning language and probably return to South Korea again even to work. I am sure that I will visit Korea many times during my life as it feels like second home to me.
Margarita Hiltunen