My name is Napaporn Leadprathom (Meaw). I come from Burapha University Thailand, the small tropical country in Asia. I got post doc research scholarship from Erasmus Mundus action 2 (SWAP and Transfer project) to do the research about microplastic in freshwater ecosystem for 6 months. I'm interested in microplastic because it's a pollutant with emerging concern and there are many gaps in research about microplastic. I have done many surveys on microplastic in Thai coastal area, but in here I focus on microplastic testing with aquatic animal in laboratory.
I lived in University of Eastern Finland Joensuu Campus from Dec 2015-May 2016. During that time, I tried to feed daphnia with fiber microplastic and observe the uptake and depuration behavior of daphnia. In Aquatic Ecotoxicology lab, it is very easy to do the test with daphnia, because the facility is well preparation. So that it is very convenient to do the thing as I plan, even if I did not have an experience with daphnia before.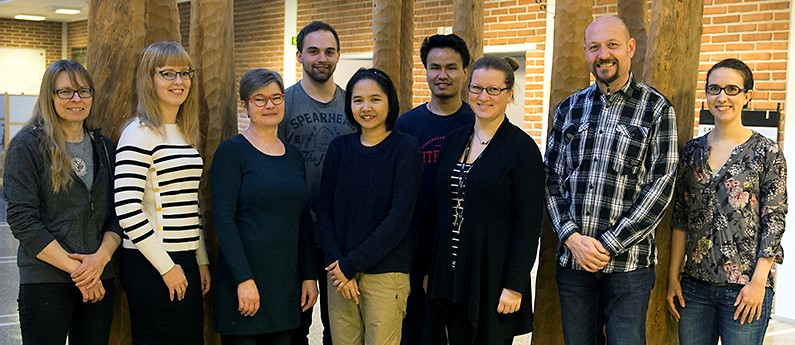 I and my colleagues from Aquatic Ecotoxicology lab in University of Eastern Finland Joensuu Campus
I also have an opportunity to work together with Spectromics research group in UEF, because we try to develop the technique for observation microplastic inside daphnia. I am very happy to have chance to discuss and share the ideas with the other researchers in our lab group and Spectromics research group. That's very challenging for me.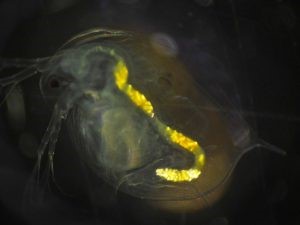 Daphnia magna and microplastics
By the way, because I arrived Finland in winter, I had been asked a lot that "why I come to Finland in winter time?" Actually I did not think about it before I came. Anyway, after one week past I just realized that why everyone asked me. Snow and ice is such normal things in Finland winter and rarely sunshine at that time. It's very exciting experience for people from tropical country like me. The winter in Finland is longer and colder than in my imagination. That's why I always ask everyone in the lab "Is it normal weather in Finland?" and now I know that's normal, after I passed through nearly 4 months of Finnish winter. Even whether in winter make some difficulty of life, but I think that's worth to get experience like that. I think if I did not stay in Finland at the winter time, I may not see and understand the real Finland. So if someone ask me what the best period to visit Finland, I will recommend winter. Do you agree with me?
Napaporn Leadprathom