My March highlight was a very long trip to the land of dancing auroras, snowy horizons and Sami culture: Lapland! And here is why you should definitely, definitelyyyy visit that magical region.  🙂
Lapland is a region that spreads through three countries, namely Norway, Finland and Sweden. I only visited the Finnish part and took a glimpse on the Norwegian one. However, visiting just a part of it was enough to leave me in an "awe". Lapland is a real heaven. Beauty can be found wherever and whenever the eyes wonder.  Sceneries of endless forests coated in unpolluted white snow, coupled with beautiful reflections of the dim sunlight or curtains of Northern Lights are enough to make anyone forget about the miseries of the world.
I mean look at this view #nofilter (and not a great camera either)!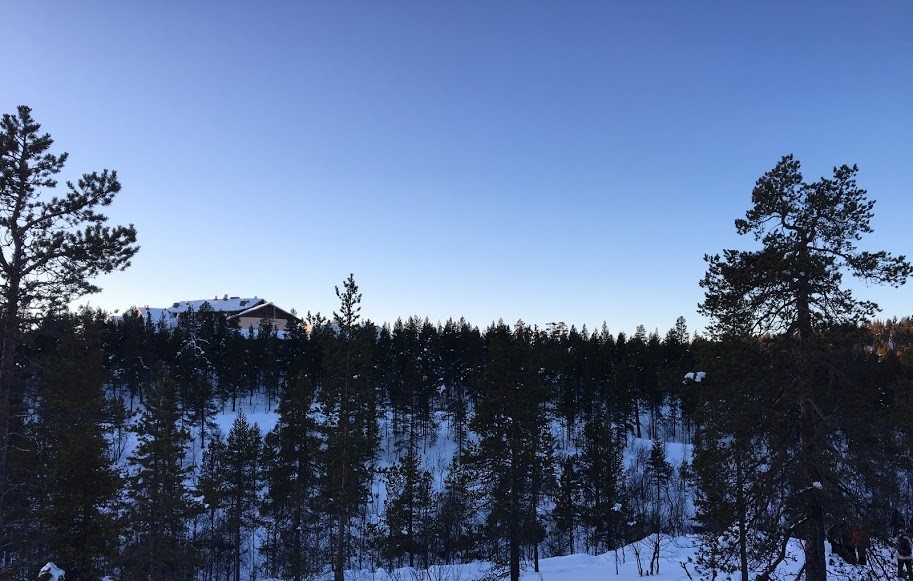 If you're not convinced yet, let me take you on a tour of my trip…then maybe you will consider it very seriously 🙂
My first stop was at Kemi snow castle: a master piece of art that melts down and gets rebuilt every year with a fresh new theme. The castle is an art gallery full of different ice sculptures, this year themed to the 100 anniversary of Finland, of course!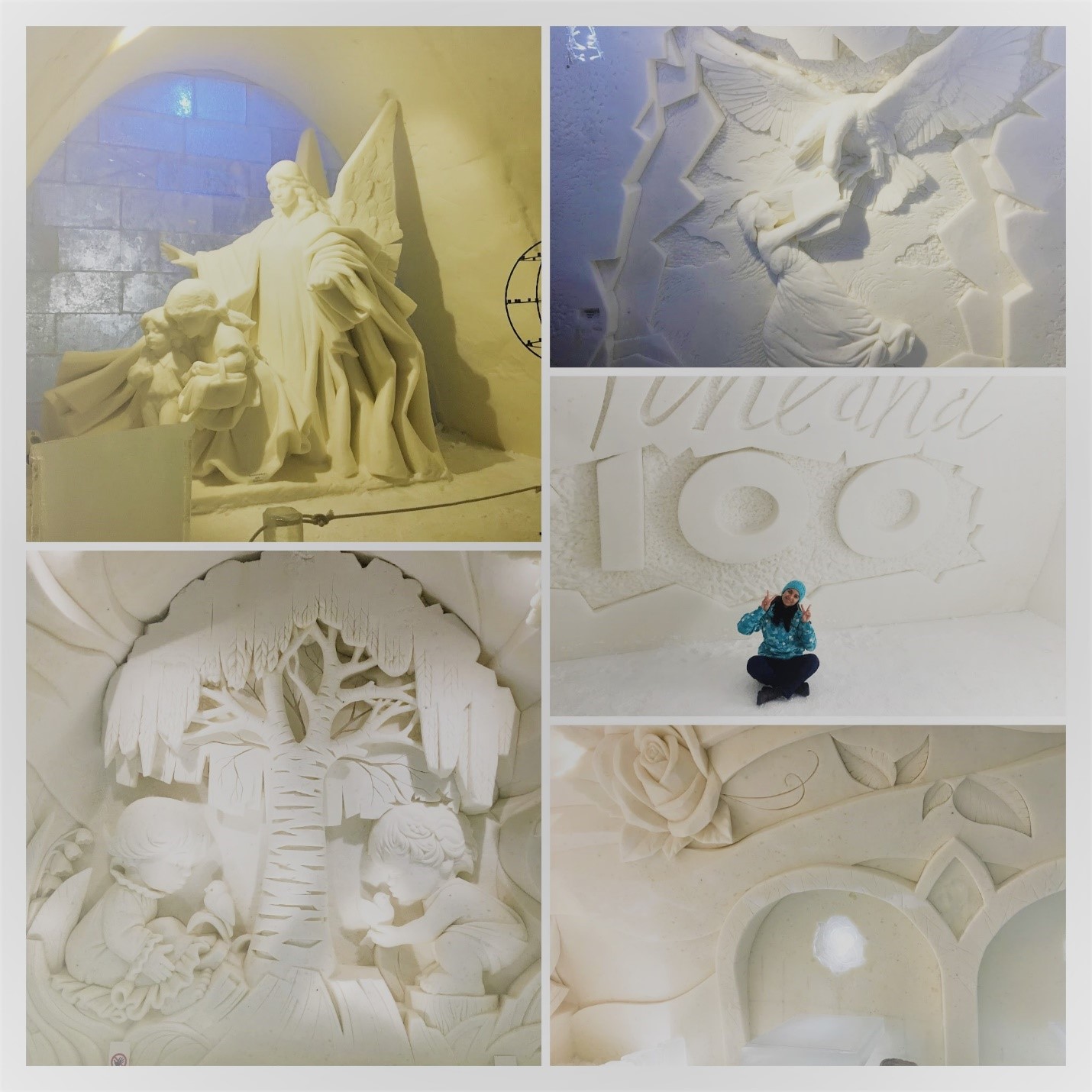 Photo credits: me and Khaled Bouguettoucha
After Kemi, my next stop was in Rovaniemi at, of course, Santa's Holiday village. Yes, I met the real Santa! Was his beard real…no…keep the secret! And no, I have no photo with him because I would not pay 25 euros for that…but I have some with the Santa statues outside 😀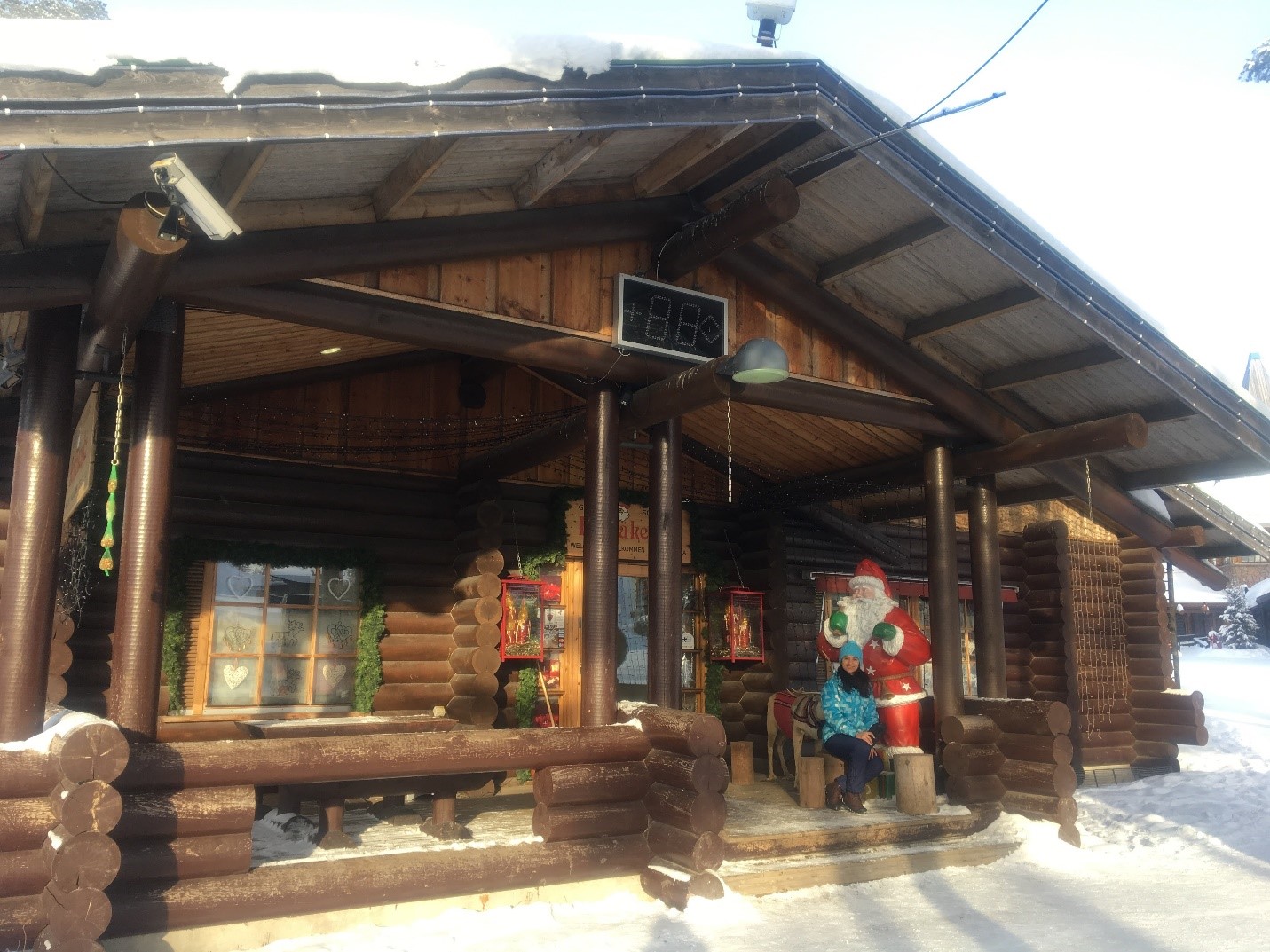 Photo credit: Sana El Tahhan
Santa's village was pretty, much like a Disney land full of elves and reindeers and…all what can remind you of Christmas festivities.
I spent my northern vacation at one of the holiday cottages in Saariselkä, a little touristic village in Northern Lapland. The cottages were nice and cozy and had everything I could hope for in a vacation house: a heartwarming fire place, a washing and drying machine, a thoughtfully equipped kitchen with a dish washer and, of course, my favorite: a private sauna built into the bathroom!
My first day, I tried the husky safari in the Northern Lights village. We got our useful instructions from the responsible of the activity, and we could go on a 5Km ride with the beautiful energetic dogs that didn't allow me to keep my foot away from the brake! Driving the sledge is not as hard as it appears to be, instead it is very enjoyable. The right amount of risk to have some sense of adventure, yet easy enough to enjoy the beautiful surroundings.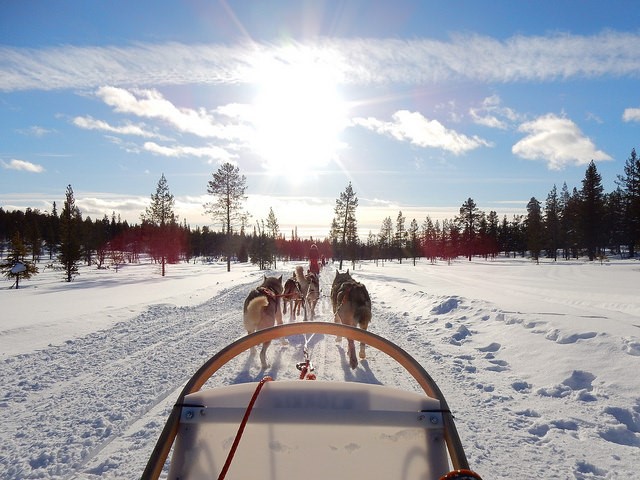 Photo credit: Vé De Koninck
We were received by a nice warming fire and hot juice at our comeback in one of the traditional huts and had a Salmon soup lunch afterwards, one of the best soups I tasted to this day. I also had the chance to make another Finnish friend during the ride, and I look forward to my visit to see her again in Helsinki.
The next activity was snowshoeing in Urho Kekkonen national park. That was one hell of a sporty afternoon! Climbing hills covered in deep snow has made my abs hurt for two days, but it was all worth it! The view from the top is amazing, and the struggle to get there was kind of fun to be honest…that's what the path looks like!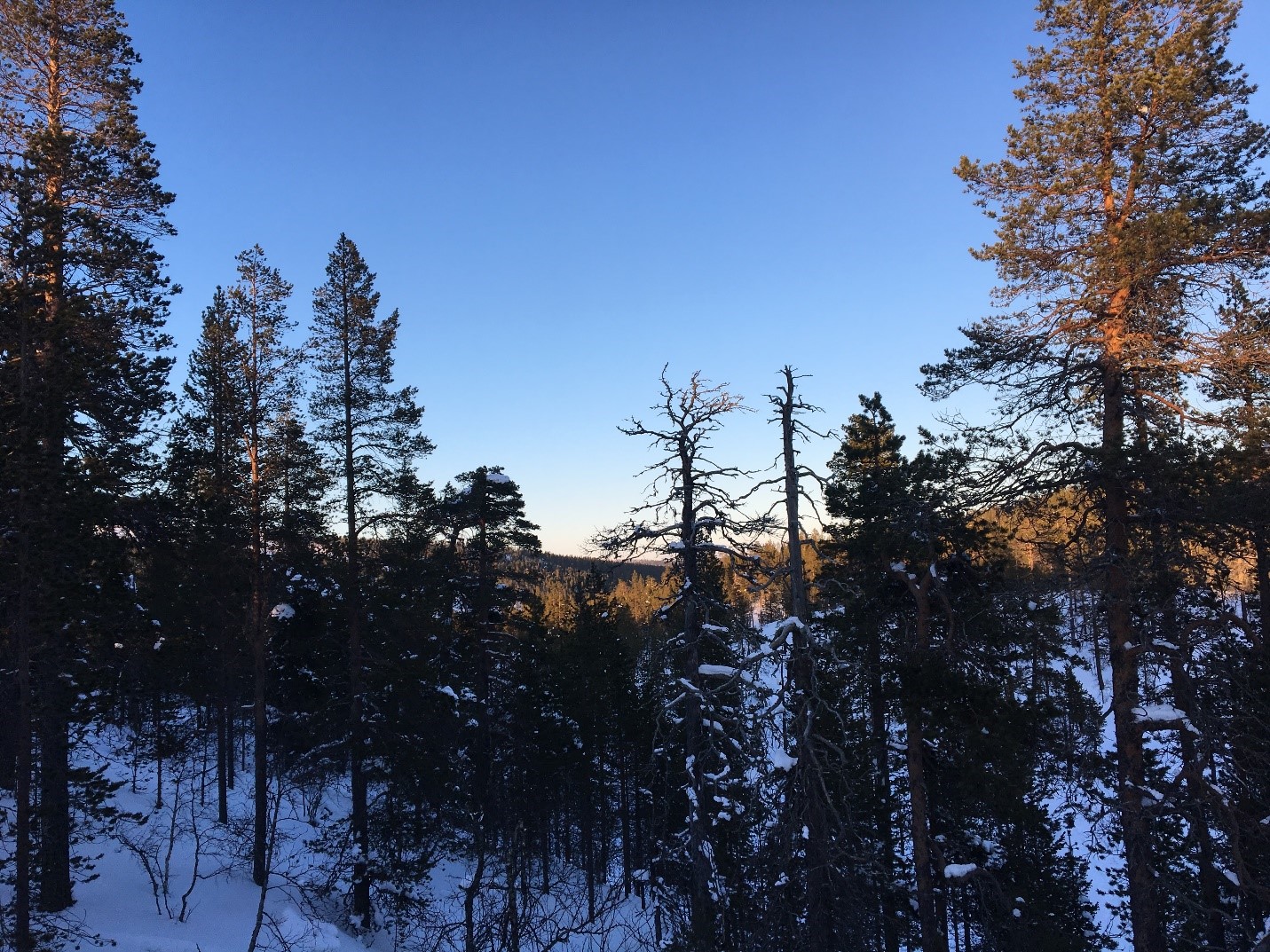 That night, we got to ride the snow mobiles and drive to a deserted area, hunting the Northern Lights. Likely our hunt was fruitful, and the auroras danced for a while above our heads. We also got to see them again when we reached the small hut half the way to sit for some cookies and hot juice (yum! The delight of hot cranberry and blueberry juice after such a cold ride). The northern lights are quite a phenomenon: green curtains being gently rocked on the sky. It is a fascinating view, if not for the dead cold air surrounding. I will not put a picture of that because I couldn't take any good ones, but I am sure you're familiar with their fascinating beauty 🙂
The third day was the trip to Bugøynes village, a Finnish Norwegian mix of 200 people living right by the Arctic ocean. The scenery was one of the most beautiful, peaceful clear sky, warm sun and endless snowy horizons with nothing to disturb the calmness of the water in between the hills, absolutely mesmerizing! I also got the chance to take a dip in the Arctic ocean, Finnish style, which was more relaxing than I thought it would be! Fresh fish after and a creamy soup…just perfect!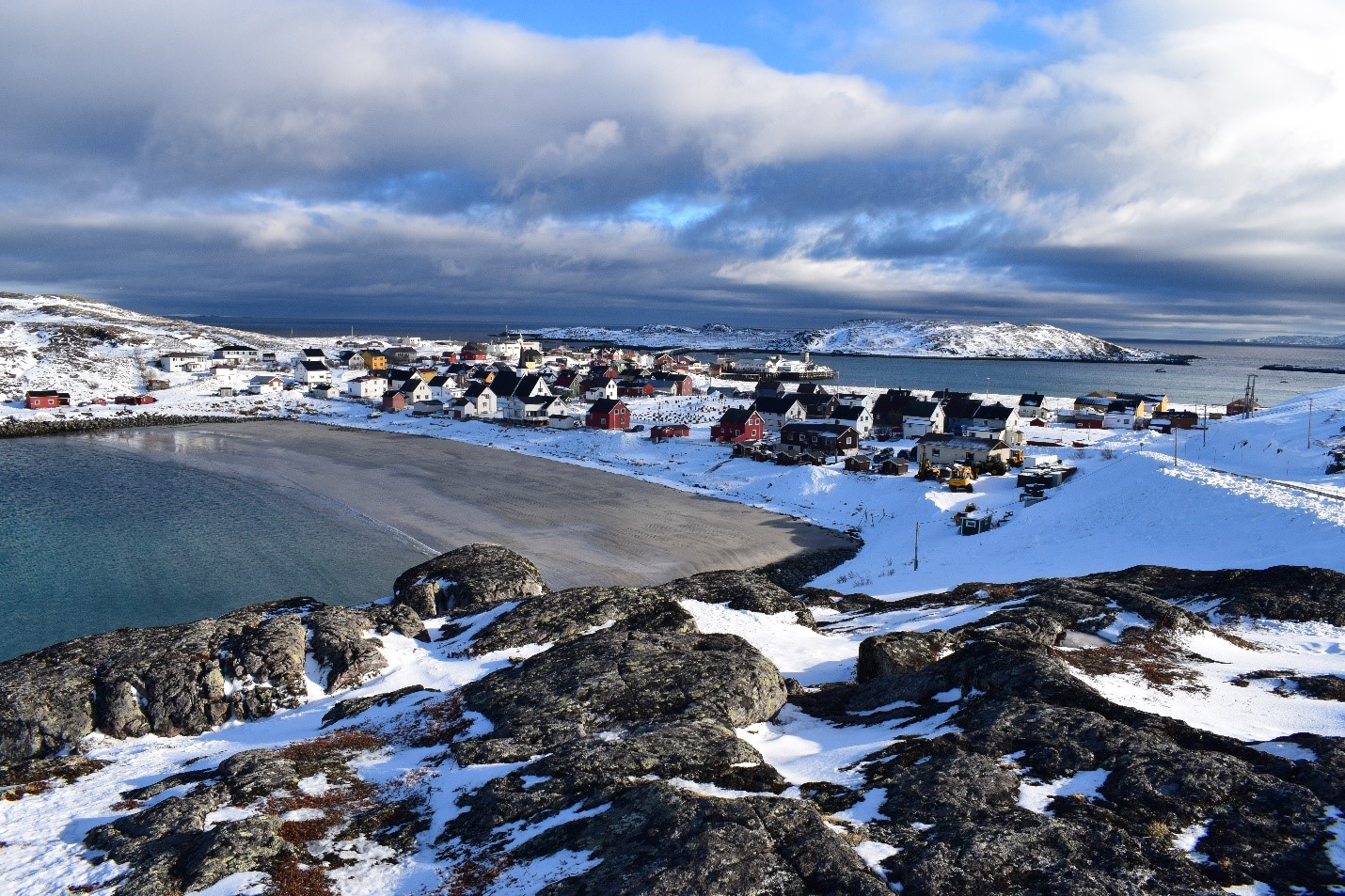 Photo credit: Abdelbaar Mounadi Idrissi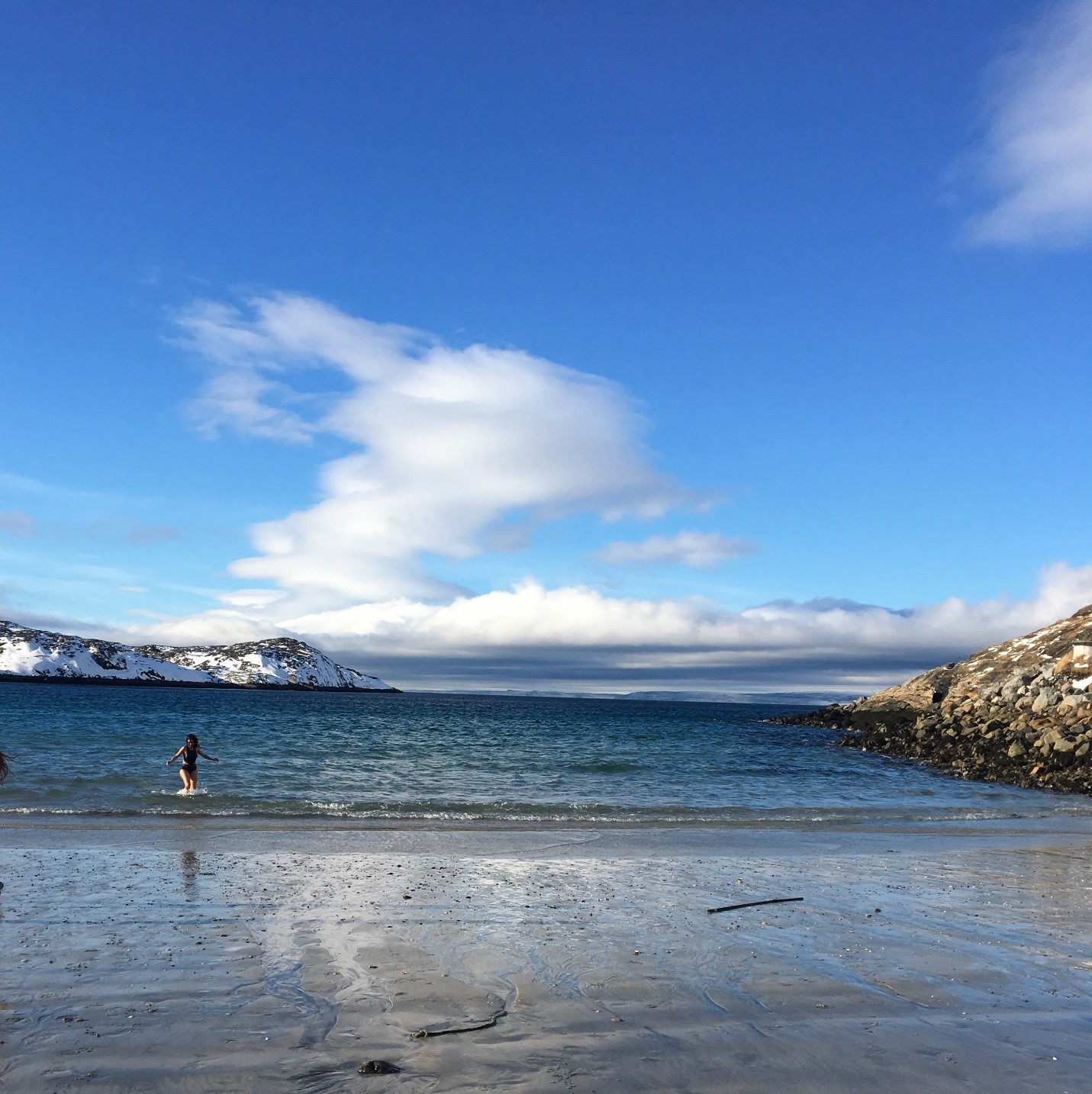 Photo credit: Michelle Knuffig
The fourth day was skiing day! I must say I wasn't so enthusiastic about it since I knew how horrible first times are in anything. Also, my skating experience was less than great (I would try it again though). We started on the "learning" track. Fall counter was up to three times in there already…then we moved to the cross-country skiing track that is supposed to be easy and that starts with…a downhill. Needless to say, the fall count got up there too. However, the way back was very pleasant. I could finally relax after falling too many times to care about trying not to, and weirdly enough I fell only once on my way back: at nearly the top of the last uphill to go backwards flat on my tummy to the bottom, and Finnish people were caught between an unstoppable fou rire and wanting to help me in some way. Generally, however, I loved skiing. The slide on the downhill with the beautiful sceneries is worth the pain for sure.
Then the last day was more relaxed. I tried my first Finnish spa in Holiday Club at Saariselkä. And what better way there is than to end a trip with a spa session? The sauna relieved my cramping muscles. I tried the sleeping sauna as well, and it made me not want to leave it. I was pretty shocked at the temperature of the jacuzzi though. It was plain cold, only a little warmer than the pool itself. However, the slide and water stream offered nice moments.
All in all, this was, hands down, my best trip: very rich, very entertaining and very different from anything I have done before. Our guides tried to make it special to each of us too, which is greatly appreciated: they learned our names, made a conversation with everyone personally, offered a personalized service depending on the needs and preferences of each one, and tried their best to be funny and diverting. I came back not only with great memories and experiences, but with a lot of reflection on myself and my life, so I can safely qualify the trip as enlightening.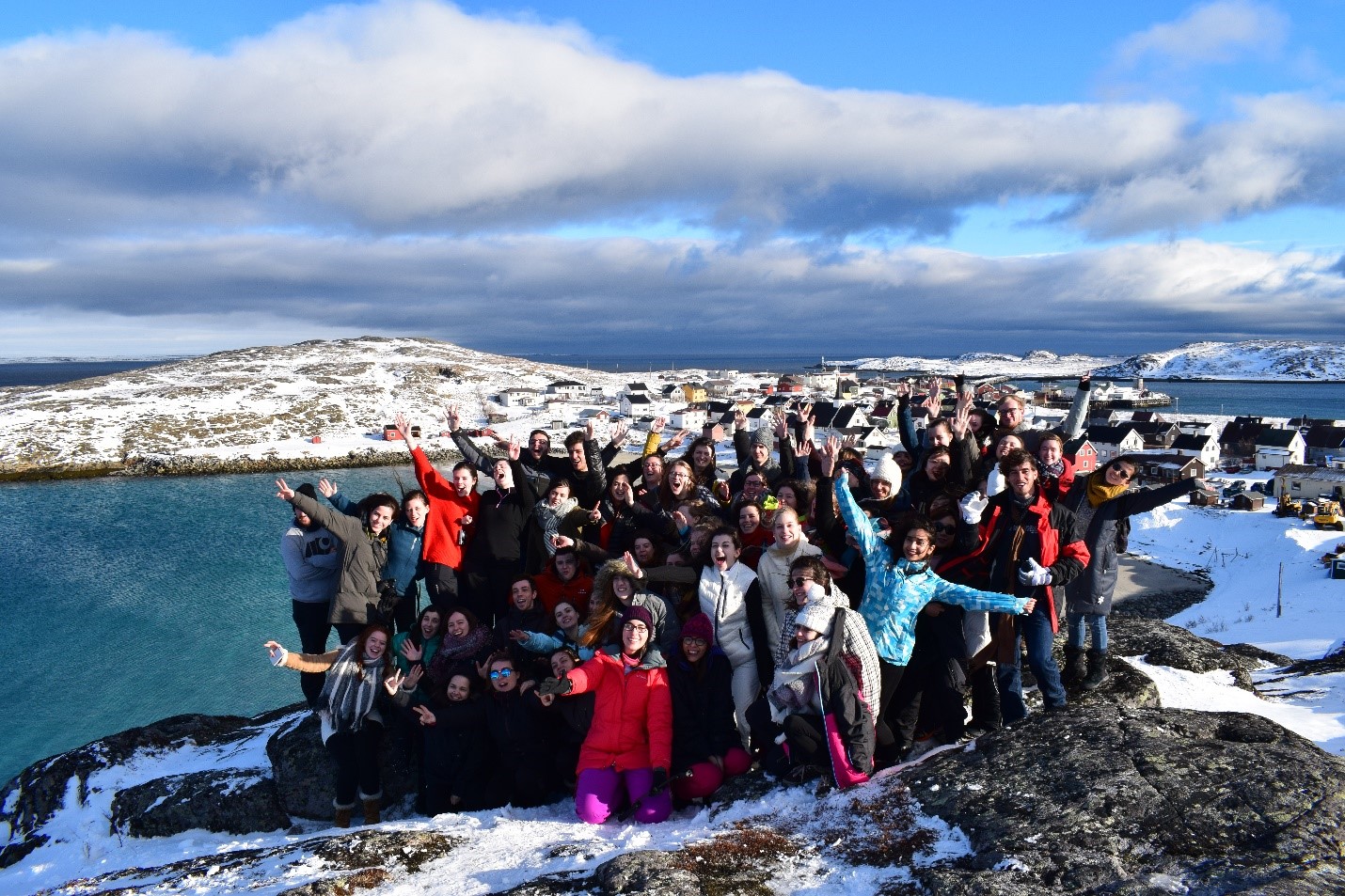 Photo credit: Nicky
Have I convinced you yet? 😉
Soukaina Chrifi Alaoui