In April 2016, I had the pleasure of visiting one of our partner universities, Ibn Zohr University in Agadir, Morocco, under the auspices of the ERASMUS+ Global Mobility Program. As the first UEF teacher participating in the Program, this visit provided many new experiences and enhanced my understanding of higher education in the region. It was even more pleasurable to visit the university and its new Ait Melloul campus as my host was Dr Kamal Sbiri, an UEF alumnus who is now Assistant Professor of English and the Director of the Charif Al Idrissi Research Center on Transnational Migration.
My visit consisted of a series of guest lectures on postcolonial hybridities with particular reference to Anglophone Arab literature and cultural theory. The topics were selected to stimulate the staff and students by introducing current perspectives and research trends. The issues of global mobility, migration, and cultural encounters are also central to the research profiles at both universities, which offers further collaboration opportunities. The lectures were well attended and they were followed with particularly lively discussions and questions from the floor. Issues of migration are central to contemporary Morocco, both because of traditional labour migration to Europe but also because the routes of contemporary sub-Saharan migration towards the North pass through the nation. Borders and border-crossings are then a part of everyday experience, evident in the number of forced migrants in towns like Agadir.
The new campus of the Ibn Zohr University in Ait Melloul has been in operation for two years, and it has proved to be attractive to students with its new approach to teaching and learning. It started with 700 students studying a number of subjects in humanities, social sciences, and natural sciences, and is going through an expansion. The campus is located in inezhgane, some few miles outside the city center, near the airport, and its buildings are brandnew and well equipped for teaching. Morocco is in the process of expanding and updating its higher education, and many international providers have also noticed it as testified in the presence of private universities and other institutes. The interest in education was also evident in the activity of the Ait Melloul students I met and their eagerness tackle with the topics discussed.
Finally, it was a great pleasure to visit the Southern Moroccan city of Agadir, best known amongst the Nordics for its white beautiful beaches and surfing opportunities, and to enjoy the genuine hospitality of my hosts. And indeed it was a pleasure to taste the local delicacies, especially chicken tagine, in authentic surroundings. The successful visit will be followed with reciprocal UIZ teacher visits to UEF in the near future.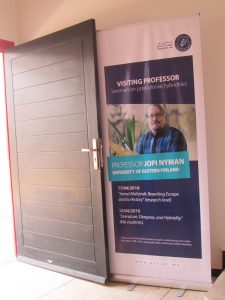 Jopi Nyman
Professor and Head of English at the University of Eastern Finland, Joensuu.