''You do not travel if you are afraid of the unknown. You travel for the unknown that reveals you within yourself.''
Finland, Joensuu. First time when we heard about opportunity to come and stay there for five months, we could just keep on our minds one thing. Minus 30 degrees. How could we possibly survive that? After many, many stories with different points about Finland, we realized this is our wake up call. This is the time when we have to step out of our comfort zone, burst our safe bubble and just go with the flow.
After staying here for almost 4 months, we didn't even focus on minor stuff like temperature anymore. Our goal was set on studies, meeting new people and enjoying the once-in-a-lifetime stay. During first month, we stayed within our comfort zone, adjusting to the rules new world had to offer us. As that hardest period passed, we made Joensuu our own. Within next two months, we explored this wonderful city so much, that we knew its streets better than back of our hands. Not only did we enjoy Joensuu, but we also visited other parts of Finland, with new landscapes and new adventures. Of course, Northern Lights have to be mentioned as the prettiest scenery, no matter if we just saw tiny green smudge in the sky or outstanding green light taking up the whole north! While traveling across Finland, we found ourselves understanding more about native Finnish people and their culture.
Studying abroad helped us to grow academically as we got to know completely new system of education than the one we are already used to, socially as we made many friends all over the world, culturally and personally as we managed to defeat cold weather and polar bears. During this one semester we became more intrigued by the country as we started to look it as our close friend that we can't wait to see again!
This stay in Joensuu will be for sure a huge reminder of what experience did we gain, how many wonderful foreigners did we meet and how will we transfer our knowledge of one culture to the friends and family back in our home country. Endless road of fun, education and enjoyment is awaiting us, and now we grew to be a person which is willing to try it all out!
After whole this adventure, we will have only one question in mind and that is: "Where to next?"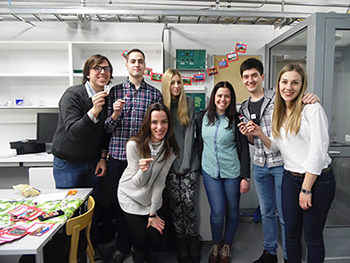 Anja Vujačić, Aleksandar Stanojković, Jelena Gnjatović, Lana Domuz, Milan Bojić, Milica Aleksić and Tihomir Simin