When I grabbed my box of souvenirs from Finland from under my bed in my room in Novi Sad to take out my old student card, I felt a warm stream of excitement going through my body. Is it really happening? Am I really going back to Finland and Joensuu, the place in which I spent the most exciting year of studies and the place I love so deeply? Yes! Oh, what a great feeling it was!
Hello, everyone! My name is Tihomir. I'm a Master's student of Ecology at the University of Novi Sad, Serbia. Right now I am on the Erasmus+ exchange semester in Joensuu. I have already been here in the whole academic year 2013/2014 by the exchange programme Campus Europae of the European University Foundation. The preparations for the two exchange periods were fairly similar, but the feelings before coming to Joensuu were very different. The first time I was a bit scared not knowing what to expect, but I quickly got to know the town and the friendly people. It was such a great year: I met so many new people from around the world, learned a fair bit of Finnish language, gained new skills, participated in many interesting events and traveled to unusual destinations. The exchange period had a big impact on me. So, naturally you can expect how excited I was to hear that few Erasmus+ places have been opened in Joensuu for the spring semester of 2016. This time I was eager to go and relive all those memories from the past.
When I was in the train looking out of the window at the passing boreal forest and frozen lakes covered with snow the excitement was cooking inside me. My tutors were waiting for me at the train station on that cold afternoon and they gave me a ride to my new home in Rantakylä, a part of the town that was an hour of walk away from the center. This part of the town was quiet and surrounded by cozy forest, so it felt different than the last time when I was living in the center in a buzzy student dormitory. While I was in Serbia, two new bridges were built and few cafes and shops opened in the center of the town. It felt so nice to see the people I knew from before again. For quite a few of them it was a surprise to see me, because I didn't tell everyone I'm coming. It was a big surprise for the choir of UEF because the whole choir will come to Novi Sad to sing in May of 2016 because of my invitation and suddenly I appear in Joensuu in front of the Conductor and the singers.
Of course the other exchange students are new to me, but all of them seem to be very friendly, clever and hardworking; especially the ones from Serbia. 🙂
Sometimes this exchange period feels to me like a completely new experience, but for the most part it feels like a continuation of something I started before. Most importantly, it feels like coming home. It really does, somehow.
Thank you, Erasmus+ for such a lovely opportunity to study in a different country and thank you, UEF for being such a great host university. I am really thankful. This is going to be another unforgettable semester!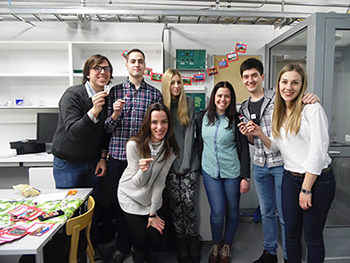 Tihomir Simin (on the left)
an exchange student at the Department of Environmental and Biological Sciences, Joensuu campus